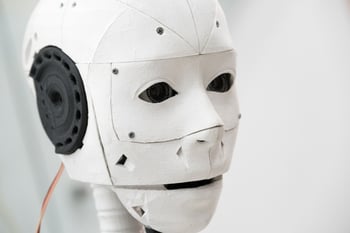 Once the domain of science fiction novels, robots are poised to transform a broad range of different industry categories in the coming years. Here are just a few key examples — covering the uses of robots today and in the future — based on reports by several market research firms.
1. Military and Defense
According to MarketsandMarkets, military robots play a pivotal role as a tactical and operational tool for armed forces. Using military artificial intelligence, robots are being designed to handle a wider range of tasks, "from picking off snipers to carrying out target acquisition with greater efficiency compared to human soldiers." In the future, robots will be equipped with the capabilities to traverse different terrains, climb ladders, and operate in disaster situations.
Robots used in the military serve a variety of functions, including:
Intelligence, surveillance, and reconnaissance
Search and rescue
Combat support
Mine clearance
Explosive ordnance disposal
Fire fighting
Robots may be fully autonomous or remotely controlled, and they come in different shapes and sizes. North America and Europe are expected to lead the military robots market due to participation in the war against terrorism. Major companies involved in military robotics include Lockheed Martin, Northrop Grumman, Boeing, and others.
2. Health Care and Medical Devices
Medical robots will play an increasing role in health care — aiding with complicated surgical procedures, increasing efficiency within pharmacies, providing assistance in rehabilitation therapy, and paving the way for hospital automation.
According to BIS Research, surgical robotics systems accounted for the highest share of the medical robotics market. Medical robots help surgeons perform with greater accuracy, use smaller incisions, and reduce the risk to patients.
The da Vinci Surgical System currently dominates the market, but the Sensei Robotic System is anticipated to grow at the highest rate in the next few years. Key robotic surgery companies include Intuitive Surgical, Stryker Corporation, Mazor Robotics, MedRobotics, and many others.
3. Agriculture
Farming robots currently exist, but the upcoming generation of agricultural robots will draw on increasing levels of artificial intelligence, big data, and low-cost sensors to deliver a new model of Precision Agriculture, according to Mind Commerce.
Working with greater efficiency, agricultural robots are designed to plant, water, weed, pick, thin, fertilize, milk, herd, and transport products. As robot sensors and deep learning capabilities improve, agricultural robots will operate with near-to-full autonomy and become less expensive.
Farming robots will make an impact on the labor force, eliminating many jobs but creating new opportunities in programming and operations of automated systems. IoT companies engaged in agricultural include Agribiotix, Cattle Watch, FarmersEdge, John Deere, IBM, and many others.
4. Automotive and Transportation
The rise of artificial intelligence is expected to revolutionize the auto industry with the development of driverless cars. However, autonomous robots are also transforming the way some vehicles are being designed and tested, according to The Freedonia Group.
For example, Yamaha's MOTOBOT, a motorcycle-riding humanoid robot, can ride and test machines while providing real-time data more accurately than before. In the future, MOTOBOT can be used to test other vehicles such as all-terrain vehicles and snowmobiles.
5. House & Home and Lawn & Garden
While there are many robots in industry, consumer robots will also become a more common fixture. Household cleaning robots are on the market now, but in the coming years, our homes may feature a variety of other domestic robots such as toy and educational robots, robotic personal assistants, and even family companions. Silicon Valley is full of robotic start-ups, and artificial intelligence and machine learning will make household robots more advanced.
Lawn and garden is another area that will be affected by robotics. "Robotic lawnmowers — the Roombas of yardwork — are poised to take the lawn care market by storm, with unit sales in the U.S. projected to more than triple between 2016 and 2021," according to analyst Elliot Woo of The Freedonia Group.
Commercial robotic mowers are expected to be particularly popular among golf courses in the near future.
Where to Learn More
When considering the potential impact of robots on various industries, it may be difficult to imagine a market that will remain untouched by the power of robotics. The possibilities for innovation appear nearly endless.
To get more information about the robotics industry, check out the full collection of robots industry research on MarketResearch.com. You'll access information about a range of topics:
Robots used in industry
What are robotics used for
Robotics industry growth
Leading companies that use robots
On the robots industry research page, click the "refine your search" button to search for specific keywords, or contact our research specialists for help finding what you need at customerservice@marketresearch.com.