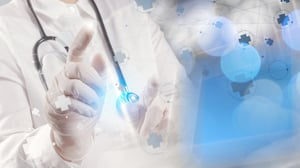 The rise of robotics and automation across all industries is not something new. From automotive, warehousing and logistics to supply chain management to travel and hospitality to healthcare, robotics has become the most critical innovation of this decade. Talking particularly about healthcare, experts believe that autonomous robots could soon be regular members of any hospital's staff, performing diagnostic duties, reading case histories and even assisting in surgeries.
There's no doubt that healthcare has moved beyond the traditional forms of treatment, and innovations have led to personalized medicines and technology-enabled care. At the Cleveland Clinic in Abu Dhabi, 3D printing and robotic surgery have been adopted. Especially in the field of thoracic and cardiovascular surgery in the Middle East and Africa, surgical robotics is used because of its high level of precision. In fact, the Cleveland Clinic is the first hospital that has used surgical robots to do a triple coronary artery bypass that would have otherwise needed a complete open-heart surgery.
The surgical discipline in the medical field has seen a steep rise in robotic surgery in the past two decades. Thoracic surgery has especially made use of robotic techniques. Robotic surgery is an advancement in the minimally invasive surgical techniques with augmented vision through ten times magnified view and enhanced precision control through wristed instruments and better ergonomics for the surgeon. The reason for the rapid growth of robots in surgery is the benefits that both the doctor and the patient can reap from it. According to a report by Research on Global Markets, surgical robots formed the largest segment of the medical robots' market till 2017, forming 44% of the total global revenue.
Why is robotic surgery gaining popularity so quickly?
In the surgical field, robots have literally transformed the way procedures are conducted. The reason for the rapid proliferation of robotic processes is the advantages this technology provides to doctors and patients alike.
Benefits to patients
Minimally invasive: As the surgeon does not need to use their hands to directly access the body, they need to make smaller incisions in the body than in conventional surgeries. The robotic arms also filter out the tremors in the surgeon's hands and can avoid any chances of inadvertent punctures. Robotic surgeries are best for hard body parts that have vital organs near them.
Faster recovery: As robotic surgeries are minimally invasive, the body of the patient can recover in lesser time as compared to a traditional surgery. It is observed that most people can resume normal work within a few weeks from surgery performed using robotics.
Less pain and blood loss: With smaller incisions and better precision, there is less pain that the patient feels during the surgery. This reduces the patient's dependency on painkillers. Also, due to smaller incisions, there is minimal blood loss during robotic surgery.
Less chance of infection: Any surgical procedure has a chance of infection, which can delay the recovery process. Traditional surgeries cause large incisions that increase the chance of infection. With robotic surgeries being less invasive, the chance of infection is also considerably reduced.
Benefits to doctors
Better performance: Doctors feel more comfortable conducting robotic surgeries as there is enhanced precision due to the 3D camera and hand that inserts the medical apparatus in the patient's body. The vision is well illuminated and magnified. The image offers depth perception and scope for fluorescence imaging. Also, the instruments can rotate several times over, unlike human wrists. In fact, the motion of the instruments can be scaled down to give better control.
More confidence: As there are small incisions being made on the patient's body with much less blood loss, there are fewer chances of fatality and complications, which gives doctors more confidence while conducting the surgery. Also, unlike laparoscopic surgery, the camera can be moved and rotated by the surgeons themselves, giving them better control.
Wider use: Surgical robots can be used in at least seven surgical subspecialties, such as gynaecological, colorectal and urological surgeries. Especially in recessed areas, robotic surgeries prove to be very handy. Robotic surgeries are now used for treating urological cancers and are often used as an alternative to radiotherapy.
Less stress: Lengthy traditional surgeries can take hours and prove to be very strenuous causing neck, shoulder and back pain. Robotic surgeries prove to be less physically demanding for doctors as the surgeon can control the machine's movements from the comfort of a seat at the console.
These benefits have led to the wide adoption of robotic surgery in various parts of the world. Doctors are now increasingly recommending robotic surgeries to patients. It is true that currently the volume of robotic surgery is not as high as it was anticipated, but slowly this disruption is making its way into the healthcare sector and will prove to be a game changer.
Where to learn more
To get more information on this emerging field, see the report Technology Trends in Surgical Robotic Products by the market research firm Netscribes, which details:
The evolution and advancements of surgical robotic technologies
Major technological trends in the surgical robotics market, including 3D visualization, single-port devices, fully-wristed instruments, artificial intelligence, and more
Profiles of surgical robotics companies
Access this report on MarketResearch.com using the button below.
---
About the Publisher: Netscribes is a global market intelligence and content services provider that helps corporations achieve strategic objectives through a wide range of offerings, including market research, business intelligence, technology research and investment research.