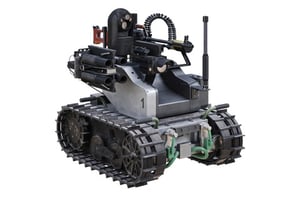 Today, the nature of warfare has changed drastically, and technology plays a key role in shaping warfare tactics. The threats faced by militaries are uncertain, with populated places often being the battlefields, and enemies tactically innovative, highly networked, and intelligent. This overpowers the superiority an army may have in terms of conventional warfare capabilities. Technological advancements, however, have given countries the capability to counter enemy attacks in an efficient and effective manner. One such advancement has been in the field of military robotics.
Nowadays, robots in the military are an alternative to human soldiers. These robots are being designed to handle a broader range of combat tasks, from picking off snipers to carrying out target acquisition with greater efficiency as compared to human soldiers. They can be deployed in situations and areas which are dangerous and can kill or maim troops. Army robots can provide a backup during heavy artillery fire and reduce the number of casualties. They can also map a potentially large hostile area by accurately detecting a variety of threats.
Military robots come in different shapes and sizes depending on the requirement, and they may be remotely controlled or fully autonomous. Robots consist of different types of payloads depending on the application. Depending on the application requirements, sensors, detectors, weapons, programmed software, and other payloads can be equipped on robots used in the military.
Militaries are focusing increasingly on the development of various new robot technologies that can be helpful for armies in case of war. For example, the Defense Advanced Research Projects Agency (DARPA) is financing a robotic submarine system that could be used intelligently for several applications ranging from detecting underwater mines, engaging in anti-submarine operations, and protecting ships in harbors.
All these benefits are driving the militaries worldwide to employ robots for a new range of military applications. An analysis by MarketsandMarkets indicates that the military robots industry is expected to reach USD 30.83 billion by 2022, at a CAGR of 12.92% from 2017 to 2022.
Types of Military Robots
There have been several major strides in the development of military robotics due to the technological advancements in automation and sensors systems. Today, robots are equipped with advanced technologies of automated weapon systems having the capability to counter any attack. Such military robots are assembled with several codes and algorithms.
Companies are configuring and testing advanced robots that can navigate a vehicle around a series of pylons, traverse different terrains, climb ladders, remove debris, operate in a disaster situation, and close a series of valves.
Small robots are increasingly being used in military applications, from ISR to underwater mine clearance and inspection. Bluefin Robotics, a subsidiary of General Dynamics Corporation (US), has developed a miniature AUV named SandShark which has a diameter of 5 inches and length ranging from 23 inches to 60 inches depending on the payload. The company has delivered 10 SandSharks to Defense Advanced Research Projects Agency (DARPA) under the Adaptive Sensor System program. DARPA, along with some institutions, will use SandSharks for experimental purposes.
Intelligence, Surveillance and Reconnaissance (ISR)
Intelligence, Surveillance and Reconnaissance (ISR) is one of the major applications where military satellites are used. UAVs, UGVs, USVs, ROVs, AUVs, and others are extensively used in the ISR application. Small UAVs are used in the military sector mainly to provide battlefield intelligence. Currently, armed forces worldwide no longer rely on human scouts and instead use small robots, which can remain almost invisible to the enemy. These robots help monitor enemy forces or specific areas and send videos and images to the ground station with the assistance of GPS. UAVs are used for ISR operations to record potential target information that is difficult to detect.
For example, WASP, a lightweight, robust, low altitude remote-controlled Unmanned Aerial System (UAS), designed and manufactured jointly by AeroVironment (US) and the Defence Advanced Research Projects Agency (DARPA), is used by the US for surveillance and reconnaissance.
Search and Rescue Robots
Search and rescue is another application where robots used in the military can play a crucial role in saving lives. The majority of casualties happen due to the delay in providing necessary aid to victims. Many countries are investing heavily in minimizing the response time to save the maximum number of lives.
Search and rescue robots are highly advantageous in war. They can manage to search, track, and rescue even in nuclear, biological, radiological, and chemical environments. They can be operated remotely by soldiers from a command center. In some cases, they can even work autonomously. Vecna Technologies is developing Battlefield Extraction-assist Robot (BEAR), which can rescue soldiers from the battlefield with no risk to human life.
Combat Support
Robots in the military are deployed in combat support application for anti-submarine operations, laying mines, fire support, electronic warfare, battle damage management, strike missions, aerial refueling, etc. They also play a vital role in critical missions due to their enhanced capabilities and a certain degree of autonomy. The ability to achieve information superiority, minimize collateral damage, and fight effectively in urban areas against widely dispersed forces are the advantages offered by robots. Technological developments in army robots have led to equipping them with weapons to offer lethal capabilities in combat missions, along with the ability to make decisions without human intervention.
Mine Clearance
Mine clearance is another application where army robots can be deployed for mine reconnaissance and area clearance operations to detect and remove landmines and sea mines. A robot minimizes the risk of unexploded ordnance and other dangerous objects. Land robots and ROVs are used for mine clearance operations. For instance, in 2016, Russian military used a hi-tech "robot solider" known as Uran-6 robots to clear the historic World Heritage site of Palmyra of explosives after the area was liberated from Islamic State rule. Uran-6 robots defused almost 3,000 explosive devices including mines.
Explosive Ordnance Disposal (EOD)
Explosive Ordnance Disposal (EOD) robots are used to identify and disarm traps, fireworks, improvised explosive devices, and other dangerous objects in closed areas, buildings, and vehicles. They are integrated into bomb detection systems. They can carry a variety of payloads depending on the EOD mission. Some examples of EOD robots are iRobot 510 PackBo, TALON, Remotec Andros, tEODor, and Dragon Runner which have tremendous potential in the future.
Fire Fighting Robots
Fire fighting robots are increasingly being used to address fire situations to avoid casualties. These robots were first employed by the US Navy and were named as Shipboard Autonomous Firefighting Robot (SAFFiR). Fire fighting robots can detect fire, implement a broad range of fire suppressing techniques, withstand high temperatures for longer periods, and respond to different types of movements. These robots can detect fire, as they are equipped with a suite of cameras, a gas sensor, and a stereo infrared camera, which help these robots find their way through smoke and bring the fire under control.
Where to Learn More
Read the full report by MarketsandMarkets titled Military Robots Market - Global Forecast to 2025 for more information. From an insight perspective, this research report has focused on various levels of analysis — industry analysis (industry trends), market ranking analysis of top players, supply chain analysis, and company profiles. These insights together comprise and discuss basic views on the competitive landscape, emerging and high-growth segments of the military robots market, high-growth regions, and market drivers, restraints, challenges, and opportunities.
If you need more in-depth information about other related technologies, please review the following industry reports:
MarketsandMarkets reports help stakeholders understand the pulse of the market and provides them with information on key market drivers, restraints, challenges, and opportunities.
---
About the Authors: Anuj Mishra is a Senior Research Analyst at MarketsandMarkets. Simpy Kumari is a Research Analyst at the same firm.
You May Also Like