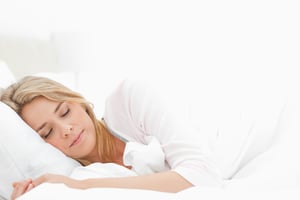 As U.S. obesity rates climb and Americans age, more people are developing sleep apnea, restless leg syndrome, and other sleep disorders. Plus, stressors related to the volatile stock market, terrorism, mass shootings, health care, student debt, and protests against politicians are all resulting in more sleepless nights.
As a result, a huge industry has emerged to analyze and treat America's insomniacs — sleep lab and home test devices, CPAP masks, premium mattresses and pillows, Rx and OTC sleep medications, apps, sound machines, and more.
An estimated 70 million Americans have insomnia, and 43 million suffer from obstructive sleep apnea (OSA), mostly undiagnosed. As obesity rates remain high, this problem is not likely to dissipate any time soon. Therefore, there is ample room for future growth of CPAP devices, sleep studies, OTC and prescription medications, and other services.
Here are several key facts to know about the sleep aid market, based on findings from a new Marketdata study.
1. Sleep market size and forecast
The U.S. "sleep market" was worth an estimated $28.6 billion in 2017. For 2018, the market should grow by 3.3%. To 2023, 4.7% average annual growth is forecast.
2. The shifting sleep medications market
The major prescription insomnia drugs market, led by Belsomra, Ambien, and Lunesta, has been declining in value due to the expiration of patents and the entry of cheaper generics. These drugs' U.S. sales total about $1.4 billion. However, the non-prescription or OTC sleeping pills market, valued at $576 million, is growing faster.
3. The size of the sleep labs market
There are an estimated 4,700 U.S. sleep centers or labs which perform studies (polysomnograms) to diagnose sleep disorders. The typical lab has revenues of $920,000 and a bed count of about 7-8. Labs are located in hospitals, MD practices, universities, or are independent. This segment was worth $4.3 billion in 2017. There has been consolidation and closures due to reimbursement pressure from competing portable home testing devices approved by Medicare.
4. Mattress industry statistics
The huge $16 billion mattress market is undergoing transformation, as technology changes the materials mattresses are made of, and the major retailers merge. E-commerce upstarts such as Casper have revolutionized how consumers purchase mattresses—online out of a box. Premium non-innerspring (air, memory foam) models are selling well.
5. The untapped market for CPAP devices
CPAP devices (continuous positive airway pressure) is a $4.3 billion market that's growing 7.2% a year. It is dominated by ResMed and Respironics. The market is largely untapped — only 12% penetrated in the U.S. It has major potential, as more people, especially the obese, are diagnosed with obstructive sleep apnea.
6. The growing sleep pillows market
This segment is worth $1.6 billion and is also growing, as new materials and premium-priced pillows enter the market.
Where to access additional information
To learn more about the sleep industry, check out a new report titled The U.S. Sleep Market by Marketdata LLC. This report offers an in-depth study of the market with market size estimates, patient demographics, in-depth competitors profiles and rankings, discussion of market trends, and more.
UPDATE: For the most recent information, see our latest article on the sleep aids market or purchase the sleep industry report published in May 2021.
---
About the Author: John LaRosa is the President of Marketdata LLC and is the author of 100+ industry and market studies. His research appears in top media outlets including ABC, CNN, Fox, Forbes, USA Today, The Wall Street Journal, The New York Times, and a variety of trade journals.