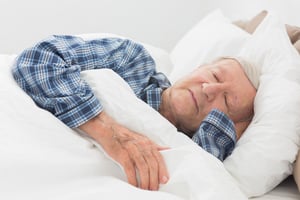 As obesity rates climb and Americans age, more people are developing sleep apnea, restless leg syndrome and other sleep disorders. Plus, stress in 2020 related to the presidential election, Covid-19 pandemic and recession are all contributing to more sleepless nights.
As a result, a huge industry has emerged to analyze and treat America's insomniacs—sleep labs and home test devices, CPAP masks, premium mattresses and pillows, Rx and OTC sleep medications, apps, sound machines and more.
Sleep market size and growth: Marketdata estimates that the U.S. sleep market was worth $30.6 billion in 2019, up 3.0% from the prior year. The market barely inched up 0.1% in value, to $30.7 billion in 2020, but the total market is forecast to grow 4.8% this year, to a value of $32.1 billion.
Prescription insomnia drugs market: This market, led by Belsomra, Ambien, and Lunesta, has been declining in value due to the expiration of patents and the entry of cheaper generics. However, OTC supplement sales are growing strongly. The total market of Rx and OTC sleep "drugs" is estimated at $2.1 billion in 2020.


Changes in the sleep centers industry: There was a major shift in the mix of in-center vs. cheaper at-home sleep studies performed by sleep centers during 2020—from 70% in-house/30% at-home to 30% in-house/70% at-home. This shift to telemedicine, coupled with center closures and lower patient volumes, caused revenues to fall by 27%, to $3.1 billion. A rebound is forecast in 2021. There are an estimated 4,400 U.S. sleep labs.


Rising demand for CPAP devices: A significant market segment and the one with the highest current growth rates is the CPAP devices market—continuous positive airway pressure devices used for persons with obstructive sleep apnea. This industry remains less than 12% penetrated in the U.S. The market was worth $6.47 billion in 2020, representing a strong 15% gain. Part of this gain was due to strong orders for ventilators last year.


Mattress market faces disruption: With consumers more focused than ever last year on comfort and improving their sleep quality, mattress sales held up well, growing by 1.2% to $16.9 billion in retail sales. This market is being disrupted by makers such as Casper and Purple, that have ditched the retail showroom and deliver directly to the customer's home.


The growing sleep pillows market: Worth $1.88 billion still growing, the sleep pillows market features new materials and premium-priced "smart" pillows.
Where to access additional information
To learn more about the sleep industry, check out a new report titled The U.S. Sleep Aids Market by Marketdata LLC. This report offers an in-depth study of the market with market size estimates, patient demographics, in-depth competitors profiles, discussion of sleep industry trends, and more.
---
About the Author: John LaRosa is the President of Marketdata LLC and is the author of 100+ industry and market studies. His research appears in top media outlets including ABC, CNN, Fox, Forbes, USA Today, The Wall Street Journal, The New York Times, and a variety of trade journals.