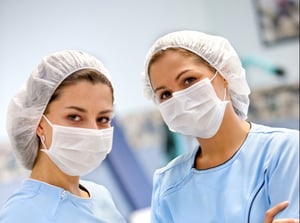 To help prevent the spread of COVID-19, a wide array of healthcare organizations, businesses, and consumers have scrambled to obtain items they once took for granted or had little need for: personal protective equipment (PPE), including disposable masks, face shields, and medical gloves.
COVID-19 has rapidly transformed the global PPE market, sending worldwide demand soaring and creating serious supply shortages. The Freedonia Group, a leading market research firm and division of MarketResearch.com, released a series of reports to analyze different segments of this dynamic market.
Below are some PPE market forecasts from Freedonia's expert analysts.
Medical Face Shields Market
Face shields were once only used in a small number of medical procedures, but the demand for these clear plastic guards has skyrocketed at an estimated 312% growth rate in 2020 due to face mask shortages related to COVID-19, according to The Freedonia Group.
Face shields offer several key advantages. They are comfortable and can offer full face protection. Face shields are also reusable and can be easily cleaned, unlike surgical masks, which are meant to be discarded after a limited number of uses. They are also easy to manufacture and have not had the same raw material shortages that masks have.
After the initial boom, the demand for face shield is expected to drop to 7.6% per year through 2024.
Find Out More → Global Medical Face Shields: COVID-19 Impact Analysis Brief analyzes the market for medical face shields including reusable and disposable shields. The report covers historical and forecast trends, demand by region, and production and supply chain issues.
Disposable Masks Market
Used by consumers and frontline workers alike, face masks are one of the most essential supplies in the world during the COVID-19 pandemic. The sales of face masks is projected to see explosive triple digit gains in market value, according to The Freedonia Group.
Historically, masks were manufactured by small to medium-sized companies with little name recognition (with 3M and Honeywell as the exceptions). Now, a huge array of companies have pivoted to mask making including GM, Boeing, Prada, Eddie Bauer, Panasonic, and others.
With an estimated 9,000 or more mask companies ramping up operations in China — and additional capacity available in Vietnam and other Asian countries known for producing textiles — manufacturers are expected to meet the demand for masks in 2020 and help alleviate shortages.
Find Out More → Global Disposable Masks & Respirators: COVID-19 Impact Analysis provides essential data and analysis to help mask producers, distributors, raw material suppliers, and end users understand where the market is headed in 2020 and over the long-term.
Disposable Medical Gloves Market
Another piece of protective gear facing supply shortages is medical gloves. The demand for medical gloves is climbing sharply due to the pandemic, with 12.5% growth expected for 2020.
Both healthcare workers and non-medical personnel are using an increasing number of medical gloves as a precaution. However, supplies are limited due to production slowdowns, restrictions on trade, and product hoarding.
Market demand for medical gloves is expected to fall over time to more sustainable levels. Freedonia analysts project a 5.7% annual growth through 2024.
Find Out More → Global Disposable Medical Gloves: COVID-19 Impact Analysis examines the market for examination gloves, surgical gloves, and laboratory gloves. The report covers historical & forecast market trends and the impact of COVID-19 pandemic.
About The Freedonia Group
The Freedonia Group, a division of MarketResearch.com, is a leading international industrial research company publishing more than 100 studies annually. Since 1985 we have provided research to customers ranging in size from global conglomerates to one-person consulting firms. More than 90% of the industrial companies in the Fortune 500 use Freedonia Group research to help with their strategic planning.
---
About the Author: Sarah Schmidt is a Managing Editor at MarketResearch.com, a leading provider of global market intelligence products and services.
---
Related Articles