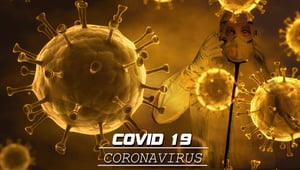 Ventilators offer critical care support to patients who are unable to breathe on their own. The recently discovered novel coronavirus strain, also known as COVID-19, has led to a rapid rate of respiratory infections and deaths globally. Therefore, a dramatic rise in the demand for ventilators is currently being witnessed, owing to the severe respiratory illness caused by the disease.
As per a study by WHO – China Joint Mission on Coronavirus Disease, published during the third week of February 2020, 5-10% of patients critically infected with the virus were expected to require the use of a ventilator or depend on a ventilator for survival during the course of treatment. The demand, thus created, justifies the need for this device in the present situation.
According to the market intelligence published by BIS Research, the global ventilator market was estimated to be around $1,142.0 million in 2019. However, during the pre COVID-19 phase it was expected to grow at a CAGR of 7.48% during the forecast period from 2021 to 2030. However, it has been observed that post the outbreak of COVID-19, the numbers are expected to change and the market is now expected to grow at a CAGR of 15.13% during the forecast period from 2021 to 2030.
Ventilator Market Dynamics
The global ventilator market is driven by several factors, including:
Respiratory disease incidences: The prevalence of lung and respiratory diseases, such as chronic obstructive pulmonary disease (COPD) and bronchial asthma that also causes post-operative complications, requires a consistent demand for ventilators. Moreover, air pollution increases the risk and severity of respiratory infections and lung diseases that can eventually prove to be life-threatening, leading to ventilator demand.
Rising geriatric population: Life expectancy in most countries has grown tremendously. The improvement in life expectancy is majorly due to significant advancement in diagnostic technology and medical science and improving awareness regarding health, nutrition, and hygiene. With the increasing elderly population, the incidence of cardiovascular diseases, stroke, and diabetes are increasing simultaneously. Moreover, the aged population has been at the highest risk in the coronavirus pandemic. As per the Centers for Diseases Control and Prevention (CDC), every 8 out of 10 deaths reported have been an adult with more than 65 years of age in 2020.
Premature births: Premature births are defined as the birth of babies that are born before 37 weeks of pregnancy. Preterm birth is the leading cause of death among children that are under the age of five. A premature baby can have a significant risk of developing breathing problems, due to their underdeveloped lungs. To allow and assist in efficient breathing processes, ventilators are used. The ventilator machines used for premature babies are often gentle and non-invasive to support their survival through minimal invasion.
Initiatives to boost ventilator production: The U.S. Food and Drug Administration followed a stringent and defined protocol for approving all manufactured medical devices. Post the coronavirus outbreak, the regulatory scenario of several other regions has been made flexible along with massive support and initiatives undertaken. For instance, the FDA and Medicines and Healthcare products Regulatory Agency (MHRA) have set up rapid testing and approval procedures for medical devices such as ventilators to tackle the COVID-19 crisis.
In addition, there are certain inhibiting factors that are restraining the growth of the market, including complications and side-effects associated with ventilator usage and lack of trained medical staff.
Ventilator-associated pneumonia and Pneumothorax are the two major complications, which can be life-threatening. These factors can limit the patient accessibility to the usage of ventilators, which, in turn, restricts the market growth of ventilators.
Market Segmentation
The global ventilator market is segmented on the basis of product type, modality, patient age, end use, and region. Each segment is further categorized under different sub-segments. The ventilator market, on the basis of product type, is categorized into intensive care and portable ventilators. In terms of value, the intensive care ventilators segment dominated the market in 2019 and is expected to dominate by 2030 as well.
Non-invasive and invasive ventilation (mechanical ventilation) are the sub categories for the ventilators market by modality. Among the two segments, invasive ventilators are expected to dominate the market till 2030, as a continuation of their current dominance in the market.
Based on patient age, the market is categorized into adults and pediatric & neonates. The market for adults contributed to more revenue than the pediatric and neonates segment in 2019 and is projected to continue do so till 2030.
Hospitals and specialty clinics, emergency medical services, and homecare are the three major segments under the end users of the ventilators. Ventilators are used in hospitals are well-advanced and versatile. Mechanical and non-invasive ventilators are used for those patients who are suffering from chronic respiratory conditions, such as pulmonary fibrosis and pneumonia. In hospitals, stationary (intensive care) ventilators are mostly used. In 2019, the hospitals and specialty clinics segment dominated the market and is expected to follow the same trend till 2030.
Lastly, the details and stats of the global ventilator market are also provided for North America, Europe, Asia-Pacific, and Rest-of-the-World.
Major Players Operating in the Market
Leading ventilator companies include the following:
| | |
| --- | --- |
| Aerobiosys Innovations Private Limited | Air Liquide |
| General Electric Company | Drägerwerk AG & Co. KGaA |
| Getinge AB | Hamilton Medical |
| Koninklijke Philips N.V | Löwenstein Medical Innovation GmbH & Co. KG |
| Medtronic plc | OneBreath Inc. |
| Penlon Ltd | ResMed |
| SCHILLER | Shenzhen Mindray Bio-Medical Electronics Co., Ltd. |
| Smiths Group plc | Ventec Life Systems |
| Ventinova Medical | VYAIRE MEDICAL, INC. |
| ZOLL Medical Corporation | WEINMANN Emergency Medical Technology GmbH + Co. KG |
| Dyson Ltd. | Ford Motor Company |
| General Motors Company | Maruti Suzuki India Limited |
| Virgin Orbit | |
Global Ventilator Market Research
For more information, see the industry report Global Ventilator Market: Analysis and Forecast, 2021-2030, which provides critical insights into the market. This comprehensive report draws on research from a mix of primary interviews and secondary research, along with analytical tools that have been used to build the forecast and predictive models. A free sample of this report is available on the description page on MarketResearch.com.
---
About the Publisher: BIS Research is a global market intelligence, research and advisory company that focuses on emerging technology trends that are likely to disrupt the market. Its team includes industry veterans, experts, and analysts with diverse backgrounds in consulting, investment banking, government, and academia.
---
Additional Articles