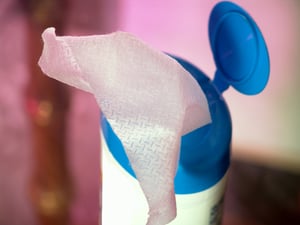 During the global COVID-19 pandemic, many consumers are eager to protect themselves from the virus. Personal hygiene is not just a good habit — it is a survival strategy.
Keeping surfaces clean is one of the top recommendations for preventing the spread of germs, alongside hand washing, social distancing, and wearing a mask.
As a result, surface disinfectant wipes are in high demand. From 2019 to 2020, sales of surface disinfectant wipes are projected to spike 17 percent to reach $470 million, according to a new study by The Freedonia Group.
COVID-19 Impact on Disinfectant Wipes
Early in the pandemic, stores quickly sold out of surface disinfectant wipes. In response, companies like Clorox ramped up efforts to boost production by hiring new workers and running operations 24/7. The company also adjusted its product mix to focus on fewer SKUs. For example, Clorox paused production of compostable cleaning wipes to increase production of disinfecting wipes.
Clorox's main competitor Reckitt Benckiser Group, the owner of the Lysol brand, also worked around the clock to expand its capacity. Like Clorox, Reckitt chose to cut less popular brands in order to manufacture larger quantities of fewer products.
Demand Outlook
However, even in this climate, not all disinfectant wipes markets are positioned for market growth. Although household and healthcare markets will see strong gains this year, the foodservice market will experience a huge drop in demand due to stay-at-home orders.
Other markets such as commercial and institutional settings also face ongoing volatility. Offices, gyms, schools, government organizations, libraries, hospitality venues, and museums were closed, but the facilities that do reopen (or have already reopened) will likely use more wipes in the future as part of heightened disinfection protocols. Essential businesses such as supermarkets will continue to be strong users of wipes.
The Rise of Private Label Brands
The Freedonia study notes that big-name brands still account for a majority of the surface disinfectant wipes retail market, but private label brands are gaining significant market share year-over-year.
Consumers gravitate to private label lines for their value pricing and comparative quality. Private label brands also gained a foothold with additional consumers when other major companies struggled with supply issues at the start of the pandemic.
Long-Term Demand to Stabilize
Analysts expect the demand for surface disinfectant wipes to rise dramatically in 2020 and then gradually fall in 2021. By 2024, sales of surface disinfectant wipes are expected to return to relatively normal growth patterns. US demand for surface disinfectant wipes is forecast to grow 4 percent per year to reach $490 million in 2024.
Disinfectant Wipes Industry Research
For updated information on this fast-changing market, see the comprehensive study Surface Disinfectant Wipes by The Freedonia Group. The report explains factors impacting demand and provides market sizing estimates, forecasts, competitive analysis, and valuable consumer insights.
---
About The Freedonia Group: The Freedonia Group, a division of MarketResearch.com, is a leading international industrial research company publishing more than 100 studies annually. Since 1985 we have provided research to customers ranging in size from global conglomerates to one-person consulting firms. More than 90% of the industrial companies in the Fortune 500 use Freedonia Group research to help with their strategic planning.