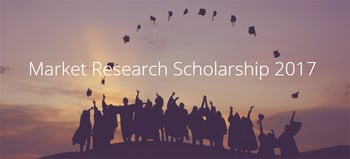 MarketResearch.com Academic is dedicated to helping the next generation of market researchers. In 2017, MarketResearch.com Academic offered a scholarship to a student who displayed a strong interest in the field of market research. We congratulate the accomplished student who won the award: Abbey Froehlich, a senior majoring in marketing at Miami University in Oxford, Ohio.
As part of her scholarship application, Abbey submitted an essay describing the biggest challenges that market researchers and data scientists face in the future and some potential ways to confront these challenges. Check out Abbey's essay below for her unique perspective on the changing role of business analysts and market researchers.
Please note: MarketResearch.com will also be offering a scholarship in 2018. Visit our website to learn more about the scholarship and how to apply.
---
Abbey's MarketResearch.com Academic Scholarship Essay
Some of the biggest challenges I see market researchers and data scientists facing in the future are an overflow of information, lack of in-person participation, and a shrinking need for independent parties to analyze the market. In terms of information, there is so much out there than can be researched and analyzed that it can and will be more and more difficult to determine what is relevant and useful to a situation. I've seen the lack of in-person participation when it comes to performing qualitative research and also when it comes to looking at customer experience. An example that comes to mind is in a grocery store. As more and more people choose to shop online for their groceries, how can we analyze the shopper experience or see what promotions customers are responding to in store? Finally, I think as corporations are growing larger and larger and become more digital, they'll be able to gather their own information and data to analyze, meaning less market researchers will be contracted out.
In order to confront these challenges I think it's important to adapt. When it comes to the daily role of a market researcher, we'll see the functions morph as technology changes. With more information, it's important to learn how to sort through data for key points. This is a different skill set than what researches have utilized in the past. In addition, as we see less in-person participation, it's important to find alternative ways of reaching customers in order to gather information. In regards to my last concern, we see that data is more accessible to corporations and individuals. In this sense, I think it's once again important to adapt to the environment.
Market researches and business analysts need to make themselves more valuable in the future by not only knowing how to analyze and interpret data correctly, but to learn the implications of data and the strategy of how to use this data when making decisions. I think this is the most valuable thing we receive from data, and although it's increasingly more and more widespread, just the access to data doesn't give you a whole lot of value. If you know how to take that data and make it meaningful by telling a story and making smart business decisions based off that data, it is much more purposeful. This is also a benefit when it comes to market research firms, because they have experience and have worked in multiple industries. They have expertise on what to do with data.
Overall, despite the fact that the world is constantly changing and updating, market researchers and business analysts will always be important. Just as their roles and challenges were different 10 years ago vs. today, they will be different in another 10 years. Being flexible, learning how to adapt and constantly educating yourself about your job is going to be what's really important.
---
MarketResearch.com Academic, a Partner to Colleges and Universities
This scholarship is just one way we support students in their career development. Our popular research platform is used by more than 100 top colleges and universities. MarketResearch.com Academic provides students and faculty with the same business-critical market research used by professionals around the globe.
To learn more, visit our website or contact Lisa Raker at lraker@marketresearch.com for a free demo.
Related Articles