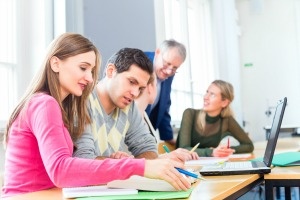 According to The New York Times, 65 percent of today's grade-school students may end up working in jobs that have not been invented yet. Preparing students to succeed in a rapidly shifting economy is an ongoing challenge for many educators.
David Featherstone, M.S., Ph.D., professor of biological sciences at the University of Illinois at Chicago, believes that market research reports are an important tool to help expose undergraduate students to innovative, tech-based career opportunities.
"Most of my students are pre-health," explained Dr. Featherstone. "They are planning to become doctors, dentists or pharmacists. I wanted to make sure my students are aware of less traditional job opportunities that they might not know about."
To help his students learn about different career paths, Dr. Featherstone gave them access to MarketResearch.com Academic. Through this web subscription portal, his students could read the same authoritative market research reports that corporate executives and professionals use daily.
Cutting-Edge Research for a Changing World
"Market research shows students the industrial applications of scientific knowledge," Dr. Featherstone said. "There are so many more career opportunities for biology students than being a doctor — that's only the end-point provider. There are also people who develop diagnostic methods and medical devices, and manufacture and market and sell them. All of these roles are important for students to know about."
The field of biology is changing to become more technology focused, according to Dr. Featherstone. Students will go on to become bio-tech developers and bio-engineers. Market research gives students a tangible way to learn about different industries and career possibilities. "Just seeing the long lists of research topics is useful for students," Dr. Featherstone said.
Empowering Students with Knowledge
Providing a resource like MarketResearch.com Academic also gives students the tools to find information on their own. "My goal is to wean students off of professors and the university," Dr. Featherstone added. "There is so much information in the world. Students need to know where to go to find it and how to use it."
But with so many free resources available, is a market research subscription truly necessary? "Google is great, but it can be difficult to separate the wheat from the chaff, especially if you are new to a subject or you are a student," Dr. Featherstone said. Market research reports can provide more reliable, comprehensive information on a wide range of cutting-edge topics.
A Unique Industry Perspective
University libraries often have limited budgets, but market research offers particular value. "There are other important resources in a university library such as newspapers and scientific journals, but market research is more specialized," Dr. Featherstone noted. "It is difficult for anyone sitting at home to access market research. That's the value universities can provide — offering access to knowledge and information that people may not otherwise know about or be able to get on their own."
In addition, market research provides real-world data and expertise that exists outside of academia. A biology professor may not be an expert on the market opportunities for anthrax diagnostics, for example, but a market research report can give students all that information and more.
Dr. Featherstone said he recommends MarketResearch.com Academic to students. "MarketResearch.com is a prominent name that I came across in my own research," he says. "It's one-stop shopping. It works, and it serves a need."
Student Feedback
Dr. Featherstone may recognize the value of market research, but what do his students think of these reports? Stay tuned for tomorrow's blog post, where we'll share the results of a survey we sent to his class.
Interested in learning more about MarketResearch.com Academic? Please visit our website.