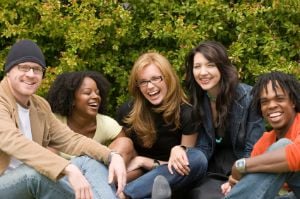 In our last blog post, we interviewed David Featherstone, M.S., Ph.D., professor of biological sciences at the University of Illinois at Chicago, to hear his perspective on the value of market research in a university setting. According to Dr. Featherstone, market research reports are a useful tool that can help demonstrate the practical applications of scientific knowledge.
When students learn how scientific research is being used in different industries, Dr. Featherstone said, they can start to think outside the box when it comes to future career opportunities. They'll also be more empowered to pursue lifelong learning opportunities and be cognizant of the resources that real-world professionals use every day.
Dr. Featherstone was so kind as to allow us to survey his class of students to ask them about their experience with MarketResearch.com Academic. What were his student's reactions to seeing market research reports for the first time? Were they bored or intrigued? Read on to find out.
Detailed Industry Analysis in an Accessible Format
When sharing feedback on the market research reports they read, students expressed a tangible sense of excitement. Students remarked on "the large amount of raw data from all over the world" and "the vast amount of information that can be studied."
One student commented, "The depth and breadth of the reports far exceeded my expectations. Not only do the reports cover the economic factors of issues, but they also look at the bigger picture and address social, political and cultural factors as well."
Although students were impressed by the sheer amount of research available on MarketResearch.com Academic, they were pleasantly surprised that they could easily comprehend the material. The reports "were very easy to understand with the level of education I currently have," noted a student. Others commented that the reports were "well written and very interesting" and were "all formatted in a very professional, yet easy-to-read style."
Access to Publishers at the Forefront of Market Research
We asked students which market research publishers they used the most and why. From their responses, it's clear that students were drawn to a wide variety of publishers. Here is a sampling of student feedback to demonstrate their varied interests:
"Mind Commerce — the data was well-presented and easy to follow."
"Freedonia. They were excellent."
"Freedonia, because it was available and it was insightful."
"I enjoyed Packaged Facts because I am a huge animal lover, and they posted some good material on pets."
"I looked at the healthcare reports because that is what I am interested in, and most of those were by Kalorama."
"I used Paul Budde Communications and Icon Group International the most because I found those more interesting and better organized."
Multiple Perspectives on One Topic
Having access to a variety of publishers through MarketResearch.com Academic provides students with a wide array of content. It also allows students to dig deeply into one topic of interest and analyze data from different sources.
Students recognized the benefits of accessing multiple publishers on one platform. They said the platform allows them "to learn from an array of viewpoints" and "obtain more data."
One student wrote, "I believe students, especially in the modern society that we live in, are a lot more interested in seeking information from various sources instead of just one. We value and crave different opinions and viewpoints."
Another student explained, "When it comes to science, it's important to not just review one person or group's work, but to compare and contrast them."
Easy Search Functionality That Saves Researchers Time
Searching multiple sources in a single platform provides another key benefit — it saves time and simplifies the research process.
Students commented on this, saying:
"It's always easier to have everything all in one place to save both time and energy searching."
"You can find multiple viewpoints/research about a single topic without having to look all over the Internet."
Another student noted that the time they save searching for information "can be put to better use when reading the reports," since the reports themselves are so detailed.
Exciting Real-World Applications
To round out our survey, we asked students how market research reports could help them later on in their careers. Students replied that market research would be useful when creating marketing strategies, making investment decisions, and analyzing the competition to see how to improve a business. They also said market research would be a valuable tool for keeping up "with the latest and greatest technology" and understanding "up-and-coming research."
Other students noted that market research reports provide "a simplified yet still very thorough explanation" that would allow them "to become knowledgeable in many subjects."
"These reports are very useful and super beneficial to have access to because they are a quick way to look up all of the professional information on whatever topic you are trying to learn about," another student concluded. "If I were to become a researcher or just a scientist that worked in a lab and needed to educate myself on a new product, then MarketResearch.com would most definitely be my go-to site."
The Power of Lifelong Learning
As Dr. Featherstone hoped, introducing market research reports to his students helped put them on the path to ongoing education and independent learning. Later on in their careers, his students will know about another valuable resource that's available to help them find the information they need to make strategic decisions. In a world full of constant change and innovation, knowing how to educate yourself and stay informed is a crucial skill.
To find out more about MarketResearch.com Academic, visit our website.