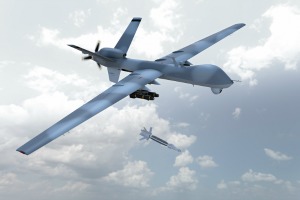 According to a market research report by BIS Research, the global unmanned aerial vehicle (UAV) sense and avoid systems market was valued $508.7 million in 2016 and is expected to witness a growth rate of 38.90%, between 2016 and 2022 to reach a market value of $3.7 billion by 2022.
The sense and avoid system is one of the key enabler technologies for beyond the visual line of sight (BVLOS) operation of UAVs that is critical for their widespread adoption for parcel delivery, which is seen as the biggest opportunity in the overall UAV and drone market. Sense and avoid systems offer several advantages such as increasing the safety of UAVs in the airspace and eliminating risks of loss of property or life.
Drone Market Analysis
Unmanned aerial vehicles have emerged as one of the advanced tools to reduce manual labour and increase the efficiency of processes across commercial and non-commercial applications. With the reduction in their size and price, demand for UAVs has grown considerably in the past decade, especially across the commercial end-users.
At present, drones and UAVs are being used for several commercial applications such as precision farming, aerial photography, industrial inspection, thermal imaging, and security. The robust growth in the demand for UAVs is also a result of their growing popularity with hobbyist end users.
Furthermore, the demand for UAVs has also increased across military and homeland security end-users. UAVs are used for numerous applications in military and homeland security such as surveillance, neutralizing enemy forces, carrying out missions in harsh conditions, spying, and crowd control.
The Rise of Sense and Avoid Drones
The rules and regulations imposed by the government for UAV safety serve as the primary drivers for the global UAV sense and avoid systems market. The rising concern for the safety of people around UAVs and beyond-visual-line-of-sight operations over populated areas have created an imminent need for the installation of sense and avoid systems in UAVs.
In addition, increasing technological advancements to build fully autonomous drones and usage of sense and avoid technologies for Swarm drones are creating new opportunities in the market. However, communication challenges, miniaturization of sense and avoid systems, and their lower efficiencies are acting as the challenges to the growth of the market.
Sense and Avoid Technology
The report by BIS Research divides the market by technologies used in sense and avoid systems in UAVs into cooperative and non-cooperative technology:
Cooperative technology includes Traffic Alert and Collision Avoidance System (T-CAS) and Automatic Dependence Surveillance Broadcast (ADS-B) transponder.
Non-cooperative technology includes active sensors and passive sensors. Active sensors are sub-divided into radar, Olidar, and sonar/ultrasonic sensors. Passive sensors are subcategorized into Electro-Optical and Infrared (EO/IR) cameras and others.
The cooperative technology segment reported the highest revenue for the year 2016 and is likely to grow at a CAGR of 38.72% during the forecast period.
Key Applications
UAVs installed with sense and avoid systems are used for different applications such as commercial and non-commercial applications:
Commercial applications include Inspection, delivery, first responder, and aerial imaging, among others.
Non-commercial applications include military and homeland security.
Concerning revenue, the commercial segment is expected to grow at the highest CAGR of 39.79% during the forecast period, 2016-2022.
Find Out More in the Report
This drone market research report provides an in-depth analysis of the key strategies and market trend dynamics which include drivers, restraints, and opportunities prevailing in the global UAV sense and avoid systems market. The report includes a comprehensive examination of the key ecosystem players and developments taking place in this market.
Some of the key players mentioned in the report include:
Aerialtronics
BAE Systems
Echodyne Corp.
FLARM Technology Ltd.
General Atomics Aeronautical Systems, Inc.
Harris Corporation
Honeywell International Inc.
IMSAR LLC
Intel Corporation
Leonardo-Finmeccanica Spa
Panoptes Systems Corporation
Precision Hawk
Click the button below to view the report page on MarketResearch.com and download the study today.
---
About the Publisher: BIS Research is a global market research company that provides comprehensive reports covering 12 technology verticals. Its team includes industry veterans, experts and analysts with diverse backgrounds in consulting, investment banking, government, and academia.
Related Reading