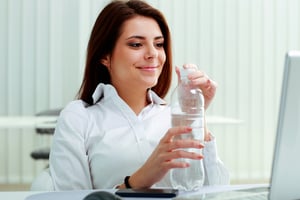 Sales of major beverage categories are expected to grow from $150 billion to more than $160 billion by the end of 2020, according to a new report titled U.S. Beverage Market Outlook 2020: Grocery Shopping & Personal Consumption in the Coronavirus Era by Packaged Facts, a leading market research firm and division of MarketResearch.com.
Most packaged beverage categories are mature, but there are still growth opportunities for companies that focus on product innovation, appeal to shifting consumer preferences, and successfully navigate market changes associated with the COVID-19 pandemic.
Watch the video below and read on to learn key trends and facts about the U.S. beverage industry, based on research from Packaged Facts.

Beverage Industry Overview for 2020 and Beyond
Key beverage categories: The beverage market is broad, with a range of product types including carbonated beverages, coffee, dairy alternatives, dairy beverages, energy and sports drinks, juice, tea, and water (including bottled and enhanced).


COVID-19 impact: The COVID-19 pandemic has created deficits in the foodservice market (such as school cafeterias and restaurants that have closed down or operate with limited capacity), but the retail sector has experienced a strong surge in demand. Consumers have stockpiled shelf-stable products and consumed more beverages at home, due to widespread shifts to online learning and working from home.


Beverage market forecast: Packaged Facts analysts predict that the demand for beverage products will adjust back to usual levels and return to normal growth trends after 2022. Major product beverage categories are expected to surpass $170 billion in sales in 2024.


Growth of grocery e-commerce: Even before the pandemic, online grocery sales have been rising dramatically, including internet beverage sales. COVID-19 has only accelerated this trend. However, e-commerce still represents a very small percentage of beverage sales, and as you might expect, some categories such as coffee and tea sell much better than certain types of fresh perishable beverages.


Beverage trends: In the last five years, consumer preferences have shifted toward healthier, low-sugar, and clean-label beverages due to health concerns and rising cases of obesity and diabetes. As part of this larger trend, consumers are embracing more plant-based beverages with the desire for more natural and environmentally sustainable products. In addition, consumers are seeking out beverages with reduced sugar and natural sweeteners, as well as beverages with immunity-boosting ingredients, such as turmeric, ginger, antioxidants, vitamins, and probiotics.


Strong beverage categories: Beverages like bottled water, flavored sparkling water, and dairy alternatives are performing well. Additionally, energy drinks and coffee are also sought after due to their caffeine and indulgent appeal.


Worst-performing categories: Beverages that are perceived as sugary and full of artificial ingredients, such as juice and soda, have been negatively impacted by recent wellness trends.
Where to Learn More

For more in-depth industry analysis and exclusive market data, be sure to read U.S. Beverage Market Outlook 2020: Grocery Shopping & Personal Consumption in the Coronavirus Era, the go-to source for a complete understanding of the U.S. beverage market. This broad-based report evaluates current trends and future directions for marketing and retailing, along with consumer patterns across the beverage market.
View the abstract, table of contents, and purchasing options on the Packaged Facts website using the link above. The report is also available to Profound subscribers on Profound.
UPDATE: For the most recent information available, see our new blog post "6 Key Beverage Industry Trends to Watch in 2022" and check out the latest edition of U.S. Beverage Market Outlook.
---
About Packaged Facts: Packaged Facts publishes market intelligence on a wide range of consumer market topics, including consumer demographics and shopper insights, consumer financial products and services, consumer goods and retailing, and pet products and services. Packaged Facts also offers a full range of custom research services. Reports can be purchased at our company website and are also available through MarketResearch.com.
You May Also Like