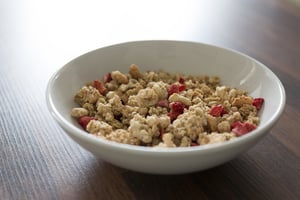 The global breakfast cereal market is expected to grow 3% per year to reach $40 billion in 2023, according to new research and analysis from Packaged Facts, a leading market research firm and division of MarketResearch.com.
Breakfast cereal is a highly penetrated category in mature markets such as the U.S., but there is plenty of room for growth, particularly in Asia, Africa, and the Mideast, as Western diets become more common across the world.
Watch the video below and read on to learn more about these and other cereal industry trends, based on research from the report Global Breakfast Cereals by Packaged Facts.
1. American cultural influences boost cereal consumption worldwide.
Western influences are changing what people eat in many developing countries. Long-time staples of the U.S. diet — such as breakfast cereals — are becoming more commonplace in Asia/Pacific and Africa/Mideast.
In these regions, breakfast cereals are presented as a novel food option and an alternative to traditional foods that are typically available, according to David Sprinkle, research director for Packaged Facts.
2. Breakfast cereals are increasing in developing markets.
As incomes rise in developing countries and more consumers are exposed to breakfast cereals through advertisements, new opportunities will become available for cereal brands. Asia, especially China and India, offers the best growth prospects in cereal consumption worldwide.
North America accounts for more than a third of the global breakfast cereal market, but per capita consumption has been falling in recent years due to the wide variety of breakfast options available to busy consumers. In the future, breakfast cereal sales growth will be driven by nations outside of North America.
3. New cereals emphasize snacking and indulgence.
Cereal brands are embracing creative tactics to boost consumption in North America and keep consumers engaged in the category. One strategy is to re-position cereal from a breakfast food to an "anytime" food that can be consumed as a snack or dessert.
Major food brands have launched new cereals with eye-catching indulgent flavors that play on nostalgia and popular sugary flavors. Examples include Cinnamon Toast Crunch Churros from General Mills, Hostess Donettes from Post Holdings, and Caticorn from Kellogg's.
4. Health food trends play a big role in more mature markets.
Although indulgent flavors are on trend, cereal companies are also working hard to appeal to consumers that are looking for products with healthier, less processed ingredients.
Nutritional content is a primary concern for new product development in mature markets such as North America and Europe. Niche breakfast cereals cater to health trends such as gluten-free, keto-friendly, paleo, and organic/non-GMO. To add value and give products a health halo, cereal brands incorporate ancient grains, superfoods, probiotics, or seeds and nuts.
5. Supermarkets remain the top distribution channel for cereal.
While e-commerce is growing, supermarkets still accounted for 55% of the share in the global cereal revenue last year. The presence of supermarkets is also expanding in urban areas in Asia, the Mideast, and Africa.
Where to learn more
For more comprehensive cereal industry analysis, be sure to read the report Global Breakfast Cereals, which provides historical data and forecasts as well as research on cereal trends, consumer marketing, and cereal product development and innovation.
View the abstract, table of contents, and purchasing options on the Packaged Facts website using the link above. The report is also available to Profound subscribers on Profound.com.
---
About Packaged Facts: Packaged Facts publishes market intelligence on a wide range of consumer market topics, including consumer demographics and shopper insights, consumer financial products and services, consumer goods and retailing, and pet products and services. Packaged Facts also offers a full range of custom research services. Reports can be purchased at our company website and are also available through MarketResearch.com.