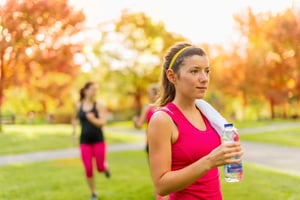 Beverage sales rose during the COVID-19 pandemic, but it will be difficult for beverage companies to replicate the record-setting gains of 2020.
The beverage industry faces a variety of challenges including supply issues, increasing prices, and the mature nature of many beverage categories, according to the report U.S. Beverage Market Outlook 2021 by Packaged Facts, a leading market research firm and division of MarketResearch.com.
In the report, Packaged Facts describes six top beverage trends that accelerated during the pandemic and are expected to gain even more traction in the future.
1. Dairy-Free and Plant-Based Alternatives
Dairy-free, plant-based alternative beverages form a growing niche that continues to take share from traditional dairy beverages. Although dairy alternatives were developed for vegans, the market now targets a broader range of consumers including flexitarians and omnivores who are concerned about their health, animal welfare, and climate change.
Currently, almond milk dominates this segment, but oat milk is growing fast. "The biggest challenges and opportunities lie in delivering the taste and texture of dairy milk along with nutritional and dietary profiles that match or exceed it," according to Packaged Facts.
2. The Next Wave of "Better-for-You" Beverages
"Better-for-you" beverages feature clean labels, natural ingredients, less sugar, fewer calories, and caffeine alternatives. Products with these qualities have been in high demand, and the pandemic only heightened people's focus on wellness, immunity, and stress reduction.
The next wave of "better-for-you" drinks spotlight ingredients that have perceived health benefits such as superfoods, probiotics, prebiotics, antioxidants, vitamins, minerals, botanicals, adaptogens, and protein. This trend is impacting every beverage category, particularly tea and kombucha, energy and sports drinks, and bottled water.
3. Sugar Reduction
More consumers are working to reduce their sugar intake, driving beverage-makers to release new, reduced- or no-sugar varieties. Soda, juice, energy drinks, and RTD tea manufacturers have all jumped on the bandwagon. Recent product examples include Dr Pepper Zero Sugar, MTN DEW Zero Sugar, Better Juice, Red Bull Sugar Free, Monster Energy Zero, and Brisk Zero Sugar Lemon.
4. Hybrid Beverages
Beverage companies often develop new products by blending the best qualities of different drinks and blurring the lines between product categories.
For instance, energy drinks increasingly include electrolytes and advertise hydration, while sports drinks contain caffeine and other stimulants. Sparkling waters may contain caffeine from tea and flavor from juice, as seen in Ocean Spray Wave. Sodas may cross over into coffee—take Coke with Coffee as one example.
5. CBD Beverages
CBD is another ingredient to watch. Although the FDA has not approved the use of CBD in foods and beverages sold in interstate commerce, some marketers are bringing products to market. Molson Coors recently introduced Verywell, a line of sparkling waters with hemp-derived CBD and adaptogens, through a subsidiary. The drink is only available in Colorado.
6. More Sustainable Packaging
While beverage trends are often driven by what's inside a drink, the package itself is another critical element that is increasingly top of mind due to increasing concerns over sustainability.
According to Packaged Facts, single-use plastic packaging continues to be the leading concern and challenge for beverage manufacturers. All the major beverage companies have pledged to phase in bottles made from recyclable, compostable, and biodegradable materials by specific target years in the near future.
In addition, many beverage manufacturers have been transitioning some of their plastic packaging to 100% PET plastic, which has a lower carbon footprint than virgin PET.
Where to Learn More
For more information about beverage industry trends and to access more in-depth beverage market research, be sure to check out these recent reports from Packaged Facts:
---
About Packaged Facts
Packaged Facts publishes market intelligence on a wide range of consumer market topics, including consumer demographics and shopper insights, consumer financial products and services, consumer goods and retailing, and pet products and services. Packaged Facts also offers a full range of custom research services. Reports can be purchased at our company website and are also available through MarketResearch.com.
Related Articles