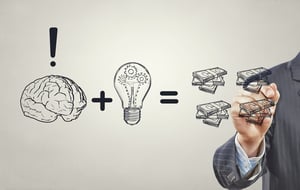 It's no secret that market research can be expensive, at times costing thousands (or even tens of thousands) of dollars. Making an investment might seem intimidating if you don't know what you're looking for. But business intelligence experts can tell you that most times, the higher cost of quality market research is worthwhile when weighed against the expense of the avoidable mistakes that it can help prevent.
Market research pricing is often contingent on the type of report a customer is looking for, and the caliber of research the client selects. Lower cost reports are often very basic, including little more than data and statistics, while higher quality publications will not only disclose the data but draw conclusions from it, identifying the tangible and intangible factors impacting the market. While the former is appealing for its economy, the return value of the latter is much higher and usually proves to be a better investment.
So the next time you wonder about the price of a market research report, consider these important factors impacting the project cost.
Experienced Market Research Analysts Are Key
When it comes to market research, the maxim of "you get what you pay for" is eminently true. Analysts and project managers working for reputable publishers like Marketresearch.com's Packaged Facts, Simba Information, and The Freedonia Group divisions have dedicated years – sometimes even decades – to learning the ins and outs of the industries in which they specialize, accruing high-level insights into both the quantitative market data and qualitative factors like product innovation, global economic trends, mergers and acquisitions, and more.
For a better idea of the depth and breadth of experience our team has to offer, be sure to check out Marketresearch.com's ongoing blog series, "Meet the Analyst", linked below.
Market Research Companies Are More Than the Sum of Their Parts
Producing a market research report entails a multi step process with checks and balances along the way. When a client purchases a report, the name (or names) on the cover page don't always tell the full story. In addition to industry experts, Marketresearch.com employs a diverse in-house team responsible for ensuring that reports from our brands are well-worth the list price. This team includes:
Experienced project managers
Editors
Economists
Corporate researchers
Each group plays an important role in contributing to and vetting the content of each report, maintaining consistency and quality across the numbers, analysis, and charts and tables.
Furthermore, a good market research firm employs knowledgeable customer service and sales representatives that can fully support clients both pre- and post-purchase, answering questions and troubleshooting issues as needed. So while investing in a quality team may result in higher overall research costs for the customer, it ensures not just a better product but better service in the long-run.
Quality Market Research Takes Time
In addition to requiring in-depth industry expertise, there's no way around the fact that producing quality market research can be time consuming. This is because trustworthy firms spend weeks compiling the primary and secondary data at the root of a forecast, which can include (but is by no means limited to):
Interviewing industry participants
Conducting surveys
Tracking merger and acquisition activity and other major news developments
Combing through trade and industry data, and corporate financials
Identifying geopolitical trends and developments (like global tariffs) that may have short- and long-term industry impact
This adds up to, on average, six to eight weeks of work – if not more, particularly when it comes to custom projects. Time is money, and just as product development and manufacturing take commitment and investment, so too does procuring the high-level information required to produce accurate market analysis.
Interested In More On the Ins and Outs of Market Analysis?
Still have questions about the value of market research relative to its cost? Check out our white paper "Finding Business Opportunities: The Importance of Market Research", which shares viewpoints from a several Fortune 500 companies that use syndicated research to gain a competitive edge and drive business growth.
Be sure to download the white paper today for a behind-the-scenes look at how experienced professionals leverage third-party research to better understand their customers and identify market opportunities.