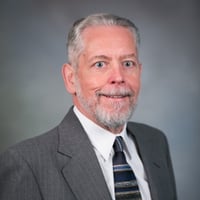 Ken Long leads a team of analysts that produce studies on building and construction products at The Freedonia Group, where he has worked for more than 18 years. He has authored 64 studies, and his research has appeared in The Wall Street Journal, Forbes, Fortune, and many trade journals.
Ken earned an MBA in marketing from Cleveland State University and a BA in psychology from Ohio State University. He has spoken at a variety of conferences for organizations such as the American Bearings Manufacturers Association and the Fastener Industry Collection.
We recently interviewed Ken to uncover what goes on behind the scenes at Freedonia and hear his take on the value of market research in today's business landscape.
How did you first become interested in market research?
I know this really dates me, but I conducted interviews at a Vietnam War protest on the National Mall in Washington, DC, for a study being conducted by my social psychology professor at OSU. When I graduated from college, I used that experience to get a part-time job as an interviewer for the Gallup Poll before landing a full-time job as a market research analyst.
Who uses the market research you help produce? How does the research help clients with their work?
Our studies are used by executives, researchers, and sales and marketing executives at firms that participate in, supply, or provide services to the building products and construction industries. They use our studies to (1) benchmark company performance relative to key competitors and the market as a whole, (2) track sales of the products they make with competitive product sales, (3) identify growth opportunities by product, market, and geographic area, (4) identify potential acquisition and merger candidates, (5) validate internal estimates of market size and company market share, and (6) keep up with recent and anticipated changes in building codes.
What is your favorite part of the study writing process?
Seeing the study go to print, the end result of weeks of hard work by a team of analysts, economists, editors, and project managers.
How long does it take to produce a report?
Two to three months, typically. Some new studies can take longer.
How do you engage with clients as part of your job?
I and the analysts in the Construction & Building Products group regularly talk to clients to learn how we can make our studies more useful for their needs, develop a better understanding of trends in their industry, and answer questions about the studies they've purchased and (if needed and available) provide additional data we have that didn't make its way into the final study report.
What's the biggest misconception people have about market research?
That anyone can do it who has access to the Internet. Online searches are just one of many tools that can and should be used to conduct research and develop a good understanding of a market.
What studies have you worked on recently?
Studies published recently by the Construction & Building Products group include Global Flooring, Global Insulation, Green (Vegetative) Roofing, Pipe Products & Markets, and Residential Roofing.
---
About Freedonia
The Freedonia Group, a division of MarketResearch.com, is a leading international industrial research company publishing more than 100 studies annually. Since 1985, Freedonia has provided research to customers ranging in size from global conglomerates to one-person consulting firms. More than 90% of the industrial companies in the Fortune 500 use Freedonia Group research to help with their strategic planning.