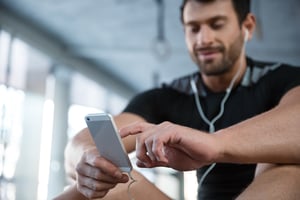 The total weight loss market is now worth more than $72 billion, and a growing share of it takes place online and digitally. Technology and increased usage of the Internet and smartphones have changed the way Americans lose weight, and how they access weight loss programs. New companies like Noom have entered the market with apps in attempts to "disrupt" long-established players like Weight Watchers, NutriSystem, and Jenny Craig.
Online and digital resources for weight loss are plentiful—including websites, apps, podcasts, online courses, webinars, social media, You Tube videos, video coaching, texting, blogs, and more. Evolving digital technology is very much a part of reaching today's dieters and their desire for low cost and 24/7 convenience.
7 Things to Know About the Virtual Weight Loss Market
1. Market value: Marketdata estimates that the digital or virtual weight loss market was valued at $1.4 billion in 2018. The market is forecast to grow 6.6% annually through 2023. The growth in the online dieting market will come from smartphone apps and the ads run on them, as well as subscription programs, international users, and video coaching.
2. Top competitors: WeightWatchers.com leads with $567 million in 2018, followed by online sales of non-prescription diet pills ($381 mill.), FitBit.com ($155 mill.), online sales of meal replacements ($123 mill.), and MyFitnessPal ($120 mill.).
3. Apps & fitness trackers: There are signs that revenue growth is slowing or falling for fitness trackers, based on lower device prices and user attrition. Marketdata estimates that the weight loss apps market is worth at least $300 million.
4. Internet sales: Both meal replacements and OTC diet pills should grow 5-8% per year in internet sales. They are very popular among do-it-yourselfers (which represent 80% of all dieters). Sales of these products online accounted an estimated $504 million in 2018, or 36% of the total digital market.
5. Competitive strategies: Commercial weight loss companies will continue to beef up their digital program features, apps, and capabilities in order to stay competitive, reach tech-savvy Millennials and Generation Z, and to hedge their bets with both off-line and online programs.
6. Retail websites sell diet products: In addition to the many websites operated by diet companies, large retailers also sell weight loss products online, directly to consumers, without joining a structured program. These include: Amazon.com, CVS.com, Walgreens.com, GNC.com, Walmart.com, Costco.com, and Target.com.
7. Telemedicine is coming to weight loss: Platforms allow clients to complete their weight loss care virtually anywhere, at any time, without physically having to travel. A nutritionist, dietician, MD, or weight loss coach may be available for consultations and coaching support through a phone or video chat. Large healthcare systems are beginning to use these services now, but weight loss providers can't be far behind.
Where to Learn More About the Weight Loss Industry
For more information, see Marketdata's new market research report The Digital Weight Loss Market: Online, Apps & More, which includes:
Market dollar value and growth rate from 2006 to 2023

Latest weight loss market trends and developments

Online dieter demographics

Analysis of weight loss websites including their operating models and revenue sources

Weight loss apps and fitness trackers, including rankings, features, and revenues

Usage of telemedicine and more
Visit the report page to read the full abstract and learn more.
---
About the Author: John LaRosa is the President of Marketdata LLC and is the author of 100+ industry and market studies. His research appears in top media outlets including ABC, CNN, Fox, Forbes, USA Today, The Wall Street Journal, The New York Times, and a variety of trade journals.
Related Articles