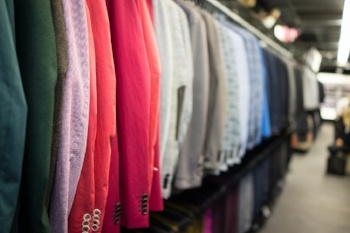 Obesity levels remain high in America, as 70% of adults are either obese or overweight, with no sign of an improvement in sight. More women are joining the size acceptance movement and are demanding fashionable clothes for "plus size" persons, and other services catering to them, including dating services, specialty beds, and medical equipment.
I don't see American obesity rates declining any time soon. As long as that's the case, there should be increased demand from both young and middle-aged large persons for better clothes and a wide variety of services to meet their needs. Younger plus size consumers today are more demanding and are not shy about voicing their opinions and forcing retailers and designers to shift their attitude.
Old stigmas about plus-size shopping are melting away. This is bolstered by a cadre of shapely models and public figures from Kim Kardashian to Nicki Minaj, advocacy from plus-size bloggers, and fitness trends such as CrossFit — whose adherents have larger body shapes that do not fit into ordinary sizing.
Plus size models have become more mainstream during the past five years, making the covers of magazines such as Sports Illustrated and others. Designers are creating more clothes for plus size women, and there are annual events such as Full Figure Fashion Week and CurvyCon, held in New York City. All of this is driving higher demand and sales.
Key Plus Size Market Statistics
Plus size market growth: Marketdata analysts estimate that in 2015, the plus size market in the U.S. was worth $21.5 billion. Sales are expected to grow by 4.1% annually, reaching just under $26 billion by 2020. Fully 95% of sales now are related to clothing.
Number of potential customers: Based on official CDC obesity data, the number of potential customers for "plus sized" products and services is at least 54 million Americans.
Customer profile: The "average" American women now wears a size 14

(with plus-sizes, often classified as 14 to 34, accounting for 67% of the population). Typically, plus size customers are female, between the ages of 30–45, and come from all income levels and occupations
Medical equipment for plus size people: High capacity bariatric hospital beds, wheelchairs, and lift systems constitute an $800 million market now, expected to reach $1 billion by 2020, as healthcare facilities try to accommodate larger and larger patients.
Plus size modeling: Model agency billings related to plus size models are estimated at $64 million, and Marketdata estimates that $110 million in business for dating services relates to large persons.
Plus size fashion retailers: A good portion of the growth in plus size clothing has come from online sales, but brick & mortar retailers such as Lane Bryant, Ashley Stewart, Catherine's, Modcloth, Forever 21, Torrid, and Hot Topic and others have added or expanded their plus size departments and product lines.
To learn more about this market, check out The U.S. Plus Size Market: Clothing, Products & Services, a market study published by Marketdata in August 2016.
This groundbreaking 93-page report covers:
Plus size demographics
Market size, growth, and segments
Market trends
Profiles of major plus size retailers & modeling agencies
Going beyond the clothing market, this report also provides in-depth information on household accessories, modeling agencies, dating services, bariatric hospital beds, lift systems, wheelchairs, books & videos, plus size magazine, and websites.
---
About the Author: John LaRosa is the President of Marketdata LLC and is the author of 100+ industry and market studies. His research appears in top media outlets including ABC, CNN, Fox, Forbes, USA Today, The Wall Street Journal, The New York Times, and a variety of trade journals.
You May Also Like