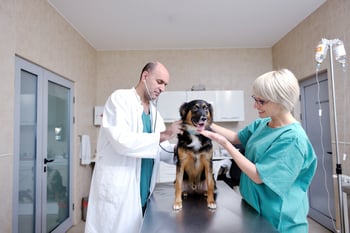 Growth in the pet population, increasing penetration of pet insurance, pet humanization within the growing global urban population and increased awareness of animal welfare needs due to social media are helping the veterinary industry to maintain growth at 6.2% a year, according to a new market research report.
However, growth is being held back below the 7.2% the market was achieving until recently by high costs for equipment, licenses and trained personnel. These high costs, which in turn affect prices, make veterinary services less affordable.
In developed countries like the USA, one key indicator — the number of visits to veterinary clinics by pet and livestock owners — has fallen recently. This probably resulted from a combination of decreasing affordability and the availability of information online. According to the American Pet Products Association, 43% of dog owners and 41% of cat owners rely on online information.
Key Veterinary Market Segments
A major split in the veterinary market is between treatment centres such as animal hospitals, clinics and surgeries, and veterinary laboratories. Pet foods and products such as pharmaceuticals sold through animal hospitals are a third category.
Although the treatment centres provide some diagnostic services, their main functions are dispensary, surgery, radiology, clinical pathology, ward accommodation and facilities for 24-hour observation of patients and outreach work, especially on farms. Specialized treatments such as advanced diagnostic services, internal medicine, oncology, neurology, endocrinology, ophthalmology, dermatology and cardiology are widely available in the bigger animal hospitals.
Globally a little under 40% of the work of animal hospitals and clinics is routine examinations.
Another nearly 40% is non-surgical procedures.
The remaining 20% or so is surgical procedures.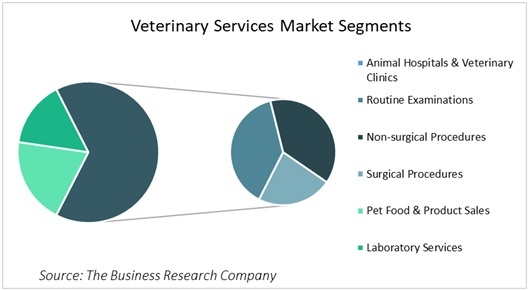 Top Veterinary Industry Trends
Big data and wearables: Major trends in the treatment centre segment include the use of big data in veterinary care to diagnose and assess potential diseases, and wearables to monitor pet health. Wearables capture body temperature, heart rate, respiration rate, pH levels and other health parameters and transmit the information to farmers, owners and veterinarians. By tracking the vital health parameters through wearables, veterinarians can diagnose and treat diseases more accurately and faster. For instance, Vital Herd's e-pill technology can continuously transmit critical data such as body temperature and heart rate to the farmer or veterinarian.
Innovative laboratory testing: Tests in veterinary testing laboratories include chemistry, pathology, endocrinology, serology, hematology and microbiology. The latest diagnostic tools used in veterinary laboratories include DNA tests and protein tests. The adoption of DNA biotechnology by diagnostic service providers is supporting farmers in disease control and thus helping increase food production and livestock trade, according to a 2012 report in the Journal of Veterinary Science and Technology. Another development is the adoption of polymerase chain reaction (PCR) techniques by veterinary laboratory service providers to detect nucleic acids faster than by other detection methods. For example, this technique was used for virulence typing of the Avian Influenza A virus. The various types of PCRs include nested PCR, real-time PCR and multiplex PCR. Nested PCR is used for whole-genome sequencing of pestiviruses, the real-time PCR for differentiation of morbilli virus for insertion sequence analysis of mycobacterium paratuberculosis and the multiplex PCR technique for differentiating the cluster of different viruses causing diseases in swine.
Increasing livestock population worldwide: The global livestock and poultry population is expected to rise in the years to 2021. This trend is especially prominent in developing countries such as China, India and Brazil. China is a world leader in pork production, and its meat production increased from less than 70 million tons in 2010 to more than 76 million tons in 2016. Again, according to the USDA in 2016, the USA's commercial production of beef is expected to increase by almost 4% a year while beef and boiler meat exports are forecast to grow by 9% and 7%, respectively. Increasing population and rising income levels are stimulating the demand for livestock products in emerging markets. The global veterinary services market is benefiting. A threat remains, however: the large US pigs and pork export market to China may be affected by tit-for-tat tariffs or quotas imposed by the Chinese government in retaliation for US trade restrictions on steel and aluminum.
Market Geographies
North America is by far the largest region for the veterinary services market; Western Europe and Asia Pacific are second and third, both worth about half the American one. Growth, however, has been, and will continue to be, slower in North America than the other two, while Asia Pacific's growth, previously a little lower than Western Europe's, has now overtaken it.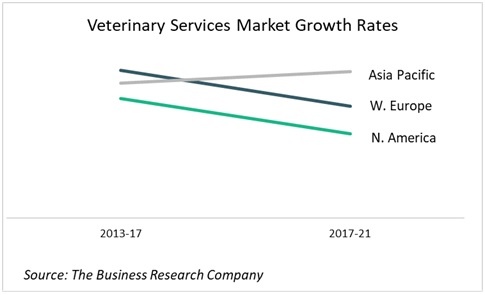 North America's dominance in the veterinary services market is largely generated in the USA. As a percentage of GDP, however, both the UK and Australia spend a little more than the USA. Human per capita spend is highest in the USA, followed by Australia and the UK. In contrast China, which has by far the largest animal population in the world, at 6.35 billion animals, spends less than 1% of GDP on veterinary services, equating to $4.34 per capita of the human population, against $127.1 in the USA.
Factors influencing the size and growth of the veterinary industry by region and country include:
The animal disease burden
GDP and its distribution
Consumption patterns (which influence the extent of livestock farming — thus China's animal population vastly outstrips India's)
Government regulations relating to animal health safeguarding and meat and dairy production
The size of the veterinary workforce
Government support for animal welfare practices
Investment by the industry
Levels of pet ownership
"Humanization' of pets
Preventive measures against outbreaks of disease
For example, China has seen a significant increase in pet ownership among its urban population and with it an increase in demand for veterinary services for companion animals. According to research conducted by Daxue Consulting, 8% of families in China's tier-1 and tier-2 cities now own pets. Pet owners in China spend $50 a year on average on medical treatments for their pets. China's population is urbanizing at the rate of over 30 million a year, according to the CIA World Factbook; many of the newly urbanized population in China miss the presence of animals that they knew in their former rural homes and acquire companion animals instead.
"There are countries like China that are starting to change their opinion on their relationship with pets. The people population in China is controlled and people are looking for pets as substitutes for children."
— Veterinarian, Banfield Pet Hospital
Source: The Business Research Company primary research
Where to Learn More
Read the Veterinary Services Global Market Report 2018 from The Business Research Company for information on the following:
Markets Covered: Veterinary services, healthcare.
Veterinary Service Companies Covered: VCA Inc., Banfield Pet Hospital, Greencross Ltd., CVS Group Plc, The Bargh Memorial Animal Hospital ASPCA, The Animal Medical Center.
Regions: North America, Asia Pacific, Western Europe, South America, Eastern Europe, Middle East, Africa.
Countries: USA, China, UK, Japan, France, Germany, Australia, India, Spain, Russia, Italy, Brazil
Time Series: Five years historic (2013-17) and forecast (2017-21).
Data Segmentations: Veterinary services market historic and forecast size and growth rates for the world, 7 regions and 12 countries, animal hospitals and clinics, laboratory services and pet food and product segments historic and forecast size and growth rates for the world, 7 regions and 12 countries, animal hospital and clinic routine examinations, surgical procedures and non-surgical procedures for 12 countries, livestock and pets segments size 2017 for 12 countries, global competitor sales and market shares.
Healthcare market historic and forecast size and growth rates for the world, 7 regions and 12 countries, healthcare market size, percentage of GDP, global, healthcare per capita expenditure, by country, healthcare services market historic and forecast size and growth rates, and split by segments 2017, global.
Other Data: Veterinary services expenditure as % of GDP, per capita veterinary services expenditure, pet population split by type, by country, 2017, livestock and poultry population by country, 2017, global veterinary services and healthcare market growth rate comparison.
Other Information: Drivers and restraints of the global veterinary services market 2013-17 and 2017-21, Porter's Five Forces Model, PESTEL analysis and customer information for the global veterinary services market, company profiles including products, strategy and financial performance for 6 veterinary service companies, veterinary services market trends and strategies.
Sourcing and Referencing: Data and analysis throughout the report are sourced using end notes. Sources include primary as well as extensive secondary research.
Click the button below to view the report page and learn more.
Related Reports to Explore
Here is a list of reports similar to Veterinary Services Global Market Report 2018:
---
About The Business Research Company
The Business Research Company is a market research and intelligence firm that excels in company, market, and consumer research. It has research professionals at its offices in the U.K., India, and the U.S. as well as a network of trained researchers globally. It has specialist consultants in a wide range of industries including manufacturing, healthcare, financial services, and technology.
The Business Research Company's management team has more than 20 years of varied business research experience. They have delivered hundreds of research projects to the senior management of some of the world's largest organizations. The Business Research Company's consultants have master's qualifications from top institutes and include MBAs, MSCs, CFAs, and CAs. The Business Research Company's consultants gain training and qualifications from the Market Research Society and are trained in advanced research practices, techniques, and ethics.
---
Related Articles