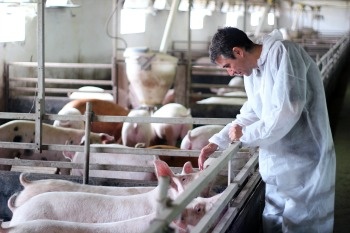 Groundbreaking technological advances are rapidly transforming the veterinary services industry — expanding treatment options and boosting potential revenue growth. While these developments are creating exciting new possibilities, veterinary service providers that are slow to adapt may fall behind and miss a key window of opportunity.
The Veterinary Services Global Market Report 2017 from the Business Research Company highlights four major trends in the veterinary market that should be followed in order to stay competitive.
1. Adopt Big Data in Veterinary Care
Many veterinary care service providers are adopting big data technologies to offer treatment for pets, livestock and animals. This technology is used to diagnose and assess potential diseases. Big data enables veterinarians to identify the diseases affecting cattle and pets in various locations and regions. For instance, Bayer Healthcare Animal introduced applications to assess potential signs of diseases in animals, thus enabling faster diagnosis and treatment of disease conditions at a distance.
2. Invest in Wearable Technologies to Monitor Pet Health
Veterinary care service providers and pet owners are increasingly using animal wearables to monitor pet health. Wearables capture body temperature, heart rate, respiration rate, pH levels and other health parameters and transmit the information to farmers, owners and veterinarians.
By tracking the vital health parameters of animals through wearables, various stakeholders can diagnose and treat diseases more quickly and accurately. For instance, Vital Herd's e-pill technology can continuously transmit critical data such as body temperature and heart rate to the farmer. Since wearable technologies enable farmers and veterinarians to track critical health parameters in pets and animals, veterinarians should consider investing in these technologies.
3. Start Offering Premium Services to Increase Revenues
Nowadays a lot of pets are considered to be family members by their owners. Growing affinity with pets and increasing humanization are driving the veterinary care services market. As a result, veterinary care service providers should consider offering premium services to pet owners to increase overall revenues and margins.
Premium veterinary services include high-tech medical therapies and prescription medications. Marqueen Pet Emergency and Speciality and Premier Veterinary Group are major premium veterinary care service providers in the USA.
4. Offer Stem Cells Therapy to Treat Animals
Stem cell therapy is widely used by veterinary service providers to treat orthopedic conditions such as osteoarthritis, tendon and ligament injuries. Stem cell therapy isolates adult stem cells from animals' fat tissue and re-introduces these cells to reduce pain and inflammation and help restore motion and stimulate regeneration of tendon, ligament and joint tissues.
Companies offering stem cell therapy in the USA include VetStem and MediVet. Veterinary service providers ought to consider offering stem cell therapy to treat chronic conditions of osteoarthritis, tendon and ligament injuries in pets.
Statistics on the Veterinary Services Global Market
In addition to in-depth trends analysis, The Veterinary Services Global Market Report 2017 also provides data and forecasts that offer a comprehensive view of the market worldwide. According to the report, the market for veterinary services grew slowly compared to other segments of the healthcare market in the historic period; however, it will gain the momentum to reach $200 billion in 2020, which will be a $46 billion growth since 2016.
Global per capita average veterinary services expenditure grew from $17 in 2012 to $21 in 2016, and it is expected to grow to $25 in 2019. The market will be mostly driven by the increased level of social and digital marketing, conservation of fauna and the rising livestock population.
Among five regions, the Americas was the largest. The USA was the largest country in this market, but India showed the fastest growth. In 2016, China had the largest number of pets (gaining the position as the most pet-populated country following the country's population statistics). However, Great Britain had the highest average veterinary services revenue per animal.
Interestingly, Russia was the only country that preferred cats. There were 17.7 million pet cats and 12.5 million pet dogs in Russia as of 2016. In the historic period, Americans had to pay more than any other country for veterinary services due to the high prices in their healthcare market.
The veterinary services market share in the global GDP grew from 0.17% to 0.21% in the same period, and it is expected to grow to 0.22% in the forecast period. The market's share in the GDP was the highest in France.
Where to Learn More
Read The Veterinary Services Global Market Report 2017 from The Business Research Company for information on the following:
Market characteristics
Market size and growth
Drivers and restraints
Porter's five forces analysis
PESTLE analysis
Market segmentation
Regional and market chapters
Competitive landscape
Key mergers and acquisitions
Market trends and strategies
Interested to know more? Here are two related market reports to explore:
IMPORTANT UPDATE: For the latest industry research, view the newly published articles Veterinary Industry Outlook: Top Global Trends and Statistics and 5 Animal Medicine Market Trend-Based Strategies for Industry Players to Undertake.
---
About the Author: Sandeep has over four years of experience in pharmaceutical research and consulting. He has worked on business research studies featuring industry analysis, strategic and financial analysis, opportunity assessment, competitor intelligence, and market sizing for pharmaceutical and medical equipment verticals. Sandeep holds a bachelor's degree in biotechnology and a post graduate degree in business management from Liverpool John Morees University.