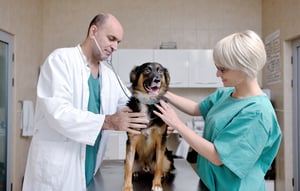 The global animal medicine market offers exciting growth opportunities for competitors, particularly in the late-COVID / post-COVID landscape. A recent report highlights some of the key strategies that can be adopted by companies to benefit from these market trends.
The global animal medicine market is expected to grow from $32.7 billion in 2020 to $37.8 billion in 2021 at a compound annual growth rate (CAGR) of almost 16%. The growth is mainly due to companies rearranging their operations and recovering from the COVID-19 impact, which had earlier led to restrictive containment measures involving social distancing, remote working, and the closure of commercial activities that resulted in operational challenges. The animal medicine market is expected to reach $48.5 billion in 2025 at a CAGR of 6%.
It is currently a concentrated market, but with significant opportunities for new entrants and expansion. The top ten competitors in the global animal medicine market made up about 57% of the total market in 2020. Major players in the market include Zoetis, Inc., Boehringer Ingelheim GmbH, Merck & Co., Elanco Animal Health Inc., Bayer AG and others.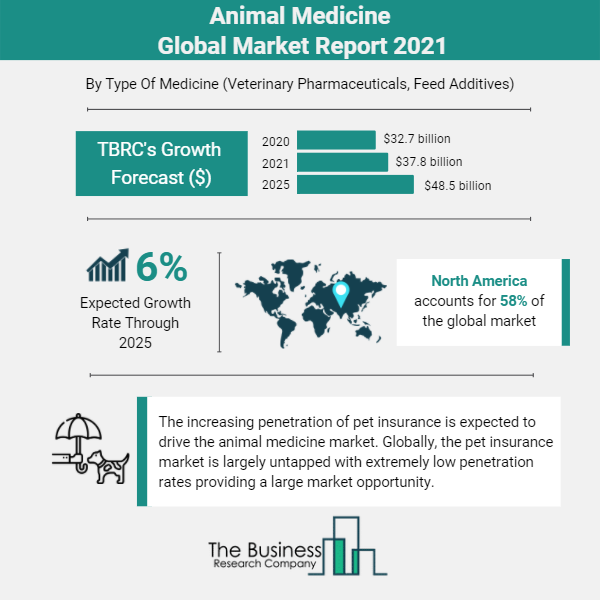 Below are some of the key strategies for success in the global animal health market.
1. Application of Nanotechnology in Veterinary Medicines to Tackle Antibiotic Resistance
Nanotechnology in the animal medicine industry is used to improve diagnosis, treatment, animal growth promotion, and production. Nanoparticles are mainly used as alternative antimicrobial agents to reduce the use of antibiotics and improve the detection of pathogenic bacteria. They are also used as drug delivery agents for new drugs and vaccines candidates to improve their characteristics and performance, and to reduce drug resistance in animal organisms.
Veterinary medicines companies should consider investing in the development of nanoparticles as substitutes for conventional drugs to tackle drug resistance in animals.
2. Production of Combination Medicated Feed Additives
Medicated feed additives in general help maintain animal health and promote growth and feed efficiency. They are usually promoted as an extra nutrient or drug for livestock as they include vitamins, amino acids, fatty acids, pharmaceuticals, minerals, growth hormones, and fungus. About 70% of the companies in the medical feed additives market are introducing new combination medicated feed additives, formed with two or more medicated feed additives to improve the effectiveness of the product.
Veterinary medicines manufacturers should focus on the development of new combination medicated feed additives to increase efficiencies of the end-product.
3. Development of Chewable Tablets
Chewable tablets are increasingly being used to prevent animals from being affected by ticks, worms, fleas and others. Such tablets are usually soft chew and are available in different flavors, such as beef. Treatments with these tablets are easier to administer to animals as they can be easily added to their regular meals. Many veterinary medicines manufacturers are constantly working towards producing effective and easy-to-give drugs to succeed in the highly consolidated animal medicine market.
Veterinary medicine companies should focus their efforts on the development of new chewable medicines for the treatment and prevention of veterinary diseases.
4. Easy-to-Give Drugs Such as Oral Drug Solutions for the Treatment of Feline Hypertension
Similarly on easing the delivery of drugs to animals – the rapid increase in pet ownership is driving the demand for easy-to-give veterinary drugs to treat veterinary diseases. The rising pet ownership and the growing trend of treating companion animals as family members enable pet owners to provide quality care to their pets. This includes quality treatment of various diseases. To cater to the growing demand, veterinary medicines companies have started producing easy-to-give drugs to treat various diseases of companion animals, including oral solutions for feline hypertension.
Veterinary medicine manufacturers should consider developing easy-to-give drugs such as oral liquid solutions to treat various veterinary diseases.
5. Strategic Collaborations and Partnerships to Drive Innovations
To succeed in the increasingly competitive animal medicine market, veterinary medicine market players are entering into new geographies and developing innovative products through sharing skills and expertise with other players.
Companies in the animal medicine market should consider strategic collaborations and partnerships with other market players to boost innovations and establish category leadership.
Get the Full Report to Learn More
Animal Medicine Global Market Opportunities and Strategies to 2030: COVID-19 Impact and Recovery is one of a series of reports from The Business Research Company that provides animal medicine market overviews, analyzes and forecasts animal medicine market size, animal medicine market players, animal medicine market segments and geographies, the market's leading competitors' revenues, profiles and market shares.
Interested to Know More About The Business Research Company?
The Business Research Company is a market intelligence firm that excels in company, market, and consumer research. Located globally, it has specialist consultants in a wide range of industries including manufacturing, healthcare, financial services, chemicals, and technology.