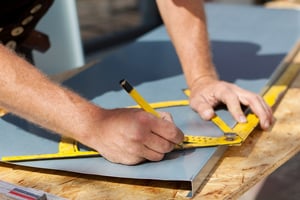 Bolstered by an increase in housing starts and the need to repair or replace older roofs with more durable products, the demand for roofing in the U.S. is projected to grow 0.2% per year to reach 253.0 million squares by 2024, according to The Freedonia Group, a leading market research firm and division of MarketResearch.com.
The roofing industry will face short-term challenges during 2020, with demand falling across multiple segments due to the COVID-19 pandemic. Commercial businesses that experience pandemic-related revenue declines are expected to delay big-ticket projects such as roofing installations, but the residential roofing market — which accounts for the majority of roofing demand — is forecast to decrease by a smaller amount and bounce back more quickly.
"A rebound is expected in 2021, driven by continued growth in the residential market and an improving economy," writes Freedonia's Senior Analyst Matt Zielenski, an industry expert who has produced more than 70 in-depth studies on the building materials and construction products industry during his time at Freedonia.
A Slump in the Commercial Roofing Market
While overall roofing sales are expected to rise by 2024, the demand for commercial roofing is projected to fall by 0.6% per year to 88.9 million squares during this period.
The COVID-19 pandemic will lead to an oversupply of commercial properties as more businesses close. Until these vacant sites are filled, new buildings will not need to be constructed, further limiting commercial roofing sales.
Another factor restraining the commercial roofing market is the elevated level of reroofing activity that occurred during 2016 and 2018. Most roofs that were replaced or repaired during that time will not require significant maintenance in the next few years.
Residential Roofing Market Set for Long-Term Growth
However, the residential roofing market is expected to sustain a relatively stable position in 2020 and the next few years. U.S. demand for residential roofing is projected to rise 0.7% per year to reach 164.10 million squares in 2024.
"The U.S. features a large stock of older homes, many of which have roofs near or at the end of their lifespans," according to Zielenski. "In many cases, homeowners will take advantage of increasing property values and a more favorable lending environment to make an investment in their homes by replacing these older roofs."
Additional Roofing Market Research
For more in-depth data and analysis, download the roofing market research reports recently published by The Freedonia Group, which include:
These reports give detailed information on U.S. roofing market size and forecasts, key roofing industry trends, historical market data, and analysis of top roofing companies and roofing market share.
About The Freedonia Group
The Freedonia Group, a division of MarketResearch.com, is a leading international industrial research company publishing more than 100 studies annually. Since 1985 we have provided research to customers ranging in size from global conglomerates to one-person consulting firms. More than 90% of the industrial companies in the Fortune 500 use Freedonia Group research to help with their strategic planning. Reports can be purchased on our company website and are also available through MarketResearch.com and Profound.com.
---
About the Author: Sarah Schmidt is a Managing Editor at MarketResearch.com, a leading provider of global market intelligence products and services.
---
Related Reading