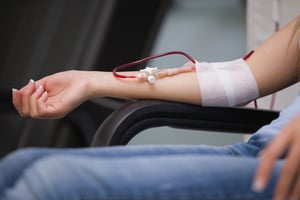 Kidney dialysis is a life or death, crucial healthcare service that costs about $90,000 per year per patient. The large competitors have enjoyed a near monopoly for years, but changes are coming that could hamper that growth and profitability.
This is a moderate growth and highly concentrated $24.7 billion U.S. industry. The demand for kidney dialysis is rising, in America and especially abroad, as the population ages, obesity levels remain at high levels, and the number of Americans with diabetes, pre-diabetes, and hypertension rises. However, there are pressures to reduce the huge burden on Medicare and shift to cheaper home dialysis, as well as to increase the number of kidney transplants and artificial organs.
Here are the top six things to know about this healthcare sector:
Market value and growth: Marketdata estimates that the U.S. kidney dialysis industry was worth $24.7 billion in 2018, up 5.5% from 2017. The total market is forecast to grow at a 4.0% average annual pace, to $29.7 billion by 2023. Revenue growth has been moderate since 2011—about 3-5% annual gains.


Number of kidney dialysis clinics: There are an estimated 7,500 clinics providing kidney dialysis services in the United States. Average annual receipts per clinic are $3.3 million, and they have an 18% net profit margin.


Growth of patient population: According to the United States Renal Data System (USRDS), there were over 511,000 ESRD (end stage renal disease) dialysis patients in the U.S. in 2016. Based on the most recent 2018 data, the underlying ESRD dialysis patient population has grown at a compound rate of 3.8% from 2000 to 2016.


Competitive landscape: This industry is very concentrated, as the 4 largest firms in the industry capture more than 85% of revenues. Two companies, Davita Partners in the U.S. and Fresenius Medical Care, based in Germany, basically control the market.


Revenue source: A major source of payment for the clinics' services is Medicare. President Trump just signed a new executive order to increase the number of organ donations and spur development of artificial kidneys, and shift services to more home care, in an effort to cut Medicare spending in this area.


Market challenges: Several factors that could dampen revenue growth for kidney dialysis clinics over the next four years include: increased access to kidney transplants by patients, new payment models that favor home dialysis over clinic-based treatment, resulting in Medicare reimbursement cuts, and possible staff shortages and unionization of clinic technicians.

Find Out More
For more in-depth information, check out Marketdata's study titled U.S. Kidney Dialysis Clinics: An Industry Analysis, which provides:
National receipts/growth from 2007 to 2023 forecast

Customer demand and demographics

Key industry trends and statistics

Details about industry regulation

Market share of leading companies

Emerging home dialysis services

Medicare reimbursement trends
Click the button below to view the report page on MarketResearch.com and learn more.
---
About the Author: John LaRosa is the President of Marketdata LLC and is the author of 100+ industry and market studies. His research appears in top media outlets including ABC, CNN, Fox, Forbes, USA Today, The Wall Street Journal, The New York Times, and a variety of trade journals.
You May Also Like