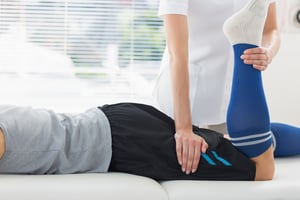 Physical therapy services provide a cost-effective way to prevent short-term disabilities from becoming chronic conditions, to help avoid invasive procedures, to speed recovery from surgery and musculoskeletal injuries and to eliminate or minimize the need for opioids.
This is a fragmented but growing $34 billion per year industry of small physical therapy clinics, and a few large chains. Demand is growing due to an aging American population, ongoing sports injuries, joint replacement surgeries, rising obesity levels, and the cost savings and effectiveness of outpatient rehab.
Here are some things to know about this healthcare sector:
Physical therapy market size: Marketdata estimates that the U.S. physical and occupational therapy industry was worth $34.5 billion in 2018, up 6.2% from 2017. The total market is forecast to grow at a 6.2% average annual pace, to $45.7 billion by 2023. Revenue growth has been steady since 2007.


Number of physical therapy clinics in the U.S.: There are an estimated 38,800 clinics in America providing physical therapy, occupational therapy, speech therapy and audiology. Average annual receipts per clinic are $886,000, and they have a 14.6% net profit margin.


Market drivers: Early hospital discharge practices foster greater demand for outpatient physical therapy services, and PT clinics believe that their therapy services provide a cost-effective way to prevent short-term disabilities from becoming chronic conditions.


Competitive landscape: This industry has been consolidating for 10+ years, yet private practice remains very fragmented. The 20 largest companies—two public operators and eight private equity-backed operations—captured just 21 percent of the industry's market share. The potential for "roll-ups" is high.


Sources of revenue in the physical therapy industry: The principal sources of payment for the clinics' services are managed care programs, commercial health insurance, Medicare/Medicaid and workers' compensation insurance.


Physical therapy salary and job growth: Physical therapists earned an average of $79,850 in 2017, and projections by the Labor Dept. reveal that physical therapists are expected to see job growth of 28% through 2024. The median pay for occupational therapists was $84,270 in 2018, and job growth is expected to increase 27% from 2014 through 2024.


Number of physical therapy companies: There were 24,342 physical therapy companies or firms operating in the United States in 2012. Of this tally, 94.2% were single-unit operations that captured 54% of industry receipts.
Where to Learn More
To find out more about the physical therapy industry, be sure to check out a report by Marketdata titled U.S. Physical Therapy Clinics: An Industry Analysis.
This 71 page report includes the following information:
Estimated growth from 2007 to 2023
PT customer and therapist demographics
Physical therapy industry trends
Government regulation
Profiles of top physical therapy companies
IMPORTANT UPDATE: For the latest information for 2022, please see Marketdata's newly published article on how the physical therapy industry recovered from the pandemic. This article highlights key data from the newest edition of Marketdata's report on U.S. physical therapy clinics.
---
About the Author: John LaRosa is the President of Marketdata LLC and is the author of 100+ industry and market studies. His research appears in top media outlets including ABC, CNN, Fox, Forbes, USA Today, The Wall Street Journal, The New York Times, and a variety of trade journals.
You May Also Like