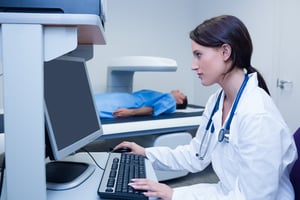 The U.S. is the largest medical imaging market globally due to the high disposable income and health insurance of consumers. More than 630 million X-rays, CT & PET scans, MRIs, ultrasounds, and mammographies are performed each year, representing an important part of the healthcare system.
Several positive factors are impacting this industry. The launch of new innovative equipment by major companies will spur growth. In addition, the United States is expected to experience an accelerated rate of aging population, which leads to an increase in the demand for imaging services, since the elderly population is more prone to chronic diseases.
Following are some things to know about this healthcare sector:
The U.S. diagnostic imaging centers industry was worth $19.5 billion in 2018, up 4.2% from 2017. The total market is forecast to grow at a 3.1 % average annual pace, to $22.1 billion by 2023.


The business is highly competitive, with 6,500 facilities and with the 50 largest competitors capturing just 29% of the market. The average facility has annual revenues of $2.8 million.


There are still many "mom & pop" imaging centers in operation, and consolidation continues. Only six companies operate chains with more than 30 facilities – RadNet being the largest, with 340+ centers. The top six players captured 9.6% of industry sales in 2018.


A U.S. economic recession in either 2020 or 2021 is likely. Fully 34% of surveyed economist expect a recession by 2021. In a recession, consumers will lose jobs, and health insurance. They will cut back on doctor visits, thereby reducing the number of diagnostic imaging tests on that smaller number of patients. This will translate to lower revenues for imaging centers.


The Great Recession appears to have had a major lagged effect on the industry. Following the recession of 2008-2009, the industry's revenues fell basically for five consecutive years, through 2014. Visits to primary care and specialist physicians declined, causing referrals to ancillary service providers (like imaging) to decline.


The launch of innovative new imaging equipment with wider applications will spur growth, but ongoing Medicare reimbursement cuts and concerns about the overuse of testing will put pressure on operators.
To learn more about this segment of the medical imaging industry, read the newly published report U.S. Diagnostic Imaging Centers: An Industry Analysis, which provides the following information:
Types of imaging equipment used
National receipts/growth from 2002 to 2023
Healthcare demand factors
Key industry trends
Industry structure and operating ratios
Top companies market share
Insurance/Medicare reimbursement trends
Competitor profiles
Click the button below to view the report's full description on MarketResearch.com.
---
About the Author: John LaRosa is the President of Marketdata LLC and is the author of 100+ industry and market studies. His research appears in top media outlets including ABC, CNN, Fox, Forbes, USA Today, The Wall Street Journal, The New York Times, and a variety of trade journals.
Additional Articles