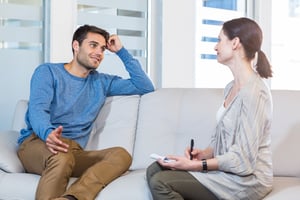 Personal and life coaching has become big business in America, as clients seek guidance for career transitions, starting a business, getting more organized, improving their sales or marketing skills, and a lot more.
There are virtually no barriers to entry to the coaching industry, and start-up costs are minimal. No degree or certification is needed. As a result, the market has attracted many would-be coaches, who want to leverage their life and work experience for pay. However, consumers need to be careful, since some life coaches may not be "certified," or worse, incompetent.
1. The U.S. personal coaching industry continues to grow.
Marketdata estimates that the total U.S. personal coaching market was worth $1.08 billion in 2017, up 6.5% from the prior year. The total market is forecast to grow at a 5.4% average annual pace, to $1.38 billion by 2022, with a brief slowdown in 2019 due to a likely recession.
2. Personal coaches earned about $62,000 per year in 2015.
There are an estimated 53,000 coaches worldwide, with a conservative estimate of 18,000 operating in the U.S. The actual number is probably higher. The typical personal coach earned about $62,000 per year in the United States in 2015. 68% of coaches are female. Coaches usually charge between $200 and $500 per month for their services.
3. Personal coaches need more accountability.
One key issue or problem facing this industry is untrained or incompetent business/life coaches, many of whom may be "certified" by a long list of dubious credentialing organizations. More than 500 entities certify coaches worldwide. There is pressure mounting among clients for more accountability.
4. Communication methods are shifting.
As the Baby Boomers age, the 75 million American Millennials will create demand for coaching services. Webinars, coaching apps, and online delivery via video conferencing will be the norm for personal and life coaching in the next few years, rather than by phone.
5. A bubble in the market may be developing.
The U.S. coaching industry will grow slightly slower than the international market, as the American market may be getting saturated and is more established than overseas emerging markets. A bubble may be developing in this profession.
6. Most consumers have not hired a life coach yet.
Awareness of personal coaching is increasing, but most consumers have not yet used it. Only 16% of consumers had used a life or business coach as of 2014.
The future of life coaching and business coaching
The U.S. personal coaching market appears to be getting saturated, and some consolidation in the near future is likely, as coaches are held to higher accountability standards.
To learn more about this industry, read The U.S. Personal Coaching Market report by Marketdata, a leading market research firm specializing in niche service sectors not covered elsewhere.
This report provides an overview of the personal development industry, with opinions by leading market experts and competitors, trends, market segments and their dollar values from 2003-2018.
---
About the Author: John LaRosa is the President of Marketdata LLC and is the author of 100+ industry and market studies. His research appears in top media outlets including ABC, CNN, Fox, Forbes, USA Today, The Wall Street Journal, The New York Times, and a variety of trade journals.
You May Also Like