The global patient monitoring devices market is expected to grow from $22.4 billion in 2018 to $30.7 billion in 2022 at an annual growth rate of more than 8%.
The fast growth of the market in the forecast period can be attributed to many important driving factors, such as expected continued economic growth, leading to an expected increase in per capita healthcare expenditures; the increasing prevalence of chronic diseases; and expected increases in the adoption of remote monitoring technology.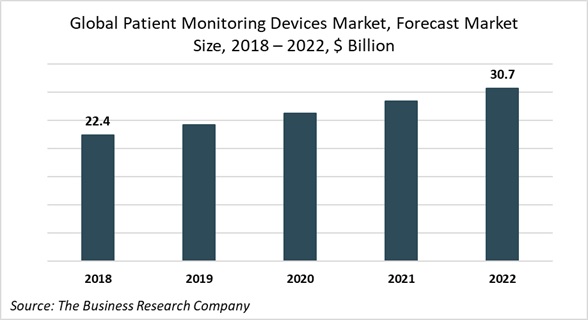 A major driver will be the increasing demand for homecare services. Home health care mainly includes care given by skilled medical professionals, including skilled nursing care and physical therapy. The rising demand for these services will increase the use of monitoring devices to record health and medical data of patients from their homes. The data captured by monitoring devices is transmitted on a regular basis to medical staff for continuous monitoring and support. The global home health care and residential nursing care services market is expected to grow from $8212.2 billion in 2017 to $1000.4 billion in 2021 at an annual growth rate of 5.3%.
The demand for monitoring devices is also likely to get a boost from the shortage of professionals in the healthcare services industry. According to a report by Mercer, the US will require 2.3 million new health care workers by 2025; this includes nurses, physicians, lab technicians and various other healthcare personnel. This shortage is likely to drive the demand for monitoring systems as these devices allows medical professionals to track multiple patients remotely.
The global patient monitoring devices market is segmented into vital parameter monitoring devices and equipment, fetal and neonatal monitoring devices, weight monitoring and body temperature monitoring devices and equipment, and remote patient monitoring devices and equipment.
Remote patient monitoring (RPM) technology allows patients to be monitored away from conventional clinical settings. RPM uses digital technologies to collect patients' medical data from one location and electronically transmit it to healthcare providers based in a different location for assessment and treatment recommendations. RPM enables patients to be continuously monitored in the comfort of their home. The number of patients monitored remotely is likely to increase to approximately 20 million by 2018 from about 3 million in 2013. This increased RPM adoption is expected to further drive the demand for remote patient monitoring devices.
Where to Learn More
For more data and insights, see the market research report published by The Business Research Company titled Patient Monitoring Devices Market Global Briefing 2019. This report discusses:
Market characteristics
Market size and growth
Drivers and restraints
Market segmentation
Competitive analysis
Trends and strategies
About the Publisher: The Business Research Company has published over 300 industry reports, covering over 2,400 market segments and 56 geographies. The reports draw on 150,000 datasets, extensive secondary research, and exclusive insights from interviews with industry leaders.
---
Additional Articles