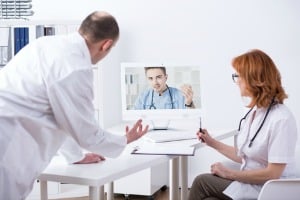 A new report from The Business Research Company, shows that the global market for telemedicine technology, currently worth $31.8 billion, will reach $77.2 billion by 2022. Expansion at that rate provides great opportunities for companies and investors in the telemedicine market.
What Is Telemedicine?
Telemedicine is defined as the use of information technology and electronic communication to provide healthcare services when patients and healthcare professionals are at different locations. Telemedicine includes the transmission of health images, videoconferencing, e-health portals, and remote monitoring of vital signs.
Telemedicine is a segment of telehealth, which also includes broader applications of technology to distance education, provider training, administrative meetings, continuing medical education, consumer outreach, and other applications. Telemedicine provides live, remote contact between patients and health providers or the transmission of diagnostic images and video along with patient data between health specialists.
Telemedicine technology consists of the hardware and software and associated services provided by technology companies for use in telemedicine. Examples include:
Universal collaboration servers
Virtualization management
Resource management
Recording and streaming
Open APIs and remote access technologies
Desktop video and voice products
Software and infrastructure and virtual versions of infrastructure components
Immersive studio systems
Cameras delivering the highest video quality
Surgical robots
Software for audio endpoints
Telemedicine Technology Segments
The global telemedicine technologies market is split across tele-radiology, tele-consultation, tele-monitoring, tele-surgery, and "other" applications. Tele-radiology is the largest segment of the market but tele-consultation is growing slightly faster.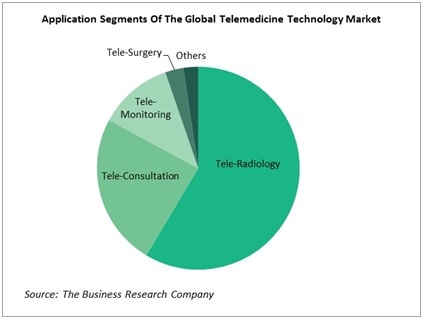 Tele-radiology is defined as medical technology that is used to store and transmit digital radiology images electronically from one location to another location for diagnosis, consultation, or treatment.
Tele-consultation provides virtual communication between healthcare professionals or specialists at two different locations to share opinions about a difficult care issue or between a patient and healthcare professional to consult about diagnosis and treatment through tools such as web conferencing or audio/video conferencing.
Tele-monitoring offers remote monitoring of patients who are not at the same location as the health care provider. A patient has a number of monitoring devices at home; the results of these devices are sent via telephone to the health care provider for further diagnosis or treatment.
Tele-surgery is also known as remote surgery, which is performed by a surgeon who is virtually but not physically present at the patient's location. The physical surgical tasks are directly performed by a robotic system that is controlled by a specialist at a remote site.
Telemedicine Technology Geographies
North America dominates the telemedicine market and is growing slightly faster than the other two large regions, Europe and Asia Pacific. Early adoption of telemedicine applications in hospitals owing to the increasing cost of treatment helped the North American region to have a leading position in the market, and this lead will persist going forward. Again, a shortage of healthcare professionals in clinics and hospitals in this region is providing technology companies with the opportunity of creating applications for healthcare treatment. Technological advances and favourable reimbursement policies are also favoring the growth of the North American market.
Most telemedicine companies operating in this market are headquartered in the United States, where a rising number of patients live with chronic diseases due to the rapidly growing aging population and changing population lifestyles, a shortage of healthcare professionals, a growing need for healthcare facilities in remote areas, and a lack of proper disease management are expected to increase the demand for telemedicine applications. Remote patient monitoring and its associated technology are the markets that will be most directly influenced.
There are, however restraining factors in the telemedicine market both globally and in North America in particular which could hinder its growth. These include the high cost of telemedicine technology, and a lack of professionals with the required expertise to use it. Privacy, security and linked legal liability concerns are another restraint. In North America, recent changes to the US Health Insurance Portability and Accountability Act (HIPAA) enlarged the scope of HIPAA coverage to include telemedicine companies, increased the maximum penalty for negligence, strengthened data breach announcement requirements, and provided new stipulations on how patient information can be used for fundraising and marketing.
Key telemedicine companies operating in the North American region include:
Polycom
Baxter International
Cisco
Gentiva Health Service
McKesson Corporation
Cerner Corporation
AMD Telemedicine
Honeywell Life Care Solutions
These mainly large multinational companies keep the threat of new entrants low by acquiring small new vendors that would otherwise pose a threat. Again, the high costs associated with software design for this market create a high entry barrier owing to the need for significant initial investment and access to high-end technology
Europe and Asia Pacific are the second and third largest markets, respectively. Together they are worth about two-thirds of the North American market and are growing nearly as fast. The rest of the world, consisting of the Middle East, Africa, and South America, is not only a much smaller market at present but will fall further behind as its growth rate is not much more than half that of the other regions. Nevertheless, even here the market is growing strongly by comparison with many other healthcare markets.
Where to Learn More
Global Telemedicine Technology Opportunities and Strategies to 2022 is one in a new series of industry reports from The Business Research Company that provide a market overview, analysis, and forecasts of market size and industry statistics, market growth rates, market trends, market drivers, market restraints, market revenues, market shares, and company profiles of the leading competitors in over 300 industry reports, covering over 2,400 market segments and 60 geographies. Extensive secondary research is augmented with exclusive insights and quotations from industry leaders obtained through interviews. Market analysis and forecasts are provided by a highly experienced and expert team of analysts and modellers. Editing is completed by a team of UK business academics.
Read the report for information on the following:
Markets Covered: Hardware and software, and associated service markets for telemedicine, tele-home, tele-hospital, tele-radiology, tele-consultation, tele-monitoring, tele-surgery, and other telemedicine.
Data Segmentations: Telemedicine technology global and regional total market size and growth rates; tele-home, tele-hospital, tele-radiology, tele-consulting, tele-monitoring, tele-surgery, and other telemedicine 2014-22.
Telemedicine Technologies Organizations Covered: Aerotel Medical Systems, Cerner Corporation, AMD Telemedicine, GE Healthcare (Subsidiary of GE), Polycom Inc., Honeywell Life Care Solutions.
Regions: North America, Europe, Asia Pacific, ROW (Rest of world).
Time Series: 2014-16 actuals, 2017 estimates, 2018-22 forecasts.
Other Information and Analyses: Porter's Five Forces Model for the market, market drivers, market challenges, company overviews, business strategies, financial overviews, products and services, recent developments, and key executives for six leading telemedicine technology manufacturers.
Sourcing and Referencing: Data and analysis throughout the report are sourced using end notes.
Number of Pages: 72
Number of Figures: 23
Number of Tables: 30
Related Market Research Reports
Here is a list of related reports from The Business Research Company: