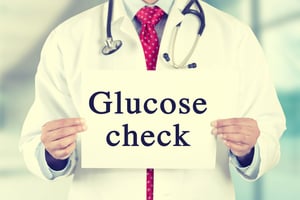 The global market for insulin monitoring wearable medical devices is set to increase by over 20% year on year to 2022. The segment is the largest of the therapeutic wearable medical devices market, well ahead of pain management, respiratory therapy and rehabilitation devices. All these segments are, however, growing at close to 20% a year.
There are two reasons in particular for the high growth rate globally of insulin monitoring wearables. One is the increasing prevalence of diabetes. For instance, obesity, a major risk factor for diabetes, is increasing rapidly in areas of the world previously noted more for problems of malnutrition.
Obesity in the Asia-Pacific region has grown rapidly: from 2012 to 2016, obesity grew at 5.9% a year in India, 5.5% in China, and 4.5% in Japan. Increases in obesity in these populations are directly proportional to their rise in diabetes cases and indirectly to the growth of the insulin monitoring wearables market.
A second reason is that many diabetes patients are afraid or unwilling to prick themselves with lancets each time for testing, which until recently was the only available means of monitoring insulin or blood sugar levels.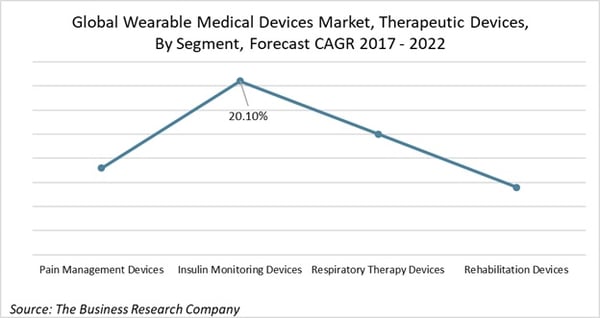 The Growth of the Wearable Medical Devices Market
Insulin monitoring devices is one segment of a larger market that is also growing at a rapid pace — the wearable medical devices market.
Wearable medical devices are small electronic products, often consisting of one or more sensors, that have computational capability. They are embedded into items that are attached to body parts, such as the head, feet, arms, wrists and waist. They can resemble a watch, eyeglasses, clothing, contact lenses, shoes or even jewelry. Straps are currently the most popular way of wearing a medical device, and this segment of the market is growing rapidly, but so are two other segments, headbands and shoe sensors, while handheld and other methods are also growing, but a little less fast.
The number of customers using wearable monitoring devices is increasing at a rapid pace and is a driver for the global wearable medical devices market. According to Juniper Research, the market for wearable devices is expected to grow to $6 billion in 2016, up from just $800 million in 2012.
Consumers also indicate that they want telehealth. According to an Anthem market study, 74% of USA consumers indicated that they would use telemedicine services. This number is expected to increase as baby boomers continue to consume more healthcare services. As insulin monitoring wearable devices can be linked to telemedicine provision by transmission technology that transfers the results to a physician, these trends also are supporting the insulin monitoring wearables market.
Where to Learn More
For more data and insights, see the market research report published by The Business Research Company titled Wearable Medical Devices Global Market Opportunities and Strategies to 2022. This report discusses:
Market characteristics
Market size and growth
Porter's five forces analysis
Market segmentation
Regional and country analysis
Industry overview
Mergers and acquisitions
Competitive analysis
About the Publisher: The Business Research Company has published over 300 industry reports, covering over 2400 market segments and 56 geographies. The reports draw on 150,000 datasets, extensive secondary research, and exclusive insights from interviews with industry leaders.
---
Additional Articles