Unity Marketing's look at the five most important trends for marketers targeting the U.S. affluent customer in 2015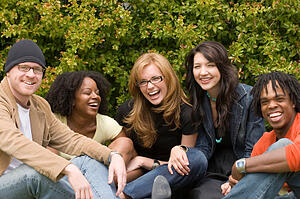 2015 is shaping up to be a challenging year for luxury marketers, following last year, which wasn't particularly bright for luxury brands worldwide. Newly-affluent Chinese consumers cut back on luxury indulgences, and affluents in many Euro countries were impacted by a downturn in macroeconomic forces. Japan, the world's number two market for luxury, remains caught up in a long-standing recession, which only deepened at the end of 2014. And, while the U.S. economy looks stronger on paper, the Bureau of Economic Analysis, the government agency that calculates the GDP, just reported that consumer spending declined by .3% in December, despite reported growth in personal income and disposable income. That means one thing: consumers are saving their gains, rather than spending them.
Austerity continues….
Waiting in the wings to give a boost to the consumer market in general, and the luxury market in particular, is the huge Millennial generation, born from 1980-2000. As a generation, the Millennials are at least as large, if not larger, than the Baby Boomer generation, who are Millennials' parents born from 1946-1964. Over the next two decades, the Boomers will move into retirement with dramatic change in consumption patterns, and Millennials will become the leading force in the consumer market.
Millennials are poised to become the biggest spending generation in history
This year, the leading edge of that generation reached 35 years of age, which marks the age range when personal incomes and earning start to rise to their peak from 35 years to 54 years. But for marketers, the Millennials may be late to the 'party,' delayed by high levels of unemployment or underemployment and record-setting educational debt. These factors, in turn, cause Millennials to postpone marriage, setting up house and starting a family. But then, this generation overall isn't rushing into marriage by choice, not by economic necessity. In today's economy, it typically takes two fairly high levels of income to support a luxury lifestyle. Many single Millennials simply don't have the necessary income to indulge freely or even occasionally in luxury.
For marketers at the luxury-end of the spectrum, younger affluent consumers, under age 45, are more valuable because the younger affluents spend significantly more than more mature affluents, aged 45-64 years and older. Younger affluents are at an acquisitive life stage and make those first-time luxury purchases (think luxe autos, major appliances, furniture and other home goods, fashion, jewelry, watches, and more) which become a rite of passage into affluence. Mature consumers, by contrast, have already made these lifestyle investments and turn their luxury spending away from luxury goods toward luxury experiences like travel. Over the past 11 years of Unity Marketing's tracking of affluent consumer spending, younger affluents consistently spend one-and-one-half to two times more than older affluents on high-end/luxury goods. With the Millennials generation poised to assume the lead in the luxury market, marketers that aim to cross over to the new luxury generation need to understand these Millennials on the road to affluence.
Luxury marketers need to get started now planning for the inevitable transition from one dominant generation (i.e. Baby Boomers and GenXers) to another (Millennials). That transition will start around 2018-2020 and begin to take hold in 2026-2029, given the projections of the U.S. population. The years 2026-2029 will be the optimum period to capture the market share of Millennials on the road to affluence based upon population demographics. But, to assume that Millennials will respond the same way to the same brands and to the same marketing and branding propositions as the older generations is ridiculous.
The Millennials, once they come into affluence, will be as different from the generations that went before as the Boomers were from their Depression/World War II era parents' generation. Millennials are going to create a whole new definition and expression of luxury.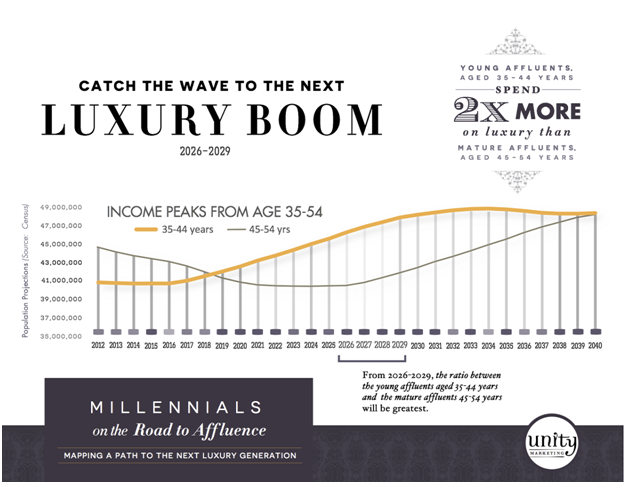 Catch the wave to the next luxury
The years 2026-2029 are the prime years for marketers to get their act on for affluent Millennials. It will be the period when the share of young affluents (35-44 years) will be at their zenith over older-affluents (over 45 years). Now is the time to start thinking about how one's brand is positioned for the Millennials and their unique needs and desires for luxury. The most important thing to recognize is that the Millennials are not going to want their parents' or their grandparents' luxury. They will want luxury on their own terms and delivered in their own ways. Brands that want to continue their success with luxury branding beyond 2020 will require products, services, and strategies that match the aspirations and drive for meaning that this generation reflects. That calls on marketers to delve deeply into the values that Millennials associate with luxury in their particular category of the market and position the brand around those values. Communicating luxury brand values in the right way to Millennials on the road to affluence will create desire for such brands.The key is to find the right story to tell.
To learn more about the trends, download Pam Danziger's free white paper on marketing interior design services to affluent millennials, and stay tuned as we highlight more trends on the blog. Also, check out the trends we've already covered, including affluent austerity, luxury's new style, luxury brands' evolving story and affluents' shopping habits on our blog.
Editor's Note:
This post was written by Pam Danziger, President of Unity Marketing.
About Unity Marketing
Drawing upon their extensive industry experience, as well as professional expertise in marketing research and analysis, product and concept development, strategic planning and licensing, Unity Marketing offers marketing research that helps clients identify and maximize their potential success in the collectibles and giftware markets. Unity Marketing utilizes a full range of quantitative and qualitative research to address its clients' marketing challenges.