The South East Asia region has great potential for online retail growth, as several countries in the region rank at the top of a parameter for determining B2C E-Commerce potential, according to recent market research from yStats.com. Countries within this region, including, Indonesia, Singapore, Malaysia, the Philipines, Thailand, and Vietnam, are helping to boost E-commerce growth potential in the following ways.
Indonesia
The region is home to the world's second fastest growing B2C E-Commerce market, Indonesia. The world's fourth most populous nation, it has relatively low Internet penetration, below 30% in 2013. However, by 2016, the number of Internet users is projected to top 100 million, with online shopper penetration also increasing. One of the drivers of this growth is the anticipation of new E-Commerce legislation expected to be introduced in Indonesia this year. Shopping via mobile browsers and retail apps is also on the rise, with some merchants reporting as much as one third of total online sales coming from mobile users.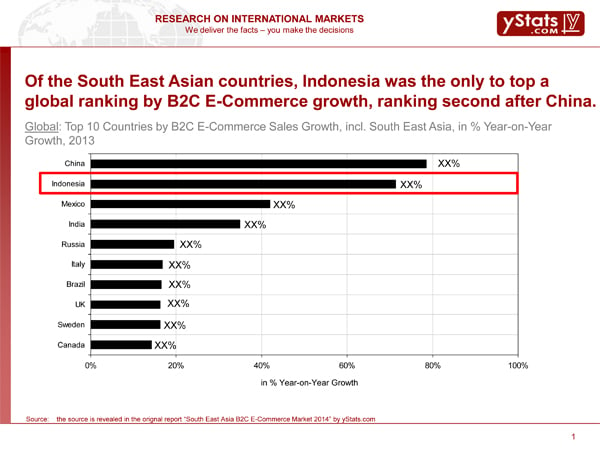 Singapore
In its turn, Singapore ranks high in E-Commerce indexes due to its developed infrastructure, despite its comparatively small population. The highest Internet penetration in the region, the world's highest ranking in ease of conducting business, and one of top three best logistics infrastructures in the world (plus, a high performing payments system) make Singapore an attractive market for online retailers, many of whom establish local or regional headquarters there. More than half of Internet users in Singapore shop online and nearly half do so over mobile phones.
Malaysia
Though online retail in Malaysia still accounts for less than 1% of total retail sales, it is ranked in the top 30 markets worldwide for its B2C E-Commerce potential. Internet penetration, supported by government programs, is the second highest in the region, and its logistics system is among the 30 best performing in the world. Consumers in Malaysia are well equipped with bank cards and other means to pay for online purchases. Online shopping is encouraged by new E-Commerce regulations adopted in 2013, aimed at protecting consumer rights and preventing online fraud. The M-Commerce segment is spreading rapidly, boosted by growing smartphone penetration and mobile Internet usage. Online auctions, classifieds, deals websites, and social network shopping are more popular with online shoppers in Malaysia than online stores.
Philipines
Another SEA market, the Philippines, is the country with the highest Internet growth rate in recent years. B2C E-Commerce is gradually evolving in the country, boosted by improving ICT and payments infrastructure. The Internet now reaches a third of the population, and almost all Internet users view social networks, with fan pages of online merchants scoring high by number of followers. Online classified websites, C2C marketplaces, and daily deals websites are popular as online shopping destinations, while also B2C E-Commerce websites are gaining momentum.

Thailand
Thailand scores high in terms of smartphone penetration growth and share of mobile shoppers. Shopping via mobile messaging apps is very popular, with some promotions selling out in a matter of minutes. While only a small share of Internet users make purchases over the Internet in online shops, a significant share do so through social networks. Bangkok is the top city in the world in number of Facebook accounts, and more than 20% of social network users in the country cite online shopping as their primary purpose for networking.

Vietnam
Vietnam has the fastest growing middle and affluent class in the South East Asia region and one of the most engaged online audiences, spending close to 30 hours per month online. Furthermore, a larger share of Internet users in Vietnam visit retail websites than in any other South East Asian country, ahead of the worldwide average. A high consumer optimism index also contributes to the potential for growth of B2C E-Commerce. There were over 30 million Internet users in Vietnam last year, reaching over a third of the population. In the large cities of the country, over half of Internet users shop online.
These markers raise the interest of local and global B2C E-Commerce players to South East Asia's untapped potential. With online retail in the region only starting to evolve, cross-border sales are relatively high. Amazon.com is one of the leading online merchants despite not having local presence in the region. Also, Alibaba's websites are popular destinations for online shopping, and eBay makes investments in the region. Nevertheless, there are local gems as well: The top five South East Asian E-Commerce companies, each generating tens of millions EUR revenue are iBuy, a public company operating several flash sales websites, Groupon's local operations in the group buying business, online luxury fashion club Reebonz, online mass merchant and marketplace operator Lazada, and online fashion retailer Zalora.
For more information on emerging B2C E-Commerce markets in South East Asia, check out yStats.com's full report "South East Asia B2C E-Commerce Market 2014." Or, browse other yStats.com reports on B2C E-Commerce and Online Payment.
Thanks for reading!
Editor's Notes:
This post was written by Dr. Llyod Brimhall, yStats.com GmbH & Co. KG.
About yStats.com

yStats.com has been committed to research, up-to-date, objective and demand-based data on markets and competitors for top managers from various industries since 2005. Headquartered in Hamburg, Germany, the firm has a strong international focus and is specialized in secondary market research. In addition to offering reports on markets and competitors, yStats.com also carries out client-specific research. Clients include leading global enterprises from various industries, including B2C E-Commerce, electronic payment systems, mail order and direct marketing, logistics, as well as banking and consulting.
yStats.com is also available on Profound.com...
Purchase individual report sections for a pro-rated price. Visit Profound.com to learn more.