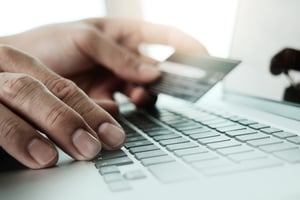 E-commerce was already a powerful disruptive force before the COVID-19 pandemic hit, but now online shopping has taken on a new level of importance across the world.
For many shoppers seeking to limit possible exposure to the virus, online retail is not just a convenient option, it is a growing necessity.
A Lasting Behavior Change?
During shutdowns and store closures, many consumers purchased more groceries and other household staples online. According to a recent survey cited in a yStats.com report, "A double-digit share of online shoppers were buying more digitally due to COVID-19, and some of them adopted the practice for the first time during the outbreak."
E-commerce is currently expanding, but this trend is also predicted to continue well beyond 2020. Analysts at yStats.com expect the share of global retail sales generated through e-commerce to reach one-third by 2024.
The market research firm GlobalData echoes this view, stating, "COVID-19 will have a long-term positive effect on the e-commerce sector, with even the most skeptical consumers forced to abandon physical stores in response to restrictions in movement."
In a recent white paper, management consulting firm Deloitte explains why COVID-19 will permanently change e-commerce in some categories. A few key reasons include:
Shoppers are becoming accustomed to the convenience of online shopping and may be reluctant to go back to their old ways once they are familiar with a new type of customer experience.
E-commerce companies will work hard to retain these new customers through subscriptions, loyalty programs, expanded offerings, and promotions.
Distribution companies have built up new capacity for rapid package deliveries during the pandemic and will be primed to continue these services.
Vulnerable elderly populations may quarantine and practice social distancing for longer periods and will make up a large customer segment that is in need of e-commerce platforms.
E-Commerce Growth Varies Across Industries
However, not all industries will experience the same e-commerce growth during COVID-19.
The shift to online shopping will be most obvious in supermarkets, where online penetration is lower than the retail industry average, according to GlobalData.
E-commerce is also making waves in the pet market. According to Packaged Facts, 70% of dog and cat owners are shopping in brick-and-mortar stores less, and 65% are buying online more as a result of the coronavirus. Analysts at Packaged Facts expect a significant share of these consumers to stick online, given the convenience of home delivery and auto-replenishment programs.
In addition, there is high demand for streaming music and videos and playing video games online, as people of all ages look for more ways to entertain themselves at home.
But some industry segments, such as airline and travel, are seeing a severe drop in sales in both online and offline channels.
Other segments such as electronics and appliances may slow as consumer confidence drops and shoppers postpone major purchases until the overall economic climate improves.
Regional Differences in the Expansion of E-Commerce
The potential for e-commerce growth also differs across the world, as well as by industry.
According to data from MarketLine:
The rapid penetration of smartphones and mobile internet in Asia-Pacific has increased access to online retail in recent years and contributed to the growth of e-commerce — a trend that may be accelerated and reinforced by the impact of the COVID-19 pandemic.
As an example, the SARS crisis helped jump start Alibaba's prominence in Asia when many Chinese were in quarantine in 2003, according to Deloitte. The impact of SARS instigated long-term behavioral changes with the internet gaining mass acceptance as a shopping platform in China.
Companies that recognize these growth opportunities and pivot quickly can gain market share in an increasingly digital marketplace.
Where to Learn More
Need more e-commerce industry research? MarketResearch.com provides insightful, data-packed reports on just about every topic you can think of related to the e-commerce sector. We cover every region of the globe, individual countries, and a wide variety of market segments.
Scroll through our latest e-commerce market research reports from leading firms such as Euromonitor International, Frost & Sullivan, yStats.com, MarketLine, GlobalData, The Freedonia Group, IBISWorld, and many others.
---
About the author: Sarah Schmidt is a Managing Editor at MarketResearch.com, a leading provider of global market intelligence products and services.