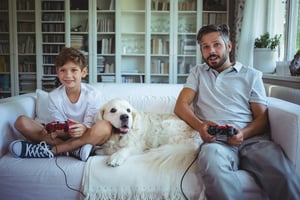 Most industries now face significant ramifications due to the COVID-19 pandemic and global economic slowdowns. However, not every industry has slid into a tailspin. The role-playing games market, for example, is expected to see 9.22% year-on-year growth up to 2023, according to a new report by The Business Research Company. COVID-19 has had both positive and negative effects on this market.
Positive Impact
Increase in Video Game Sales
Due to the lockdown, more people are playing or streaming video games, which translates to more in-game transactions that are very profitable for video game publishers. These in-game transactions include subscriptions and cosmetic items.
Video game publishers are taking advantage of the high demand for gaming during this period. Ndemic Creations' game Plague Inc. temporarily became the top-paid application in many regions, having beaten Minecraft, a popular video game worldwide. Ndemic also introduced a new gaming mode to Plague Inc., the goal of which is to stop an ongoing pandemic.
Animal Crossing: New Horizons is another game that rapidly increased in popularity during the pandemic, with more sales than all its previous launches in the United Kingdom. In China, Nintendo's Ring Fit Adventure saw high demand as well. The game involves physical activity, which became a selling point for users in isolation who had no other means of exercise.
The Nintendo Switch console itself became a high-selling product, with appeal for people of all ages who are looking to keep themselves entertained during lockdown.
Consumers Opt for Digital Version of Video Games
A significant impact of the coronavirus has been on physical retail stores such as GameStop, Target, and Best Buy, which sell video game software to be played on consoles. Some of these stores had to shut down in certain areas. As a result, consumers turned to digital platforms for their game software purchases.
GameStop announced that it would shut down at least 21 stores in 2020 following America's lockdown. This will cause more gamers to download games from the comfort of their homes instead of driving to stores farther than the original locations. PlayStation Store and Xbox Live offer video game software to users.
The Need for Socializing Has Benefited Video Game Streaming
The need to socialize while stuck at home has resulted in a surge of gaming content consumption and streaming, as these services come with a social element. Platforms such as Twitch, Mixer, and YouTube gaming are experiencing double the traffic as users are consuming more content. Twitch allows popular gamers to live stream their games and interact with fans through the platform. The element of socializing has helped users during a period of isolation, as it provides an escape from current world situations.
COVID-19 has also helped remove the stigma from playing games online, as many people previously believed gaming to be a waste of time, but are now invested in activities such as building their islands on the video game Animal Crossing.
Negative Impact
Hardware and Software Delays Due to the Virus
On the other hand, the pandemic has had negative impacts on the gaming industry as hardware production has come to a halt. Many facilities in China closed down, where various gaming products are made. For example, Nintendo delayed the launch of its Animal Crossing-themed Nintendo Switch units, the majority of which are manufactured in China. The launch of the Nintendo Switch versions of Dragon Marked for Death and The Outer Worlds have also been delayed.
Production of the Valve Index virtual reality headset was also reduced, and fewer shipments were planned for release. Gaming companies Konami and Atari also delayed the launch of their games TurboGrafx-16 Mini and Atari VCS respectively.
Role Playing Games Market Drivers
The global role-playing games (RPGs) market will grow from $15,793.3 million in 2019 to $22,471.3 million in 2023. Key drivers of the RPG market during the period 2019-2023 will include:
Increasing number of people with access to the internet in the gaming industry
Technically advanced platforms
Increasing gamers involvement, specifically after COVID-19
Global Role-Playing Games Market Segments
The role-playing games market is segmented by type into massively multiplayer online role-playing game (MMORPGs), action-based RPGs, turn-based RPGs, puzzle RPGs, and tactical RPGs. Of these, MMORPGs was the largest segment in 2019, account for nearly 40% of the total share.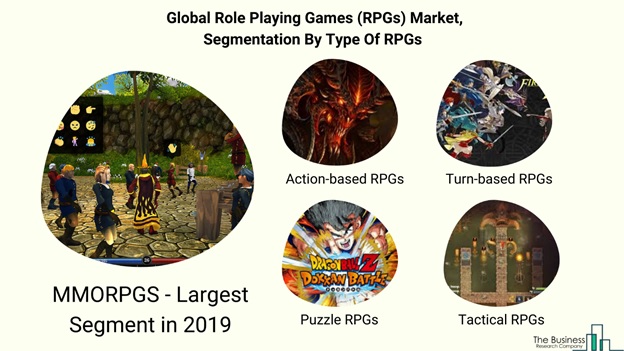 MMORPGs are online games in which a large number of gamers participate simultaneously. These games mainly focus on creating a virtual environment which is never static. As a result, even when a player of the game is logged out, events which occur between the active populations of gamers may affect the positions of the players who are offline or logged out.
Examples of MMORPGs include World of Warcraft published by Blizzard Entertainment, The Elder Scrolls Online published by Bethesda Softworks, and Black Desert Online published by Kakao Games.
Additional Market Research on Role-Playing Games
Read Role Playing Games Global Market Opportunities and Strategies to 2023 from The Business Research Company for information on the following:
Markets Covered: Global Role-Playing Games Market, Massively Multiplayer Online Role-Playing Game (MMORPGs), Action-Based RPGs, Turn-Based RPGs, Puzzle RPGs, Tactical RPGs, PC RPG, Mobile RPGs, Console RPGs
Data Segmentations: Role-Playing Games Market Size, Global and By Country; Historic and Forecast Size, and Growth Rates for the World, 7 Regions and 12 Countries
Role-Playing Games Market Organizations Covered: Activision Blizzard, Nintendo Co, Ltd., Bethesda Softworks, Electronic Arts, Square Enix
Regions: Asia-Pacific, China, Western Europe, Eastern Europe, North America, USA, South America, Middle East and Africa
Time Series: Five years historic (2015-19) and forecast (2019-23), 2025F, 2030F
Other Information and Analyses: Role-playing games market customer information, role-playing games market product/service analysis – product examples, impact of COVID-19 on the market, role-playing games market trends and opportunities, drivers and restraints, key mergers and acquisitions, global role-playing games market in 2020 - countries and segments offering most new opportunities
Sourcing and Referencing: Data and analysis throughout the report are sourced using end notes.
Strategies for Participants in the Role-Playing Games Industry: The report explains a number of strategies for companies in the role-playing games market, based on industry trends and company analysis.
Opportunities for Companies in the Role-Playing Games Sector: The report reveals where the global role-playing games industry will put on most $ sales up to 2023.
---
About The Business Research Company
The Business Research Company is a market research and intelligence firm that excels in company, market, and consumer research. It has research professionals at its offices in the U.K., India, and the U.S. as well as a network of trained researchers globally. It has specialist consultants in a wide range of industries including manufacturing, healthcare, financial services, and technology.
Additional Articles