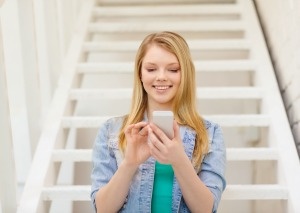 Jack W. Plunkett, CEO of Plunkett Research, Ltd, opens a recent video with the remark, "I can't imagine any single sector that has been more disrupted or forced into more change than the media and entertainment industry over the past few decades."
According to Mr. Plunkett, there's more disruption to come. This vast, global industry will continue to evolve rapidly over the next decade as business models shift. Watch the video below and read this post to get valuable insights into this complex industry.
The Rise of the Internet and the Third Screen
In the video, Mr. Plunkett outlines the swift changes that have redefined the media and entertainment industry — from the way we watch the news, read content, and view films and television.
"The Internet has changed absolutely everything," Mr. Plunkett explains, "What followed is what many people call the 'third screen,' and that is the smartphone."
While consumers once accessed the Internet at home or in the office through a desktop PC, now consumers can take entertainment and media with them on the go via their laptops, smartphones, and tablet computers.
With a plethora of services such as Pandora, Spotify, Hulu, Texture, Audible, and Scribd, subscription-based entertainment is becoming more and more ubiquitous across different types of media.
"Do we need to still buy a music CD at all? Do we want to own music through iTunes, or do we just want to listen to it through a subscription service?" Mr. Plunkett asks.
In the future, subscription-based services will continue to be a major trend, providing easily accessible, personalized media at very reasonable costs.
The Future of Media and Publishing
What other industry trends should we watch for in the coming years?
Mr. Plunkett points to the rapidly expanding affluent consumer bases in developing nations like China and India. "In fact, the fastest box office growth in the whole world for a long time has been in China," he notes. "India has tremendous possibilities as an entertainment destination and an entertainment market."
Another key trend is a merging of technologies, as consumers switch from standard viewing devices to video game consoles and virtual reality setups for movies, television, and games. Mr. Plunkett predicts that virtual reality will be "a big, powerful long-term trend."
The final development Mr. Plunkett highlights is embedded advertising through media. "The more we personalize entertainment and deliver just what the consumer wants in terms of music, films, and TV, it becomes more and more complex to use advertising as a revenue base," Mr. Plunkett says. "However, advertisers and companies that produce entertainment are becoming more clever and building more rational models with embedded product placements."
Find Out More
Download Plunkett's report Plunkett's Entertainment & Media Industry Almanac 2016: Entertainment & Media Industry Market Research, Statistics, Trends, & Leading Companies for more detailed information.
This 588-page report features:
Industry trends analysis, market data, and competitive intelligence
Market forecasts and industry statistics
In-depth profiles of hundreds of leading companies
And much more
---
Additional Articles