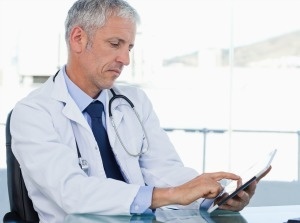 The growth of mobile technology has created great opportunities for publishers that develop content for professionals in medicine, business, law, scientific and technical fields.
Accessing content with tablets and smartphones is becoming the norm for many professionals in a variety of occupations. For example, healthcare professionals often use medical software applications to help them make appropriate clinical decisions at the point of care. Medical apps can provide a range of useful resources such as medical calculators, drug databases, practice guidelines and peer-reviewed articles.
Many attorneys routinely turn to legal research guides via apps and websites, while tax and accounting professionals subscribe to online tools and quick references to get the answers they need to do their jobs effectively.
Market Growth and Outlook
The market for professional information delivered wirelessly is expanding at a fast pace. According to Simba Information's report Publishing for the Mobile Professional 2018-2021, the total revenue from wireless information products in the medical, business, legal and scientific and technical segments rose an estimated 6.6% in 2018.
In the coming years, the market for mobile professional content is projected to rise alongside the growth of smartphones and data traffic, as well as the pending rollout of 5G networks, which will dramatically increase the speed at which data is transferred across networks.
Challenges Related to Mobile Content
However, the publishing industry will also face many unique challenges in developing and delivering mobile content. Fast-moving technologies can require a steep learning curve. It's no easy feat to stay on top of technology standards, network protocols, web design, software coding and apps and hardware, in addition to the core expertise that publishers offer to users.
To learn more about the changes affecting scientific, medical and technical publishers, download the free white paper 5 Trends to Watch in STM Publishing by Simba Information.