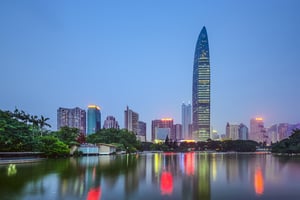 According to Advances in Biopharmaceutical Technology in China, 2nd Ed, a report from BioPlan Associates, China is making strides in raising its Good Manufacturing Process (GMP) standards as it works to improve its global profile. GMP biopharmaceutical manufacturing has a short history in China, with the first version of guidance issued in 1998. In 2010, China's Ministry of Health released its fourth version of China GMP, with this iteration significantly raising the standards to be met by domestic biopharmaceutical developers.
New GMP Standards in China Change Definition of Quality Management
According to statistics released by China's State Drug Administration (formerly the China Food and Drug Administration), one-quarter of the 7,179 pharmaceutical manufacturers in China in 2016 failed to pass China's revised 2010 drug GMP certification, the requirements for which are similar to those of the EU GMP and consistent with that of the World Health Organization GMP, with some minor gaps, as shown in the table below.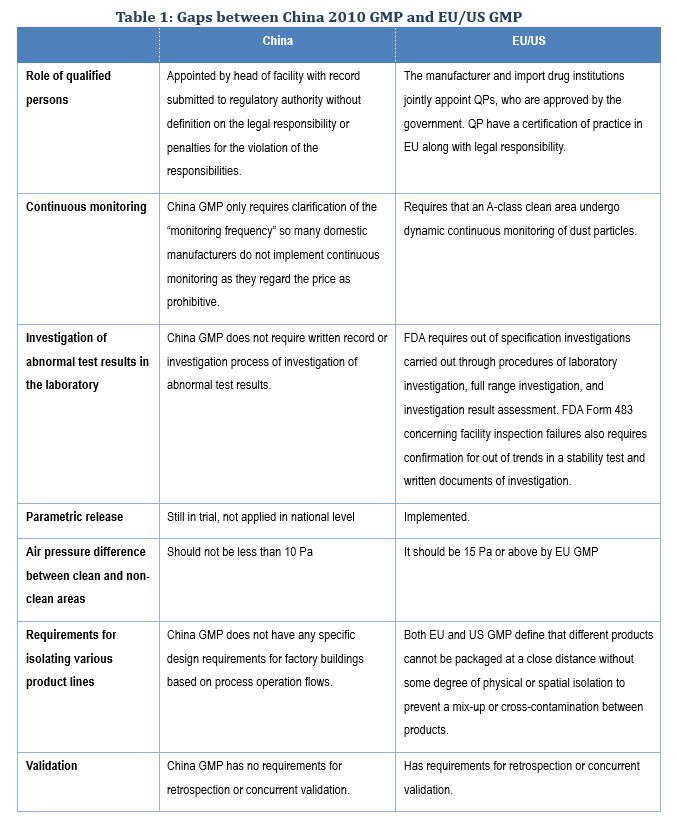 In the 2010 China GMP, the definition of quality management as 'quality' has changed from 'Quality by Test' to 'Quality by Design' (QbD).
Furthermore, the guidelines support the QbD concept first initiated by the U.S. Food and Drug Administration, in that the quality control system covers the entire process of pharmaceutical design, R&D, production, test, storage, shipment, and use; and that all the key quality properties and process parameters are determined through scientific, reasonable, and systematic test solutions during the design and R&D phases of a product. This ensures the continuous stability of the production process and steady reliability of pharmaceutical product quality.
2010 GMP Compliance: Better Equipment & Quality Management Needed
The four elements for the implementation of any GMP guidelines include:
Hardware
Procedures based on comprehensive process and product quality-related risk assessments and process controls
Software
Human resources.
Recently, many state-of-the art bioprocessing facilities have been built across China. Yet though the plants are well-designed and outfitted with highly advanced automation equipment, many still need to make improvements in IT design incorporated into the production process.
Currently, LIMS (Laboratory Information Management System), QMS (Quality Management Systems), and ERP (Enterprise Resource Planning) are all part of Chinese compliance standards. However, most companies do not have designers familiar enough with GMP bio-processing to ensure full control of the process design and equipment selection. Manufacturing Execution Systems (MES) are especially needed by domestic Chinese pharmaceutical companies.
Staff shortages in experienced GMP professionals are creating bottlenecks, which in turn create opportunities for technical service platforms, including contract quality organizations and contract manufacturing organizations.
Can China Become a Global GMP Player?
In June 2017 China joined the International Conference on Harmonisation of Technical Requirements for Registration of Pharmaceuticals for Human Use as a formal member, which gives China new leverage to participate in global drug regulation harmonization. Data from BioPlan also shows that a majority of Chinese biopharmaceuticals manufacturers plan to export their products to Western markets over the next decade.
However, it's uncertain whether or not Western regulators will see GMP manufacturing by Chinese companies as U.S./EU GMP compatible. Though China will continue to make progress in this direction, it may not be able to compete in the near term with Western biomanufacturers without significant improvements in quality management systems.
---
To Learn More About the Biopharmaceutical Industry in China
For more information on the Chinese biopharmaceutical market, download BioPlan Associates' report Advances in Biopharmaceutical Technology in China, 2nd Ed.
Click the button below to view the full report page.
---
About the Author: Vicky Xia is senior project manager at BioPlan Associates, a biotechnology and healthcare marketing research and consulting company that has worked with life sciences firms of all sizes since 1989.
---
Related Articles