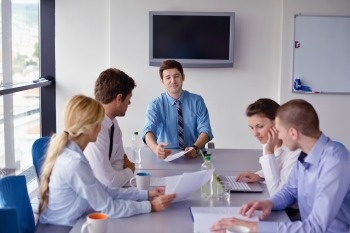 If you are currently working as a market research analyst or aspire to be one someday, there's good news. According to the Bureau of Labor Statistics, the job outlook for market research analysts is expected to grow 19 percent over the next 10 years, which is much faster than the average for all occupations.
Market research is a competitive industry, however, and it's important to plan ahead in order to chart a realistic course of action and land high-potential opportunities. We gathered real-world insights from experienced professionals in the field to explain how to best prepare for a job in market research — and how to maintain a competitive edge once you have your foot in the door. These suggestions go beyond the typical advice you might come across elsewhere. Read on to learn practical advice.
The Education and Skills Required
One expert we turned to was John Paul Engel, the president of Knowledge Capital Consulting. For more than 10 years, Engel wrote market research reports for the largest consulting firm in Japan, and he also spent time as a researcher at the Federal Reserve and Citibank.
According to Engel, market research analysts need to know more than data analysis. They also need to be adept at writing, storytelling, critical thinking, and interpersonal communication. "Political science, economics, marketing, psychology, sociology, and anthropology are all disciplines common among market researchers," he says.
David Santee, the president of True North Market Insights, has also seen successful market researchers that come from a variety of academic backgrounds. Prior to establishing True North Market Insights, Santee spent many years serving in senior-level market research positions at companies including Hallmark, H&R Block, Colgate, and others.
When hiring for the client or supplier side, Santeee strongly prefers to seek out professionals who have a core business background with an emphasis in marketing, decision science, or statistics.
"The rationale is simple – to be effective, to have meaningful recommendations, to see what is most important in the data, the researcher has to understand marketing concepts, business strategy, communications strategy, concepts of positioning, and how elements make for a strong value proposition," Santee explains. "I would advise anyone starting out or wanting to transition into the profession to make a point of learning as much about those areas as possible."
How to Develop Research Experience and Expertise
To start, Engel recommends gaining some experience in survey research — conducting interviews and analyzing data. In addition, he says that psychology experiments can build key foundational skills. "Students are in a great position to get these experiences," Engel says. "Simply offer to work for your professors on their research projects."
He also suggests taking courses in statistics and data visualization and learning how to craft a persuasive story. Public speaking is another a worthwhile skill for market researchers.
"Warren Buffet says if you learn to speak effectively you'll increase your income by 50 percent," Engel says. "I suggest Toastmasters, which is very inexpensive, or Dale Carnegie if you have a few extra bucks to spend."
What to Keep in Mind When Working with Clients
As market research analysts move up in their careers, it's important to do more than execute studies well. You also have to develop an in-depth understanding of business, Santee says.
"To be considered an excellent market researcher, an individual must understand that there is more to market research than market research," Santee explains. "The greatest value of a market researcher many times is understanding the business issue that leads to the study."
According to Santee, market researchers must ensure clients are asking the right questions and help clients understand the results of the study so the best decisions can be made. Excellent market researchers also have the business savvy to inform senior management that they may not be going down the right path.
"Lots of people can execute a good study, but those times both before and after the study can be where the researcher offers the greatest value," Santee says.
How to Network and Maintain a Competitive Edge
People prefer to hire people they know and trust, so building connections in the field is often a necessary step for career advancement.
"I would join a professional organization like Strategic and Competitive Intelligence Professionals (SCIP) or the American Marketing Association (AMA)," Engel suggests. "Get involved with committees. Volunteer."
Maintaining relationships with former colleagues and classmates is beneficial as well, because they could become your clients in the future. Engel also recommends finding a mentor who you admire and would like to emulate.
To stay up to date on the market research industry, set up Google Alerts on topics that interest you. "Make sure you read something every day about your field from respected sources like the Harvard Business Review or the McKinsey Quarterly," Engel says.
The Final Takeaways
Market research requires a blend of different skill sets, and depending on your role, you may be called on for your skills in data analysis or your knowledge of business strategy. But for those who are innately curious and enjoy problem-solving, a career in market research promises on-going opportunities for lifelong learning. Within an evolving industry, there's always something new to discover.
Do you have additional career tips to share? Please write them in the comments section below.
For more information about using market research to drive business growth, download our free white paper
You May Also Like