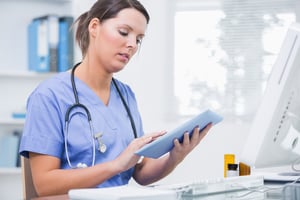 Medical publishing targets both students and professionals practicing in a variety of healthcare professions. The market encompasses a broad range of formats from journals and books to online content such as databases and clinical research tools.
The global medical publishing market reached $10.2 billion in 2020, and market leaders enjoyed double-digit profit margins, according to a new report by Simba Information titled Global Medical Publishing 2021-2025.
Based on Simba Information's research, here are seven factors to know about this publishing sector:
Market growth: The medical publishing market was flat against 2019, but demonstrated resiliency in the midst of the economic impact of the global pandemic.


Market drivers: The market is driven by ongoing growth in the online delivery of book collections, open access fees, journal site licenses, databases and research tools.


Fast-growing categories: Online content is leading the way in terms of growth. Nursing students and clinicians are less likely to purchase new books when clinical search engines and online databases and tools are more extensive and up-to-date.


Industry trends: Recent merger and acquisition activity has shown strong demand for continuing medical education (CME) and visualization tools that support health care education and training. Simba Information tracked eight deals involving CME tools from 2019 through August 2021, and five deals involving advanced visualization tools.


Market challenges: The market has seen declining print books and journal advertising. In addition, academic institutions continue to face tight budgets and struggle with the transition to open access journals, which makes subscription renewal negotiations challenging.


Competitive landscape: The market is highly concentrated. As a group, the 10 largest medical publishers hold 50% of the global medical publishing market and continue to expand their share of the market through acquisitions and organic growth.


Leading medical publishers: Elsevier, Wolters Kluwer, IBM Watson Health, Springer Nature, John Wiley & Sons, Informa, Hearst Health, athenahealth, Thieme Publishing and the American Medical Association and are among the top medical publishing companies identified by Simba Information. Other notable industry players include EBSCO Information Services, Pearson, American Psychological Association, BMJ Publishing Group, NEJM Group, McGraw Hill, MDPI, and Frontiers.
Where to Learn More
For more detailed market information on medical and health care publishing, see Simba Information's new report Global Medical Publishing 2021-2025, which analyzes industry trends, forecasts market growth, and profiles leading medical publishers.

About Simba Information
Since 1989, Simba Information has been widely recognized as the leading authority for market intelligence on the education and professional publishing industries. Our experts give you critical analysis derived from years of experience in the field and quality data of the kind only available to industry insiders.
---
You May Also Like