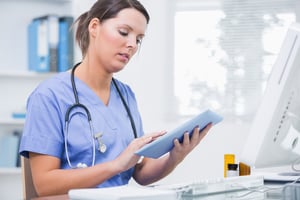 Medical publishing targets both students and professionals practicing in a variety of healthcare professions. The market encompasses a broad range of formats from journals and books to online content such as databases and clinical research tools.
The global medical publishing market reached $10.1 billion in 2018, and market leaders enjoyed double-digit profit margins, according to a new report by Simba Information titled Global Medical Publishing 2019-2023.
Based on Simba Information's research, here are seven factors to know about this publishing sector:
Market growth: Although the market declined at a compound annual rate of 3.9% from 2014 to 2016, the market rebounded to grow 0.5% in 2017 and 1.1% in 2018.


Market drivers: The market is driven by ongoing growth in the online delivery of book collections, open access fees, journal site licenses, databases and tools.


Fast-growing categories: Online content grew faster than all other channels, including books and journals. Doctors are moving away from owning print books as their hospitals and groups now provide databases and tools.


Industry trends: Medical publishers have moved aggressively to develop or acquire information-based products that are often accessed via mobile devices and can be integrated into the workflow within the health care system. The larger players are shifting from print to digital. The migration to digital in journal publishing took place in the early 2000s, but this change has become an important factor in books only more recently. Another trend to watch is the impact of the open access movement on publisher business models.


Market challenges: Print books and pharma journal advertising have weakened, and colleges and universities face budget pressures. In addition, uncertainty surrounding the politics of U.S. health care reform also casts a long shadow on the industry.


Competitive landscape: The market is highly concentrated. As a group, the 10 largest medical publishers hold 42% of the global medical publishing market and continue to expand their share of the market through acquisitions and organic growth.


Leading medical publishers: Elsevier, Wolters Kluwer, Springer Nature, John Wiley & Sons, Informa, IBM Watson Health, athenahealth, Hearst Health, Pearson and Thieme Publishing are among the top medical publishing companies identified by Simba Information. Other notable industry players include the American Medical Association, EBSCO Information Services and Ascend Learning.


Where to Learn More
To learn more about top medical publishers, the key challenges they face and their strategies for the future, download a free white paper by Simba Information titled 7 Leading Medical Publishers to Watch.
---
About Simba Information: Since 1989, Simba Information has been widely recognized as the leading authority for market intelligence on the education and professional publishing industries. Our experts give you critical analysis derived from years of experience in the field and quality data of the kind only available to industry insiders.
You May Also Like