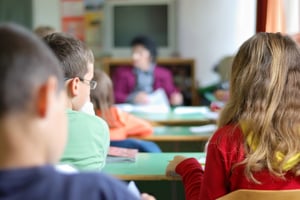 Educational publishing is no stranger to disruption, and this vast, shifting market is experiencing new waves of challenges and competitive forces.
Simba Information, a leading authority for market intelligence and forecasts in the media and publishing industry, recently released the report PreK-12 Instructional Materials Industry Competitive Analysis, 2019, which looks at how publisher strategies are shifting alongside different market environmental factors. The report draws on nationwide research and interviews with education publishing industry executives, analysts, education officials, and school educators.
In the report, Simba Information profiles 13 leading educational publishers that create PreK-12 instructional materials, tools, and services. Read on to learn more about the companies featured in the report.
1. Cambium Learning Group was once known as a supplier of print-based instructional products, but the company has shifted to become a provider of digital education solutions, including instructional products, professional development, and software-as-services resources.
2. Cengage (National Geographic Learning) agreed to merge with McGraw-Hill Education in May 2019. If the deal is approved, the merger could happen in early 2020 and create a company that provides core instructional materials from kindergarten through college to professional education.
3. Discovery Education has a range of offerings including streaming digital media, digital textbooks called techbooks, a STEM Connect program, professional development services, and the Discovery Educator Network community.
4. Goodheart-Willcox focuses on career and technical education and publishes instructional materials for approximately 40 subjects, including wide-ranging topics such as applied mathematics, journalism, video game design, and welding.
5. Houghton Mifflin Harcourt is a global learning company with both education and trade divisions. Its K-12 education segment offerings span core solutions, supplemental solutions, intervention solutions, professional services for K-12 educators, and Heinemann, a U.S. education imprint.
6. K12 Inc. offers online education programs that include curriculum, technology, and services for virtual schools and traditional schools. The company is also developing blended career-readiness programs.
7. McGraw-Hill Education made an agreement to merge with Cengage, as noted above. McGraw-Hill Education offers a breadth of blended print and digital solutions and sells its learning solutions in all 50 states in the U.S.
8. Pearson is a global education company that offers educational products and services, assessment, and professional development. The company is focused on digital transformation and is investing in digital services to virtual schools in the U.S. K-12 market.
9. Renaissance is a leader among educational software firms and offers cloud-based assessment, teaching, and learning programs along with the Renaissance Flow 360 management platform. The company recently expanded into the early learning space with the acquisition of Early Learning Labs.
10. Rosetta Stone helps people learn foreign languages. The Enterprise and Education Language division offers cloud-based solutions for schools and companies to help learners read, write, and speak more than 30 languages. In addition, Lexia Learning is a subscription-based solution focused on reading skills in K-12 schools.
11. Scholastic publishes and distributes children's books, literacy curriculums, professional services, and classroom magazines. The company sells into more than 100 countries. Scholastic Education is focused on literacy initiatives and recently introduced Scholastic Literacy, a literacy blended learning program.
12. School Specialty distributes supplies, furniture, technology products, and K-12 curriculum and supplemental learning products. The curriculum segment develops science curriculum programs with a hands-on approach.
13. Scientific Learning builds reading intervention software programs for students with reading or learning challenges, including English-language learners and those with special needs.
Where to Find Out More
For more detailed information about the educational publishing companies listed above, be sure to read Simba Information's full report, which provides the following information:
Key executives
Company overview
K-12 publishing strategy
Financial summary
The report also takes a broader look at the competitive landscape to explore M&A activity, startups, and company operating performance and is an ideal resource for those interested in learning more about textbook companies, education startups, and other players in the education industry.
Click the button below to view the report's abstract and learn more.
---
You May Also Like