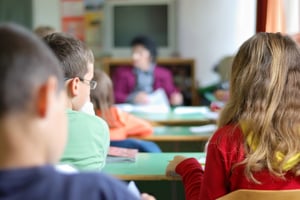 Educational publishing is no stranger to disruption, and this vast, shifting market is experiencing new waves of challenges and competitive forces related to the COVID-19 pandemic.
Simba Information, a leading authority for market intelligence and forecasts in the media and publishing industry, recently released the report PreK-12 Instructional Materials Industry Competitive Analysis, 2021, which looks at how publisher strategies are shifting alongside different market environmental factors. The report draws on nationwide research and interviews with education publishing industry executives, analysts, education officials, and school educators.
In the report, Simba Information profiles 12 leading educational publishers that create PreK-12 instructional materials, tools, and services. Read on to learn more about the companies featured in the report.
1. Cambium Learning Group offers digital and blended curriculum, professional learning, and assessment solutions that are designed to drive learning outcomes. Cambium serves 18 million students in 170 countries.
2. Cengage is a global educational technology company that is focused on higher education and workforce training, but the company also serves the school and research markets. A merger with McGraw Hill that was announced in May 2019 was later cancelled.
3. Discovery Education saw itself as well-positioned to support educators as they switched to remote learning in 2020. The company's digital content and professional learning resources reaches 4.5 million students in the U.S. and 45 million in 140 countries.
4. Goodheart-Willcox publishes instructional materials for about 40 subjects in the career and technical education and health education fields. The company targets middle and high schools and postsecondary institutions.
5. Houghton Mifflin Harcourt sold its Books & Media trade publishing unit to Harper Collins Publishers for $349 million in early 2021. The sale allows HMH to develop the digital, more service-oriented future of its K-12 education business.
6. Kahoot! was founded in 2013 to create game-based learning platforms. Kahoot! is increasing usage, subscribers and revenue, while launching tools, functionality and content and expanding partnerships and acquisitions.
7. McGraw-Hill Education is one of the largest and long-established educational publishers of K-12 instructional materials. McGraw Hill continues to move into digital delivery with a focus on adaptive learning. McGraw Hill delivers curated content, digital learning tools and platforms to 13,000 prekindergarten through 12th grade school districts.
8. Pearson is a global education company with five divisions: virtual learning, higher education, English language learning, workforce skills, and assessment & qualifications. With the $250 million sale of its U.S. K-12 courseware business to private equity firm Nexus Capital Management in 2019, Pearson exited the U.S. K-12 courseware market.
9. Renaissance is a long-time leader in the education technology market that provides assessment and practice solutions with learning analytics that are used in more than one-third of U.S. schools. The company has been expanding both through acquisition and product development.
10. Savvas Learning Company came into its own as a competitive PreK-12 digital curriculum provider after the business was sold by Pearson to private equity firm Nexus Capital Management in February 2019. Savvas provides solutions aimed at fostering highly personalized learning.
11. Scholastic a publisher and distributor of children's books. The company provides school book fairs, and its book clubs are marketed to teachers as well as to parents at home. The company's second entrée into schools is its literacy curriculum offerings, including digital subscriptions and print workbooks.
12. Stride, a leader in providing virtual school options for K-12 students while operating as K12 Inc., rebranded in December 2020 to reflect a new mission to provide learning solutions to all ages with an expanded focus on career learning.
Where to Find Out More
For more detailed information about the educational publishing companies listed above—including their operating performance, M&A activity, and pandemic response—be sure to read Simba Information's competitive analysis of the PreK-12 instructional materials industry, an ideal resource for those interested in learning more about textbook companies, education technology providers, and other players in the education industry.
---
You May Also Like