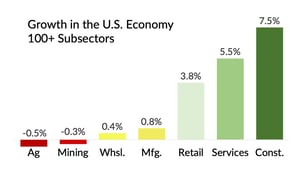 In 2018, the U.S. business economy was $37 trillion, representing the total revenue generated by private companies (including intermediate products, which aren't included in GDP figures). Over the past 5 years, the U.S. business economy has grown 3.2% annually for a total growth of $5.4 trillion. Yet, growth has been very uneven across sectors.
Below details out the 5-year growth (2013-2018) of the 100+ subsectors within the services, retail, construction, manufacturing, wholesale, mining and agriculture sectors that make up the U.S. business economy.
The project is by Kentley Insights, one of MarketResearch.com's publishers of data-rich market research reports covering over 1,000 industries. Consulting agencies, private equity firms, banks and companies use reports by Kentley Insights to access industry data and benchmarks.
Fastest Growing Sectors in the U.S.
The service sector contributed over 60% of total absolute growth at $3.5 trillion. The construction sector led in percentage growth at 7.5% annual growth, with the services sector at 5.4%, and retail at 3.8%. The rest of the sectors lagged in growth at between -1% to 1% annual growth.
5-Year Sector Absolute Growth
$ Billions

5-Year Sector Annual Growth
% CAGR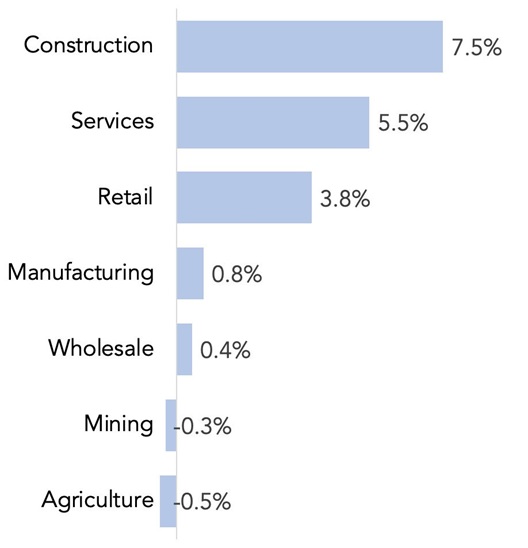 Growing and Declining Subsectors
Below are the 5-year absolute revenue growth percentages for the subsectors. Lodging construction led subsector growth at 137%, followed by online retailers at 70%. Wheat and barley led subsector declines at -50% and -44%. The data is sourced from the Census Bureau and Kentley Insights.
Are any of these growth industries surprising to you? What about the industries in decline? Please comment on what you find interesting in the data.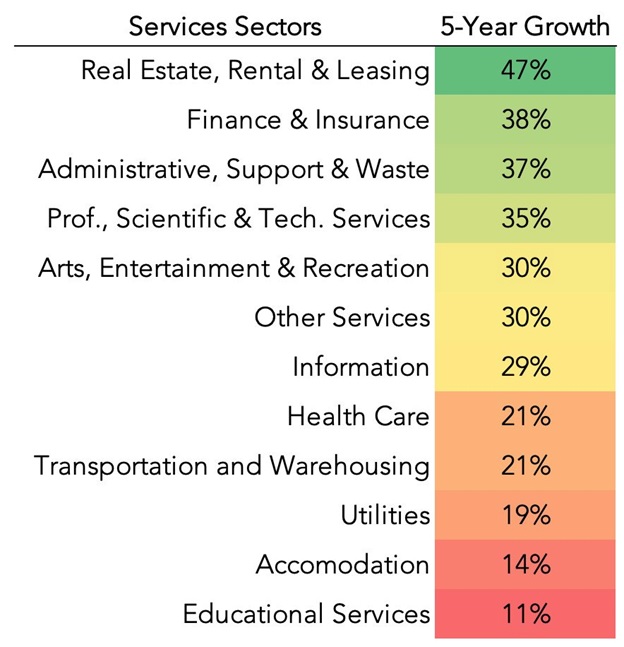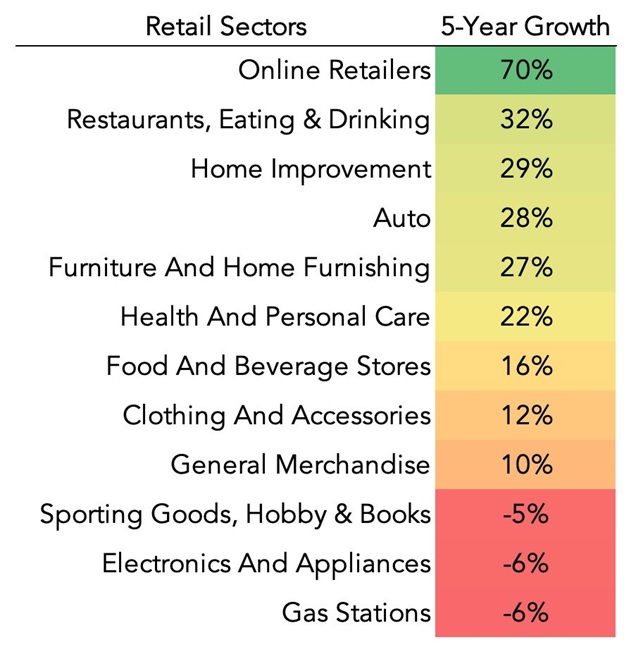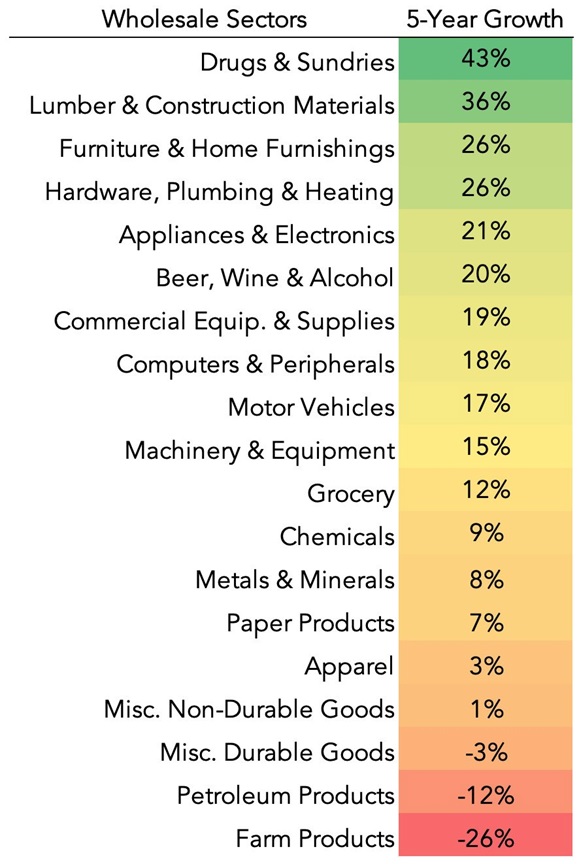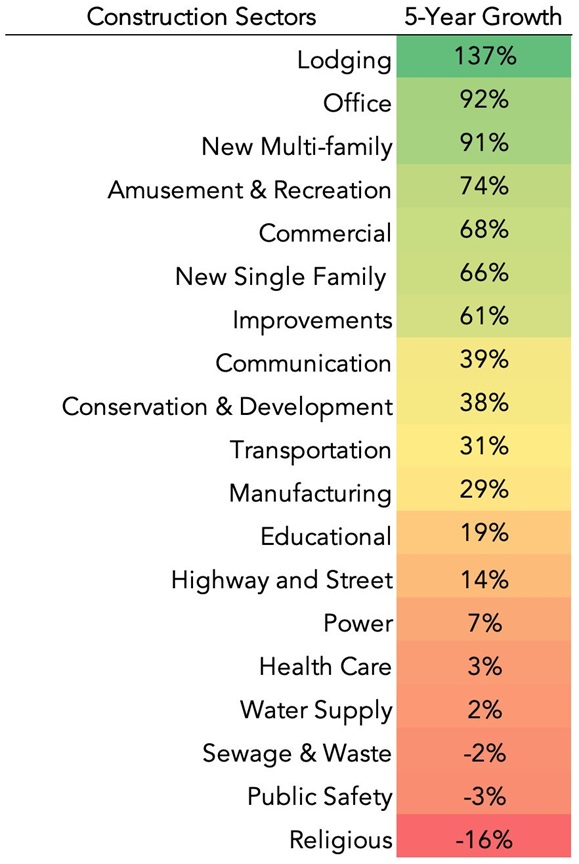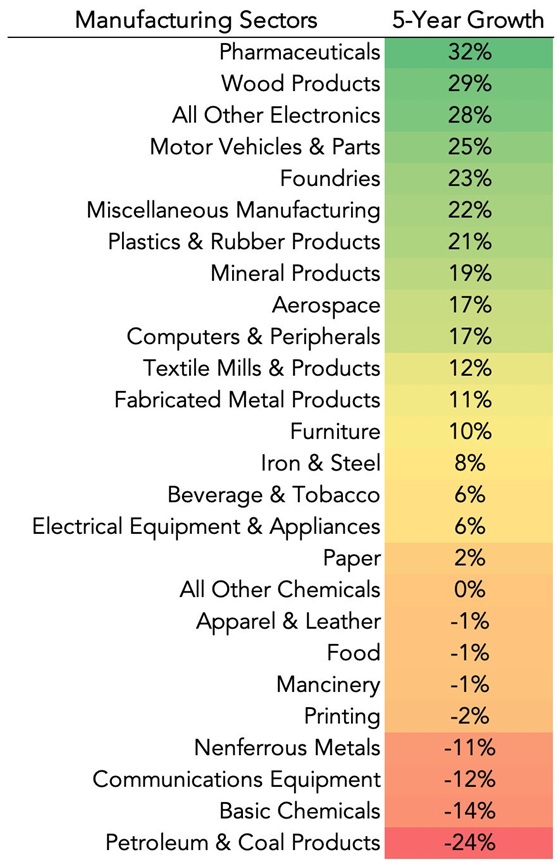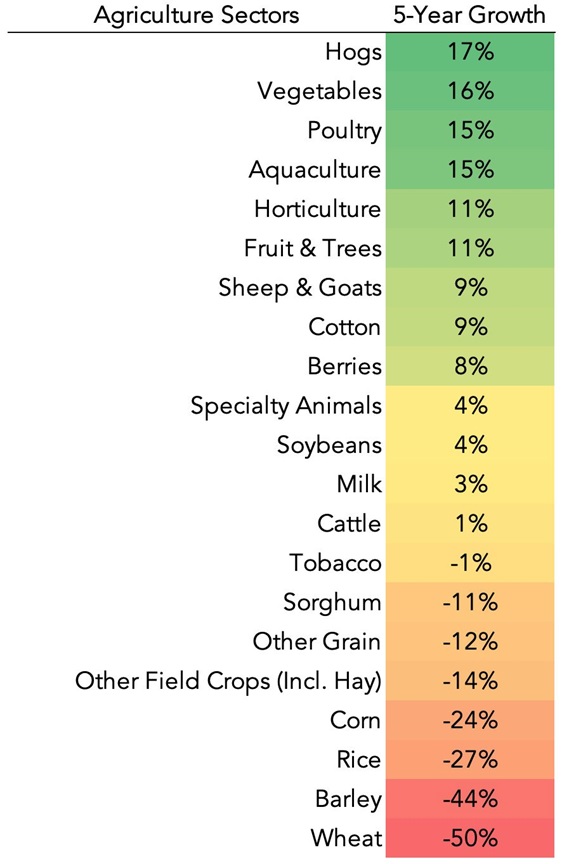 Interested to see more data? Be sure to check out an interactive chart on the U.S. economy by Kentley Insights that shows the total revenue generated by hundreds of different industries.
---
About the Author: Joe Newsum is a strategy and benchmarking expert, with over 20 years of experience supporting companies in developing and executing strategy. As CEO of Kentley Insights, Joe leads his team in providing companies with insightful industry and market data. Previously, Joe was a strategy consultant at McKinsey & Company and Mercer Management Consulting. He has an MBA from the Tuck School of Business at Dartmouth and a B.S. from Stanford University.