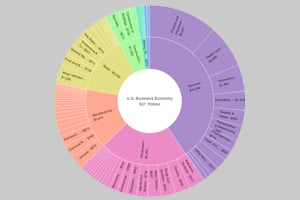 Check out a fascinating interactive chart of the entire U.S. business economy by Kentley Insights. The chart includes the total revenue generated by the 1,000+ industries of the U.S. business economy. Click on a section to get into the industry specifics and then on the center of the circle to get back out.
Can you find your industry? How does it measure up to other related industries?
The Entire U.S. Business Economy in One Chart
Click on Any Section to Zoom in, Click the Center to Zoom Out
All figures in $ billions
To view a slightly larger version of the chart, click here.
About the Project
The project is by Kentley Insights, one of MarketResearch.com's publishers of data-rich market research reports covering over 1,000 industries. Consulting agencies, private equity firms, banks and companies use reports by Kentley Insights to access industry data and benchmarks.
About the Data
In 2018, the U.S. business economy was $37 trillion, representing the total revenue generated by private companies. While GDP was $20 trillion, GDP strips out intermediate goods (those products used in the eventual production of a final product) providing an incomplete view of total industry revenues. The data set most closely resembles U.S. gross output, but even that measure has adjustments to revenue.
The data is sourced from the Census Bureau and Kentley Insights. All figures are for 2018, except for Mining sectors, which are for 2012. All figures are in $ billions.
Next in this series, we share the 5-year growth rates of all the major sectors.
---
About the Author: Joe Newsum is a strategy and benchmarking expert, with over 20 years of experience supporting companies in developing and executing strategy. As CEO of Kentley Insights, Joe leads his team in providing companies with insightful industry and market data. Previously, Joe was a strategy consultant at McKinsey & Company and Mercer Management Consulting. He has an MBA from the Tuck School of Business at Dartmouth and a B.S. from Stanford University.