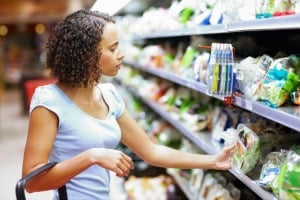 The food and beverage industry is undergoing major shifts as U.S. consumers gravitate toward natural, whole foods diets.
Shoppers are scrutinizing nutrition labels more closely, opting for groceries made with fewer, simpler ingredients. Although gluten-free foods are still a hot item, consumers are increasingly aware that gluten-free doesn't always mean guilt-free.
Meanwhile, the popularity of meal kit delivery services continues to soar, as more and more companies roll out subscription offerings for consumers seeking convenient home-cooked meals.
Read on to learn more about these trends.
1. Product Developers Aim for Short, Simple Nutrition Labels
The Wall Street Journal reports that 67 percent of consumers prefer groceries with fewer and simpler ingredients. Grocery shoppers are increasingly avoiding unpronounceable, chemical-sounding ingredients, according to Packaged Facts, and they are seeking product labels with real food that can be found in their own kitchens.
As a result, companies like ConAgra, General Mills, Hershey, and Haagen-Daz are reworking their ingredient lists for chips, snack bars, frozen meals, chocolate syrup, and ice cream. Hershey's Simply 5 Syrup, for example, is made with five non-GMO ingredients, with no high-fructose corn syrup or artificial preservatives.
This trend is also crossing over into the baking aisle, an area once dominated by products with a laundry list of "who-knows-what" ingredients. For example, Pillsbury's new Purely Simple Buttercream Frosting Mix contains just three ingredients: sugar, corn starch, and buttermilk. Showcasing short ingredient lists on food packaging has become a popular new marketing tool.
2. Gluten-Free Foods Hit Their Peak
While health considerations are top of mind for many consumers, growth rates of gluten-free foods are expected to decrease to single digit rates. U.S. sales reached $1.57 billion in 2015, an 11 percent increase compared to 2014, according to a new report by Packaged Facts. In contrast, sales of gluten-free foods skyrocketed 81 percent year-over-year in 2013.
What's behind the lower growth rate?
Many consumers are still interested in free-from products, but a gluten-free label on its own is not always enough of an enticement. "Consumers have figured out gluten-free chocolate chip cookies are not a health food," Packaged Facts Publisher David Sprinkle explains in an article for Food Business News.
Retailers must demonstrate the nutritional value of foods beyond gluten-free claims. Consumers want to avoid empty calories and processed food — and instead fill up on products with simple, wholesome ingredients and superfoods with fiber and protein. Creating gluten-free products with added value could keep customers coming back for more.
3. More Companies Hop on the Meal Kit Bandwagon
Meal kits have become the go-to solution for busy consumers who would prefer to skip the grocery store and the hassles of meal planning, but still want the benefits of home-cooked dinners. With pre-measured ingredients and convenient subscription plans, meal kits are especially popular among millennials living in urban areas.
More than 150 new meal kit start-ups have sprung into existence, including 12 companies profiled on our blog. Many established brands are also entering the market, including Martha Stewart, Williams-Sonoma, Amazon, PeaPod, and Whole Foods, as reported by Money Magazine.
Meal kit delivery services in the U.S. have surged into a $1.5 billion market and are expected to grow into a multi-billion dollar market over the next five years, according to a report by Packaged Facts.
Get More Information
Interested to learn more about the food and beverage industry? Visit the Packaged Facts website to get in-depth information on these and other trends. For more than 50 years, Packaged Facts has been a leading publisher of market research in the food and beverage sector. Packaged Facts provides competitive analysis, forecasts, and exclusive proprietary data from its national consumer surveys.
In addition, be sure to check out Packaged Facts' FREE downloadable PDF that highlights the top 10 food industry trends for 2018 and 2018. Click the button below to learn more.
Other Articles You May Also Like:
---
About the Author: Sarah Schmidt is a Managing Editor at MarketResearch.com, a leading provider of global market intelligence products and services.