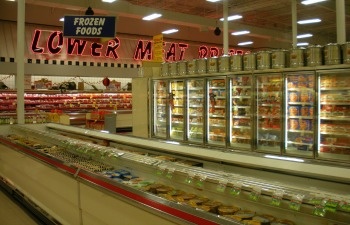 The U.S. frozen food market is forecast to reach $72.98 billion by 2024, according to a recent study by Grand View Research.
Despite overall market growth, sales have remained tepid in recent years. Frozen food brands face ongoing challenges, as consumer preferences shift and competition increases.
Demographic and Lifestyle Factors
The frozen food market is driven by increased participation in the U.S. workforce and the growing number of single-person households. As frozen meals require very little preparation, they offer an easy solution for those juggling hectic work schedules.
The pre-portioned quantities are also a convenient option for people living alone. The proportion of single-occupant households has grown steadily in the U.S. from 5 percent in 1920 to 27 percent in 2013, according to the United States Census Bureau.
Frozen Food's Image Problem
While frozen foods are appealing for consumers who value ease and convenience, many Americans now prefer the fresh, natural foods found in the perimeter of the grocery store. According to Frozen Foods: United States by Freedonia Focus Reports, many consumers believe that fresh foods are healthier and of higher quality than items in the freezer aisle.
"For example, many consumers assume that frozen foods contain high amounts of preservatives, even though freezing often obviates the need for such additives," the report explains.
As a result of these health concerns, consumers have purchased fewer frozen foods, and industry revenue rose only slightly in the past few years.
Rising Competition from All Sides
One might assume that growing disposable incomes would help buoy the frozen food industry, but the opposite is actually the case, according to IBISWorld. As incomes increase, consumers tend to buy more fresh produce and dine out more often, rather than heating up frozen meals at home.
In addition, consumers now have more high-quality prepared meals readily available from a variety of outlets. Grocery stores like Whole Foods and Wegmans dedicate huge amounts of floor space to salad bars, bakery departments, and hot, ready-to-eat foods.
Busy working professionals can also pick up quick meals that are made with natural wholesome ingredients from an increasing number of fast-casual restaurants such as Chipotle, Panera, or Modmarket.
For those looking to save time shopping and meal planning, meal kit delivery services offer another appealing option for nutritious meals. Blue Apron's tagline, "Food is better when you start from scratch," reinforces the perception that fresh foods are inherently superior — hitting frozen food brands right where they are most vulnerable.
Innovation of the Future
"Over the next five years, manufacturers will continue to develop new products that appeal to health-conscious consumers and invest in marketing campaigns to boost the image of frozen foods," IBISWorld predicts.
Following the lead of Amy's Kitchen, some producers may be able to expand market share by focusing on natural and organic ingredients.
Other advancements will allow manufacturers to keep up with shifting consumer preferences and develop new formulations that eliminate allergens such as wheat, dairy, and soy.
Technavio's analysts expect to see increasing demand for eco-friendly packaging solutions made from sustainable materials, as well as packaging products that are easy to open and re-close, helping to eliminate food waste.
To learn more statistics and forecasts, browse frozen food industry reports on MarketResearch.com.
---
About the Author: Sarah Schmidt is a Managing Editor at MarketResearch.com, a leading provider of global market intelligence products and services.