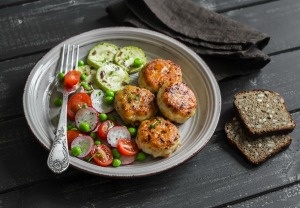 Last Updated: May 15, 2017 According to Packaged Facts, the U.S. meal kit delivery services market will generate $1.5 billion in sales in 2016 and grow to a multi-billion dollar market over the next five years. With fresh food, little waste, and foolproof recipes and directions, easy meal kit delivery services offer time-saving, stress-free options that solve the problem of "what's for dinner" for today's busy consumers.
Given the growing popularity of subscription boxes, it's no surprise that this niche market has many competitors. But what differentiates these subscription services from one another? Here's a closer look at the top competitors in the market for meal delivery services.
1. Blue Apron
The largest and best-known meal prep kit service in the U.S. is Blue Apron. Blue Apron offers two-person and family meal plans. The two-person dinners are for adventurous palates, while the delivered meals for families plan (for four people) is geared to please everyone. Blue Apron is known for its fresh, seasonal ingredients and unique varieties of produce. Its website drew in 2.6 million visits in January 2016 alone.
2. HelloFresh
Founded in Berlin, Germany in 2011, HelloFresh Group provides meal kit delivery services in Germany, the Netherlands, the United Kingdom, the United States, and Australia. Since 2011, it has grown rapidly to become the second-largest player in the U.S. market, after Blue Apron. According to HelloFresh Group's corporate website, in January 2016, HelloFresh delivered 7.2 million meals to subscribers in seven countries across three continents. HelloFresh has more basic recipes, slightly fewer steps, and fewer exotic ingredients, making the service more suitable for novice cooks.
3. Plated
Plated calls itself "the premium cook-at-home dinner delivery service." Customers can choose from seven on-trend recipes each week, including several vegetarian options, at $12 per serving. Plated targets adults rather than families, with sophisticated meals, trendy ingredients, and complex recipes that teach and require more kitchen skills than some of the other meal kit plans.
4. Chef'd
Besides developing its own recipes, Chef'd, which calls itself a "meal store," partners with more than 80 well-known chefs and brands to develop its catalog of more than 250 recipes, which can be ordered individually without a subscription. Chef'd offers subscription meal plans for two "lifestyle" brands, including Weight Watchers (two-person and four- person plans at $6 to $17 per serving) and Tone It Up Fresh (two-person plan starting at $13 per serving).
5. Green Chef
Green Chef is the nation's first and only fully certified USDA organic meal kit delivery company, according to an announcement in a press release. More than 95 percent of its ingredients are organic and most are locally sourced. Its menus also cater to a wide range of dietary preferences, including vegetarian, vegan food boxes, gluten-free, and paleo.
6. Home Chef
Variety, flexibility in its service, and a "Midwest approach" to meals are Chicago-based Home Chef's key differentiators. Home Chef offers some of the most choice options among meal kit providers with 10 dinner recipes available each week for two, four, or six people. Home Chef delivered more than one million meals in 2015 and grew its staff from around 20 employees in the beginning of 2015 to its current staff of more than 200. Home Chef's website attracted 76,442 unique visitors in November 2015.
7. Marley Spoon
Like its larger counterpart HelloFresh, Marley Spoon is an international meal kit delivery service headquartered in Berlin, Germany. Like HelloFresh, Marley Spoon also operates in the United States, the U.K., the Netherlands, Austria, and Australia. According to Marley Spoon's website, "Cooking with Marley Spoon costs less than buying groceries at the supermarket." The website links to a page comparing the cost of its most popular plan (two people x three dishes = $61.50) to the cost of the same ingredients for the same dishes from Stop & Shop ($63.61) and Whole Foods ($64.63).
8. Munchery
Munchery offers locally sourced, gourmet meals cooked by real chefs that are delivered to consumers' doorsteps. Consumers can choose among 15 to 20 different entrées each day, ranging in price from about $8 to $12 each, with a flat $2.95 delivery fee no matter the size of the order. The fully prepared meals arrive chilled for customers to heat in the oven or microwave. As of April 2014, Munchery was serving more than 5,000 meals per day across 1,500 deliveries.
9. PeachDish
Although its meal kits are available nationally, PeachDish specializes in farm-to-table modern Southern cuisines, which are lighter and contain more vegetables than traditional Southern dishes. Each week PeachDish offers eight meals to choose from — four that change weekly (two animal protein-based and two vegetarian) and four that change seasonally.
10. The Purple Carrot
The Purple Carrot focus on plant-based, vegan meals. The Purple Carrot currently offers two weekly packages: a three-night meal plan that serves two people ($68) or a two-night meal plan that serves four ($74), with menus changing weekly.
11. Sun Basket
Sun Basket embraces the Northern California values system, positioning itself on a platform of sustainability. It sources seasonal, organic, non-GMO, and sustainable ingredients from West Coast farms, ranches, and seafood purveyors. Sun Basket is currently sending out about 150,000 meals each month, which Packaged Facts calculates would bring its annual revenues closer to $20 million.
12. Terra's Kitchen
Terra's Kitchen sets itself apart from other meal kit services by delivering its farm fresh ingredients in a unique eco-friendly Vessel, a reusable, temperature-controlled case that eliminates the excess packaging common to most other meal kits. Its recipes are easy to prepare in less than 30 minutes, with pre-chopped vegetables and packaged sauces and seasonings. Offerings encompass seasonal menus and other dietary preferences including omnivore, vegetarian, gluten-free, and paleo.
Where to Learn More about the Meal Kit Delivery Service Industry
To learn about 10 additional up-and-coming meal kit services, check out our newest meal kits blog post.
In addition, be sure to check out the report Meal Kit Delivery Services in the U.S. by Packaged Facts. This report includes the best meal kit service data and analysis from a proprietary Packaged Facts National Consumer Survey that delves into the scope and demographics of users of meal kit delivery services.
To get more insights on the food & beverage industry as a whole, download a free PDF by Packaged Facts that identifies the Top 10 Food Industry Trends in 2018. Based on key research studies and exclusive consumer surveys, this concise ebook is a must-read for brands looking to stay one step ahead of the competition.
Additional Articles