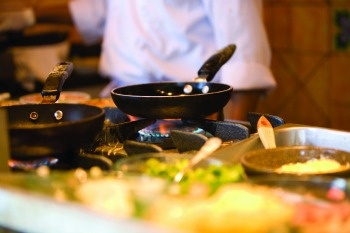 As consumer spending and corporate profits increase, more households and businesses will host catered events such as wedding receptions, luncheons, and trade shows.
A variety of organizations — including schools, senior living facilities, and hospitals — will also turn to contractors to outsource on-going foodservice needs. Professional contract caterers help free up organizations to focus on their core strengths and cut costs, rather than running meal programs on their own.
The global contract catering market is expected to grow at a compound annual growth rate (CAGR) of 4% from 2016-2021, according to recent industry analysis conducted by Azoth Analytics.
The Global Market Landscape
Just how big is this market? The contract catering market encompasses a wide variety of sectors — such as businesses, schools, hospitals, senior care centers, military institutions, athletic facilities, and more.
The global market remains fragmented, and opportunities vary by region. North America is a relatively saturated market, but the APAC region has significant room for growth, especially in the Indian and Japanese markets.
Top contract catering companies include Compass Group, Elior Group, Aramark, Sodexo, Baxterstorey, MITIE Catering Services, and Ch&Co Catering.
Catering Industry Trends
As hospital patients, seniors, and busy employees seek a higher quality of life, organizations are facing new pressures to provide more balanced diets and personalized menus. Consequently, caterers are increasingly focused on health and well-being.
Compass UK & Ireland is one such example. After signing a new contract to deliver catering services to a London hospital, Compass emphasized its "healthy food and drink options... premium service, and bespoke approach." In January 2017, Compass launched a corporate responsibility report with a goal to increase ethically sourced ingredients, transition to 100% cage-free eggs, and introduce smart scales to reduce food waste.
Compass is not alone in its desire to have a positive social impact. Sustainability has become a buzzword in the catering industry. As another example, the CEO of the Elior Group called out the importance of quality, innovation, and a positive footprint on the planet by sharing this tweet to start out the New Year.
Best wishes to our guests, partners & suppliers across the world, for a year 2017 full of promise - from Ph. Salle, CEO @Elior_Group pic.twitter.com/1lu3JLyKD6

— Elior Group (@Elior_Group) January 3, 2017
On its website, the Elior Group also describes its committment to developing a sustainable supply chain with an emphasis on local produce.
Market Drivers and Constraints
The increasing focus on quality and taste will only heighten as the world economy strengthens and the middle class generates more disposable income. Catering companies must meet the expectations of a discerning customer base, and a growing senior demographic as well.
A recent market research report by Koncept Analytics pinpoints three key factors driving demand for contract catering:
Rising demand for customized food
Growing middle class
Increasing role of technology
Challenges and threats to growth include:
Food safety issues
Government regulations
Competition
To read more catering industry analysis and market research, explore the reports available on MarketResearch.com. In addition, be sure to check out our blog for new data and forecasts on the food & beverage industry as a whole, or read our post about restaurant industry analysis.
---
About the Author: Sarah Schmidt is a Managing Editor at MarketResearch.com, a leading provider of global market intelligence products and services.