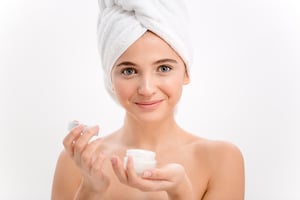 In recent years, the wellness industry has gained widespread popularity for promoting a broad array of products and services related to nutrition, fitness, sleep, yoga, natural remedies, meditation, and self-care.
Despite its wholesome glow, the wellness industry has also been the recipient of mounting criticism for encouraging an unrealistic view of health, fostering elitism and exclusivity, and ignoring people of color.
However, due to the COVID-19 pandemic, interest in wellness is expected to rebound rapidly as more and more consumers prioritize their mental and physical health in 2020, according to a recent interview with Irina Barbalova, the Global Lead for Health and Beauty at Euromonitor International, a leading market research firm.
"Wellness resonates well with consumers in the current climate," Barbalova explained. "It is providing a lifeline to cope with the current anxieties and insecurities that surround us."
During an often chaotic, frightening time, wellness products and services can be marketed to provide consumers with a sense of individual control, help cultivate inner calm, and offer much-needed emotional support.
Opportunities and Wellness Industry Trends for 2020
Barbalova expects stronger demand for convenient diagnostic and symptom tracking solutions, digital medical guidance and health education, home therapy, and products and services that support healthier cooking practices.
"Mood enhancement" is another major area of opportunity in the beauty industry and food and beverage space. Many brands are beginning to pivot to focus more on supporting self-care, sleep, stress-reduction, and evoking a sense of indulgence and happiness.
Current trends shaping the wellness industry include:
Clean conscious living
Ethical sourcing, transparency, and safety assurances
Simplicity, minimalism, and the use of signature ingredients
Virtual experiences and points of sale via social networking or live streaming
Adoption of virtual health
Scrutiny over supply chains and shifting toward more local brands
Emphasizing immunity, brain health, and energy boosting attributes
The use of traditional herbs and supplements for prevention
Adaptogens and sleep aids, such as cannabis
Products and services that embrace the principles of prevention and protection may find stronger relevance among consumers today amid the COVID-19 pandemic.
Best Practices for Wellness Marketing
While the wellness industry offers ample room for growth, brands must work to differentiate themselves and solidify the loyalty of their customer base. During the pandemic, consumers are focusing more and more on necessities and foregoing non-essential luxuries, which could sideline some once-popular brands and product categories.
According to Barbalova, consumers are "seeking real and relevant solutions versus over-priced gimmicks." She recommends brands take a "no-frills approach that instills authenticity but also efficacy backed up by expertise and science-backed results."
In addition, brands must be sensitive to increasing levels of financial insecurity among consumers and will need to adapt their brand messaging to embrace accessibility, affordability, and inclusivity.
"Associations of wellness with wealth and privilege is set to become more and more contentious as discretionary spending dampens further," Barbalova predicts.
Additional Wellness Industry Research
Want to know more? Read Euromonitor's new report Wellness Redefined: Back to Basics and Reassessing Value for a detailed picture of the market.
You can also find a broad range of reports by Euromonitor that analyze the impact of the coronavirus on various industries, from beauty and personal care to travel and tourism.
If you need help finding research on a specific topic, don't hesitate to reach out to our research specialists.
---
About the Author: Sarah Schmidt is a Managing Editor at MarketResearch.com, a leading provider of global market intelligence products and services.