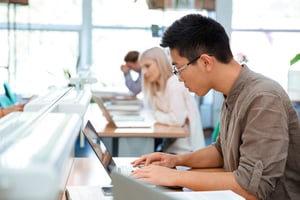 Many companies have strong corporate libraries, and MarketResearch.com continues to support the information professionals that run these valuable services. However, not all firms have the luxury of a corporate library, and others have thinned out their staff in these departments to reduce overhead expenses in challenging business environments.
Eliminating or downsizing corporate libraries can have negative consequences. Without a corporate library, companies can become starved for information because employees often do not know how to find, vet, and purchase industry research on their own without training or guidance. Inefficiencies can also result when employees buy duplicate information or waste money on market research reports that are of low-quality or irrelevant to their needs.
Fortunately, there are several ways MarketResearch.com can help an organization that doesn't have access to internal information professionals. Our knowledgeable team of research specialists provide end-to-end support to help you find what you need, ensure a smooth purchase process, and answer any questions you may have. Learn about the specific ways we can help you below.
Conduct report searches
Even with a self-service platform, you may still want personalized search assistance to save time and help you identify all the best options available. If you let our research specialists know what information you are looking for, they can help you find what you need quickly.
Qualify information
You may not always be certain if a report contains the specific information you need based on the abstract and table of contents alone. Our research specialists can open the reports that are hosted on our website, review the contents with you, and answer very specific questions about the nature of the report. This can give you much-needed peace of mind and remove any guesswork.
Serve as a publisher liaison
Our research specialists can also hunt down answers you may have about the report's contents and communicate directly with the publisher on your behalf. In addition, we can get you sample pages and provide you with details about the report's methodology.
Vet publishers
Market research publishers vary widely. Our research specialists have worked with hundreds of publishers over the years, and they can act as a clearinghouse to help you assess which publishers best fit your needs and goals. We can also let you know what to expect in terms of style, format, special licensing restrictions, and delivery to help avoid any unwanted surprises.
Provide pricing support
We can make sure that you are taking full advantage of any publisher promotions and pricing incentives that are available. We can also help you decide on the license level needed and identify other possible ways to save such as purchasing individual sections or larger subscriptions.
Expedite the purchase process
Once the research has been selected, we can guide you through the purchase process. We can help you navigate specific requirements your organization may have in terms of payment options, whether that's using a credit card, paying by check, wire transfer, or invoice.
Prevent duplicate purchases
If we act as your primary source for market research reports, we can help prevent duplicate purchases at your organization by comparing requests to previous purchases. In addition, if you are interested in a report that has already been purchased by your organization as a limited license, we can arrange for a license uplift as an alternative to having to purchase the report in full again.
Prioritize subscription use
If you provide your research specialist or account manager with a list of publishers that you already have a subscription with, we can make sure that end users are aware of any reports they should already have access to before they consider purchasing a report.
Provide post-purchase support
At MarketResearch.com, our service doesn't end at check out. We provide prompt answers to questions you may have about the research. Our in-house analysts are available to answer questions as well if you purchase a report from one of our own publishing divisions.
Customized service for your organization's needs
All these information services are available at no extra cost to you and can be used at your discretion. We know that every organization has different internal processes, requirements, needs, and goals, and we can tailor our services accordingly to allow for the best possible outcome.
In today's competitive business environment, employees are stretched thin, budgets are often slim, and time is at a premium. Even if you don't have guidance and support from an internal corporate library, you can rely on MarketResearch.com to help you get the information you need to drive your business forward.