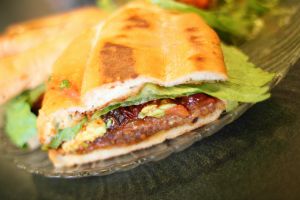 Last week we introduced our new blog series covering the top trends that are driving the market for sandwiches in the United States. As international cusine becomes more popular among foodies, beloved flavors from around the world are appearing in a variety of food, including sandwiches. In this week's series, we'll take a closer look at tortas and cemitas, Mexican sandwiches, and garden tartines, French-inspired sandwiches.
Tortas and Cemitas
Trend Drivers: Flavor adventure, authenticity, sustainability
Trend Stage: Emerging
Two of the most popular Mexican sandwiches are tortas and cemitas. A torta is a layered sandwich on a roll with Mexican ingredients such as cheese, refried beans, pickled jalapenos, and avocado with meats such as chorizo, roasted meats, or shredded chicken. There is a lot of freedom with the creation of a torta. Cemitas can be quite large, created with soft egg-based bread sprinkled with sesame seeds.
These sandwiches are trending thanks to consumer cravings for international inspired street foods. These quality sandwiches can be served quick, making them perfect for busy consumers seeking great flavor. As the U.S. Hispanic population grows, we can expect an increased demand for ingredients such as chorizo and telera bread.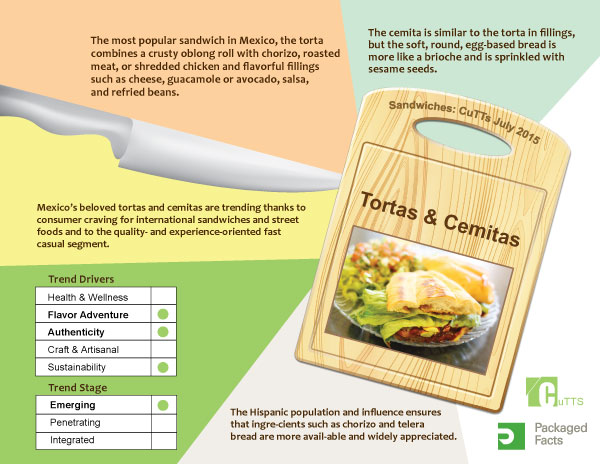 Garden Tartines
Trend Drivers: Health & wellness, flavor adventure, authenticity, craft & artisanal, sustainability
Trend Stage: Emerging
Simply stated, a tartine is a piece of bread with something on top. These open-faced French sandwiches are becoming increasingly popular across the U.S. and can be sweet or savory. Enticed by the tartine's large selection of ingredients, foodies are filling their social media accounts with these Instagram-worthy sandwiches.
Shops across the country vary their ingredient choices, with everything from a rich topping of foie gras or smoked salmon to a few slices of ham with butter. Health trends are influencing new versions of tartines. Piling a garden on top of bread to create a produce-based tartine, either vegetarian or vegan, is becoming more popular.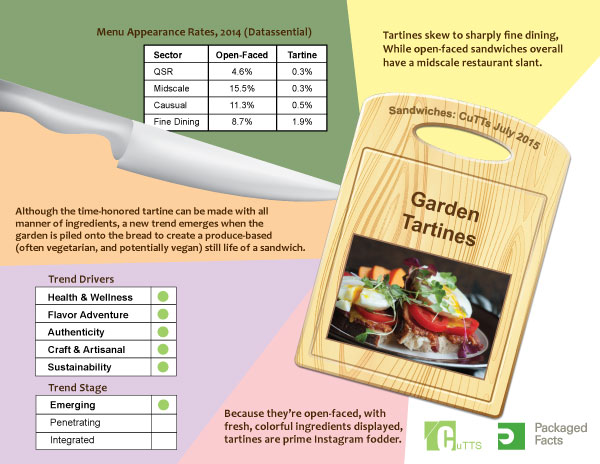 Be sure to come back next week when we explore two more sandwich trends: brisket sandwiches and cuban sandwiches.
To learn more about how new food trends are affecting the industry, check out the report.
Thanks for reading!
Caitlin Stewart
Marketing Coordinator
MarketResearch.com