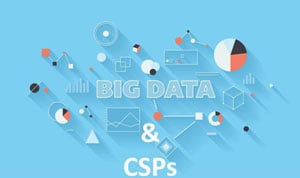 The telecommunications sector has always handled large volumes of data related to customers, operations, and transactions. Over the years, telecom service providers have used a variety of techniques to work with these data sets including statistical analysis, data mining, knowledge management, and business intelligence. However, according to a new white paper written by the research firm Mind Commerce, big data and analytics is profoundly different from previous trends.
"An average telecom operator generates billions of records per day, and data should be analyzed in real or near real-time to gain maximum benefit," the white paper states. "This is not within the realms of the traditional business intelligence (BI) methodologies that have been adopted by operators, which would take days and weeks for collection and analysis."
According to Mind Commerce, big data can be used to improve business processes and provide insights into a telecom company's customer base in near real-time, using both structured and unstructured data. Some key areas include:
Monitoring network traffic to improve service
Analyzing call data records to identify fraudulent activity
Customizing call plans based on usage patterns
Using data from social networks to optimize marketing campaigns
"Many communication service providers (CSPs) choose areas such as churn forecasting and reduction as early big data projects," the white paper explains. "The benefits are almost immediate and are significant for many operators … achieving improvement to churn forecasting many times over."
Big data sources include phone calls, emails, messages, transactions, log data, social media usage, geo-spatial information, downloads, digital media, social media, data from sensors, and more. The white paper includes several charts to help categorize different sources of data, such as:
Structured data sources
Unstructured data sources
Internal data sources and elements
Operational sources
Because big data can provide a holistic view of a company's operations and its customers, it can improve profitability and operations across the entire telecom value chain. While big data can be used to improve a company's internal operations, data about mobile users can also be sold to third-party companies, creating a new revenue stream which is expected to "grow into a multi-billion dollar market in itself." However, allowing data to be used externally often raises privacy concerns.
Download the Free White Paper by Mind Commerce
To learn more about how telecom companies can use big data and analytics to gain a competitive edge, download the free white paper Communication Service Providers (CSPs) and Opportunities from Big Data and Analytics.
The information in this white paper is brought to you by Mind Commerce in partnership with MarketResearch.com. Mind Commerce is your trusted source for research and strategic analysis focused on digital technologies and the telecommunications industry. Mind Commerce reports are also available through its Knowledge Center solution.
Sarah Schmidt
Managing Editor
MarketResearch.com